In what has quickly become a favourite capsule makeup collection release of mine, the Chanel Les Beiges 2018 grabbed my fancy quite quickly. I previewed the items in the inaugural Beauty hors d'oeuvres segment, and I've finally had a go at some of the key releases.
As a range, the Les Beiges collection focuses on light makeup, laying emphasis on beautiful, healthy glowing skin, barely there makeup and a very natural vibe. It is no surprise therefore, that I fell for it. That is the sort of makeup I wear, and the sort of makeup I gravitate towards.
Those who prefer stronger, bolder colours may find the collection insipid. But this year, the Les Beiges takes on more colour, and that for me, is both a good and bad thing. Good, because it may appeal to a wider cross-section of the public. Bad, because it isn't as fool-proof as it used to be.
I have a few key pieces of the collection, and will walk you through them as quickly as I can. You know how long-winded I can be 😛
Chanel Les Beiges Healthy Glow Natural Eyeshadow Palette – Light & Deep – RM285 | US$65
Chanel introduced the Les Beiges Healthy Glow Natural Eyeshadow palette last year, to mixed reviews. Most people were rather critical about it being a fairly light, neutral palette that didn't quite deliver. I however, thoroughly enjoyed using it, and am still using it very often. It meets all the criteria I look for in an eyeshadow palette – easy to blend, easy to use, and easy to not make mistakes with.
For 2018, Chanel has added 2 more palettes – Light and Deep. I have Light, which you will see here. You can find pictures for Deep online.
Light has a selection of fairly light, pink-purple toned shadows. I must confess I immediately wrinkled my nose the minute I laid eyes on it. These are not colours I usually wear in eyeshadow. For reference, here is a picture of last year's palette.
However, in the spirit of experimentation, I tried the new Light palette. While I cannot say I am in love with it (I'll explain why), I don't hate it. It really isn't bad, and I can see its appeal. The Deep palette is a deeper palette of earthy browns and a sparkly gold, and if I'm honest, I'm glad I didn't receive that one because it really doesn't appeal to me.
My beef with the Chanel Les Beiges Healthy Glow Natural Eyeshadow Palette in Light is this – it's quite shimmery. While I'm not averse to shimmer, it isn't very natural, as the name implies. The shimmer is fine, and the texture of the shadows are smooth and easy to apply and blend. I'd even go so far to say that they are pretty pigmented, insofar as these type of shadows are. But you must be comfortable with wearing shimmer on your eyes, and these shades. I don't particularly enjoy pink-purple colours on eyes, but there is one saving grace – the brown. For me, that brown in the top left of the quad grounds the colours for me, and allows me to wear this palette without that dreaded pink-eye effect.
Texture-wise, I love it. It reminds me very much of a high-end Japanese brand eyeshadow palette. Smooth to touch, beautiful prismatic shimmer, and beautiful, neutral-toned colours. It is very well formulated. But the price is prohibitive. Still, that's Chanel for you – it's not drugstore 😛
Chanel Les Beiges Healthy Glow Luminous Multi-Colour Powder – Light, Medium, Deep (Limited Edition) – RM220
Last year's Les Beiges Healthy Glow powder turned out to be one I use almost daily, to give my skin that almost imperceptible hint of a healthy glow. Bonne mine, as the French will say. It helps tone down my foundation, and almost seems to help it meld to a more natural appearance. It isn't a contour powder for me, nor is it a bronzer. Just a powder that helped me understand how flattering a "healthy glow" can be for the complexion.
But when I saw the Les Beiges Healthy Glow Luminous Multi-Colour Powder from this year's collection, I knew it no longer fit that bill. I received it in Medium, which is decidedly pigmented. I also checked out the Light version in the Chanel store last week and that one had a satin-shimmer that I felt made it less wearable for me. So, I stuck with the Medium.
For me, Medium will show up on my skin, and if I'm not careful, takes on that dreaded bronzed-orange tone. So, I have to be very careful to use a light hand, and a fluffy but dense brush. It helps that the rippled surface doesn't make you pick up too much product each time. So I tap my brush on the surface, tap off excess, and then brush it along the sides of my face.
If I wanted, I could use this as a bronzer as well. It will add warmth to my skin, and I can use it as a natural looking blush or cheek colour. It is quite versatile for me this way. On medium to deep skintones, this will function more as it is intended – to give you a healthy glow. Just be sure that the orange tones don't pull too strongly on your skin. I personally feel that the brush provided, while lovely, doesn't do the job well enough.
Chanel Les Beiges Healthy Glow Sheer Colour Stick – No. 25 – RM175 | US$45
The Chanel Les Beiges Healthy Glow Sheer Colour Sticks are one of my favourite blushes. I have been steadily collecting them since they were launched, because I love the texture so much. I don't wear many cream blushes, but these are among the best I've used – non-sticky, lovely natural colour, easy to blend, and so practical. I travel with these all the time!
I can't be the only one who loves these because clearly Chanel realises how popular they are! They've been releasing a new colour with every Les Beiges collection. This year, its No. 25. It complements No. 21 and No. 23 from previous years. The difference from the past 2 years is this – No. 25 is BRIGHT!
In tube, No. 25 looks like a warm, bright orange-red. On my skin, it pulls a decidedly more coral-red. But it is bright, and on my lighter-toned skin, I have problems wearing this one with as great an ease as I do its predecessors. However, this colour is clearly made for those with a deeper skin tone, because if you have a medium to deep skin tone, then this is a colour that will absolutely GLOW on you! I have to use a very light hand, and blend like crazy to get it to work. You won't have to! So, if you have found previous versions far too light, this one is for you! It's a beautiful product – you won't regret it. Your bank balance will, but you won't LOL! 😀
Chanel Les Beiges Healthy Glow Lip Balm – Light, Medium, Deep – RM142 | US$20
This is your regular tinted lip balm, and I must say that Chanel did an excellent job with this one. It is reminiscent of the Dior Lip Glow and Bobbi Brown Tinted Lip Balm, both of which I really enjoy using. But I find the pigmentation in this one stronger. Mine is in the shade Light, which in tube, looks like a bright red. The other 2 shades are deeper, with Deep being a berry tint that looks quite impressive. On lips, it is much more transparent, but still fairly pigmented. You can easily wear it as a light, sheer lipstick, and basically look polished and pulled together.
I wasn't sure if I'd like it. But it's grown on me. I like how it makes my lips feel balmy and soft, and softens the skin, so any dry skin is soothed and softened. There is no discernible scent, which I appreciate, since it's so near my nose. For me, it just works. I do realize of course, that price-wise, it is pricey for a lip balm. But if you're feeling like treating yourself, it's one to consider 🙂
Here are the swatches of the items I've showed you above, because how else can you envisage how they look on skin right? LOL 😀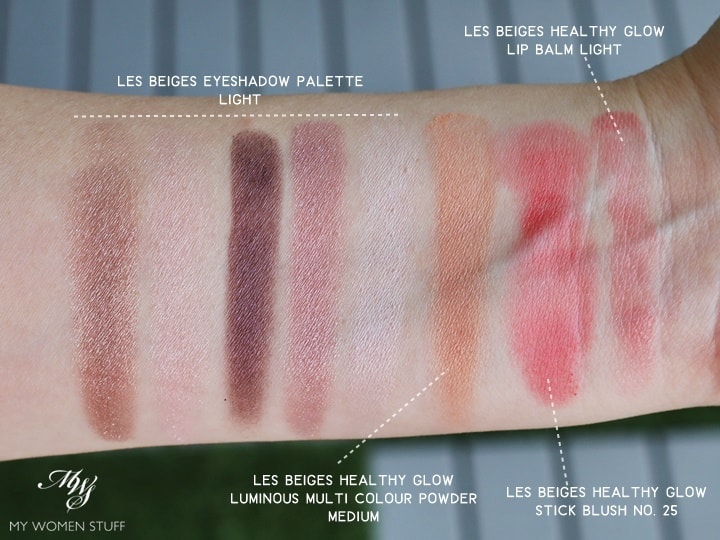 For the Les Beiges Healthy Glow Luminous Multi-Colour Powder, I brushed my finger across all shades, and you will see how it pulls a little orange on my skin. I do have to be quite careful with this one and as of now, it isn't a personal favourite. It is however, a limited edition item, so if you're a collector, then you'd better grab it anyway, before it disappears.
As for the other items, they are all permanent in the Les Beiges collection, something I'm happy about. I am actually quite tired of endless limited edition items that force people to just buy for the sake of buying.
My personal picks are the Sheer Colour Blush Stick and the Healthy Glow Lip Balm. I feel that the texture, colour and quality of these items are exceptional enough to warrant a purchase. I am not so crazy about the Natural Eyeshadow Palette, although I like the texture, purely because the shades may not suit everyone. Ditto the Luminous Multi-Colour Powder. Light is too light, coming across as more of a highlighter, while Medium is rather orange. For a light-skinned person like me, it is challenging.
But in the spirit of experimentation, and completeness, here's how I have worn the items above.
Here's what I have worn in this picture:-
I find the Chanel Les Beiges 2018 collection allows for you to look a little more made up, but in a natural manner. It comes down to a question of style and personal preference.
Which item from the Les Beiges 2018 collection grabs your fancy? Is this a collection you enjoy as well?
For me, as a fan of the Chanel Les Beiges collection (above all of their other releases) I think the new items are a good addition to the line. It is slowly expanding, to allow for different skin tones and preferences, and I think that's a good thing. They are very wearable, easy to use, and almost fool-proof. As someone who isn't given to spending an hour blending her eyeshadow, that is excellent 😀
Paris B