It is easy to get caught up in the hoopla surrounding new releases and limited edition collections, that we often overlook items in the permanent range that we might use everyday. I wanted to highlight these 2 relatively new products that have just been released by Chanel, but which are permanent. I don't see them get a lot of love, and I really wanted to tell you about them, because they are such good products!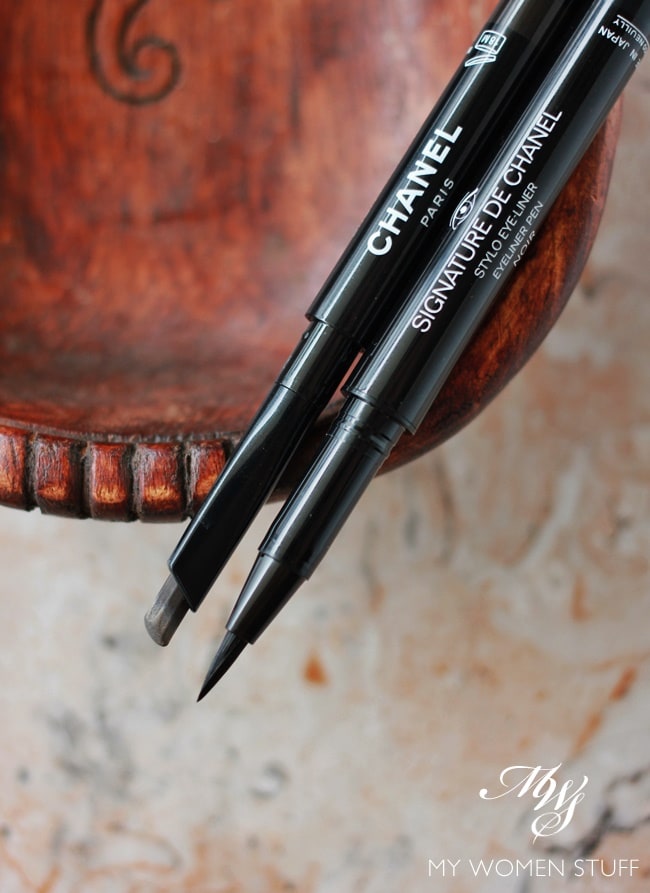 Both these products are permanent, but they are so underrated. They both relate to the eyes, and I've been wearing both of them very often. They certainly deserve much more love and attention than they're getting!
The first is the Signature de Chanel Eyeliner Pen, which is a brush-tipped ink eyeliner, that comes in just one colour – black. The other is the Chanel Stylo Sourcils Waterproof Defining Longwear Eyebrow Pencil which comes in about 6 colours, if I'm not mistaken. By way of a spoiler, that eyebrow pencil has trumped my other faves that come in a similar design 😀
Chanel Stylo Sourcils Waterproof Defining Longwear Eyebrow Pencil – RM128 | US$33
Since I love this so much, let me kick off and tell you more about it 🙂
I believe that this brow pencil is new to Chanel. Chanel's previous brow products are your regular pencils that you sharpen. This however, is a retractable brow pencil that comes with a broad, angled tip. This one reminds me a lot of the Hourglass Arch Brown pencil I love, and the Bobbi Brown Longwear Brow Pencil. Unlike the Hourglass one, the Chanel eyebrow pencil does not have a triangular tip, but instead, has a flat angled tip like the Bobbi Brown one. I don't have either of them anymore, as I find I run through brow pencils, so they've been tossed since and I can't show you comparison pictures. So, you'll have to click through to my past reviews to see what I'm talking about.
The Chanel Stylo Sourcils Waterproof pencil has a flat angled tip, like a sword, that makes it very easy to pencil in your brows. I find that unlike Bobbi Brown's, it isn't as soft. So the colour doesn't come off as easily, which is a good thing. You are less prone to make mistakes. The colour also catches on your hairs instead of marking your skin as strongly, which allows for a softer finish.
There is a brush at the other end to help you soften your look, and it works very well. It brushes out your brows and evens out the colour without removing the product from your brow hairs. I like the construction, which is very solid and stable in feel. It doesn't feel like a light plastic, nor does it feel wobbly in any manner. It is just solid all the way, as befits the name and its price tag.
I don't have a brow swatch for you, but this brow pencil features in all my recent looks that I've posted (this post, this one and this one), including this one from the Clinique x Jonathan Adler review.
While I won't say it's affordable, this Chanel eyebrow pencil is actually cheaper than Hourglass or Bobbi Brown, and works incredibly well. It is in fact, like a combination of the best parts of the Hourglass and Bobbi Brown pencils in one! 😀 If you already use expensive brow pencils like I do, you won't bat an eyelid at the price of this one. I honestly have nothing bad to say about it at all, and I'm happy to repurchase when I'm done. I use these type of pencils a lot, as I find it is easier for me to do my brows, and get a neater finish.
What I would recommend however, is that you go to a Chanel counter or boutique to get yourself properly colour-matched. I bought mine at the Chanel boutique, and there are 6 shades to pick from. Mine is in the shade 810 Brun Profond, which is the second deepest shade (the darkest is black). Brun Profond is a dark brown with slight grey undertones, which I prefer for my brows. I do however, find it a touch warm, and I'd prefer if there was more grey in the mix. The next up, Black, is too dark. From memory, I found the other shades a little too light for most of us Asians.
If you like brow pencils like these, do take a look at this one from Chanel. I was impressed and I remain impressed with it. I have to be, I use it everyday! 🙂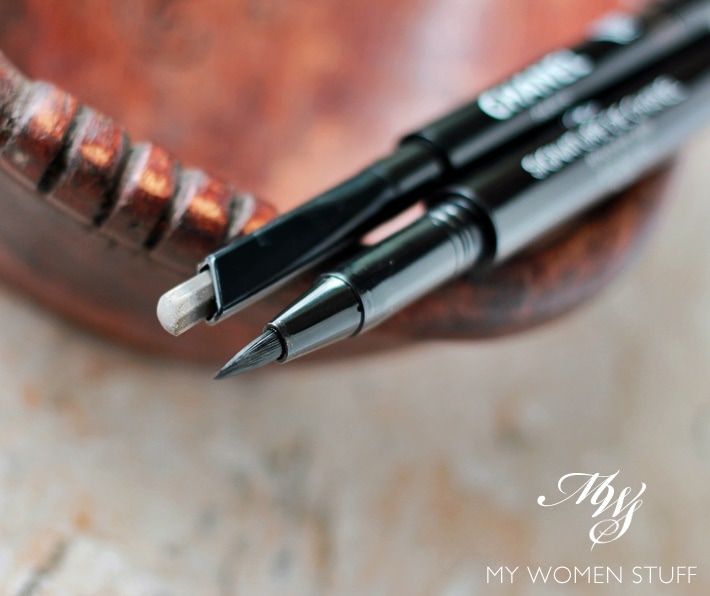 Chanel Signature de Chanel Eyeliner Pen – RM135
I have a love-hate relationship with eyeliner pens, especially liquid eyeliners. I am a fan of the Chanel Stylo retractable eyeliners, but I find liquid eyeliners a whole different kettle of fish! Often, I find I draw a wonky line, or that the nib is too hard, or too soft. I'd stayed away from liquid brush tip liners for a long time.
But like Goldilocks, I seem to have found the eyeliner pen that is "Just Right" for me and lo and behold, it is by Chanel. This Goldilocks has expensive tastes 😛
Here's something I like about the Signature de Chanel eyeliner pen. When you first get it, the brush tip is white (synthetic) and it comes with an ink cartridge, rather like that of a fountain pen. You must plug it into the barrel of the pen, and allow the ink to infuse into the white nib, before first use. It's kinda cool to be honest! 😀
This actually prevents you from getting a dried out pen, as the ink is kept fresh in its cartridge. The other thing to note is that before using your pen each time, you should shake it up a little. This allows the ink to flow into your brush tip, and give you more even colour.
But what I love most, is the brush tip. Here is a brush tip that is not too hard, and not too soft. It does not flop all over the place, giving you a wonky line, but neither is it so stiff as to poke your lids. I find that holding it at an angle against your upper lid allows you to draw a fairly even, straight line on your upper lid, without having to go over twice. Want a cat-eye flick at the end, the precise tip allows you to get that flick.
The other thing is that the ink is superbly black and dries in a jiffy. I am by no means an expert at applying eyeliner, but I haven't experienced any transfer, even when I blink almost immediately after applying this. Some inks take a while to dry and can cause accidents, but this dries quickly. And stays put. No smudging, no transfer through the day. Nothing.
I do find that after long hours, it may fade a little, but it otherwise remains intact. Removal is easy. I remove mine with micellar water and it comes right off. No fuss, no muss. I love it! 😀
I think you can see from this swatch, how easy it is to achieve a thick and thin line with one swipe of the Signature de Chanel eyeliner pen. Also, the brow pencil does not show up easily on skin (rather like Shu Uemura's Hard 9 pencils) which is a good thing! I have to note that I don't know if this Signature de Chanel eyeliner brush pen is available in the USA. It is not on the USA official site, where instead there is something called a Ecriture de Chanel eyeliner pen. However, that boasts a felt tip, which is totally different from this one, which has a flexible brush tip. It is however available in Europe.
IN A NUTSHELL

The Chanel Defining Longwear Eyebrow Pencil and Signature de Chanel Stylo Eyeliner Pen are both permanent additions to the Chanel eye makeup range. I love both of these, for they both work incredibly well. The eyeliner pen is a cinch to use, even if you aren't very good at using liquid eyeliner (take it from me, I know!) and it is long lasting but removes easily. The eyebrow pencil is very easy to use, without looking too harsh, and the brush included softens the colour without removing the product. Both products are made in Japan, and are very reminiscent of high quality similar products in Japanese brands. I think Chanel did very well to include both these items in their permanent collection, and they'll remain permanently in mine too!

PROS: Easy to use, Longlasting colour on brows and eyeliner, Eyeliner pen comes with an ink cartridge to ensure fresh supply of ink, Eyeliner pen ink is long lasting, Brow pencil is easy to use and gives defined brows very easily and is long lasting on brows

CONS: A little pricey

WHO WILL LIKE THIS: Anyone who likes using retractable eyebrow pencils, Anyone who has trouble using a brush tip ink eyeliner pen

PRICE: As above

WHERE TO BUY: Chanel counters and beauty boutiques
Have you checked out either product? Do you use retractable brow pencils like this one?
I'm actually super happy about the brow pencil, as that's something I use everyday. I use bold eyeliner like this less often, but the ease of use of this one blew me away. Truly, if I had to vote, both of these get my Aye every time! 😀
Paris B