When I first started taking care of my brows and enhancing them through the use of brow pencils, I jumped in straight into the deep end. It was the Shu Uemura Hard Pencil 9 that made me appreciate the importance of a good brow, and I never looked back. It was so good, I even reviewed it twice, right here on the blog! A first, even for me.
What I liked about it was the very user-friendly angled point, or as Shu Uemura will have you believe, sword point, that makes pencilling in the brows quite a breeze. The problem however, is that I never got the hang of sharpening it myself. Yes, Shu Uemura boutiques and counters offer this sharpening service for free and I availed of it for years on end. But my last few experiences at the counter left me wanting. My pencils will go in a certain length, and when I return to collect them, inches have been sliced off. I've seen the sharpening at work first hand, and even tried my hand at it and I can safely say that it doesn't take inches off each time, unless it breaks, or you're incompetent like me. So I got pissed off, and decided to look elsewhere.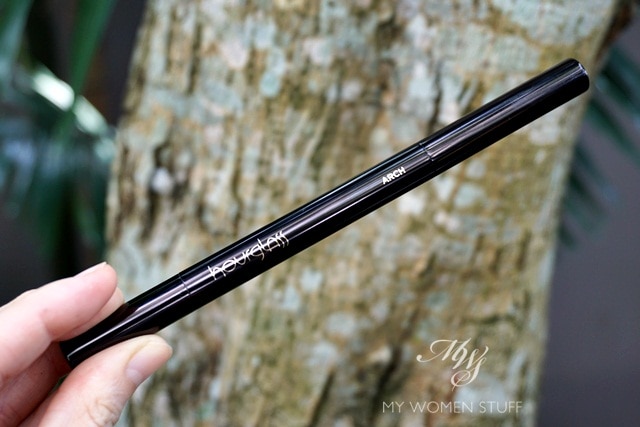 I wanted something with the same angled shape, but that didn't need me to entrust it into the hands of another, whether competent or incompetent, to get it into that shape. I looked around for a bit, tried a few different retractable options here and there but one day, after reading raves of the Hourglass Arch Brow Sculpting Pencil, I decided to have a go at it on one of my Net-a-Porter orders.
I didn't quite know what to expect if I'm to be honest. I also wasn't sure which colour to pick since we don't have an Hourglass counter here and I wasn't even sure of what the colours would look like. Sunny of Mostly Sunny's review helped me with that, but I eventually bit the bullet and went with Soft Brunette.
Ladies and gents, meet my favourite-est brow pencil. Ever. Pricey for us hapless Malaysians and our sh-Ringgit, but so good, I haven't looked or thought about looking elsewhere since I got it almost 10 months ago. It's SO. GOOD! 😀
First off, I like the packaging. The pencil is dual-ended with the retractable lead in one end, and a spoolie brush in the other. I appreciate that. I never used to understand using a brush for your brows, but through experience, I've found that the brush helps to make your brows look more natural. This is especially so if you've been a bit heavy handed with the pencil. Run the brush over your brows and it softens the effect.
The second thing I like is the heft. The Hourglass Arch Brow pencil feels very solid in your hand and the weight seems to give you better grip and control when you're pencilling in your brows. At least I feel it to be so.
When the pencil first arrives, the lead bit is a sharp angle. Mine is about 10 months old and used almost daily, so it has naturally rounded itself down. When I first get pencils like these, I like to just run them on the back of my hand until the stiff, sharp edges soften, before using them. I find it easier to use then.
The pencil bit too, isn't very thick. I've tried the much cheaper option of the Daiso brow pencil that looks just like this, and while it was a decent product, I didn't like it. I found the pencil too thick so it wasn't easy to pencil in a smooth arch to the brow, and I just wasn't taken by it. If it works for you, that's great. It's not a bad product at all.
The pencil in this one is slim and it isn't very soft. In many ways, I find it reminiscent of the Shu Uemura Hard Pencil 9 in texture. When you try to draw on the back of your hand, very little colour appears. But apply it to your brows and the colour transfers very easily to your hairs and best of all, stay put!
I picked the shade Soft Brunette, which is the middle shade. It comes in 3 shades – Blonde, Soft Brunette and Dark Brunette. Soft Brunette isn't too dark nor is it too red, nor too light. In fact, I like the slight grey tone it has which I feel, gives brows a more natural appearance. I'm not sure what the other 2 shades are like, but I'm sure a quick search online will help.
It's so easy to just twist it up (I only twist up enough for me to use, because I don't want this breaking on me), draw on my brows and then twist it back. The shape remains like a clean sword angle, and my brows stay put all day long and then some. Seriously budge-proof!
Here's an idea of how the Hourglass Soft Brunette brow pencil looks when I wear it.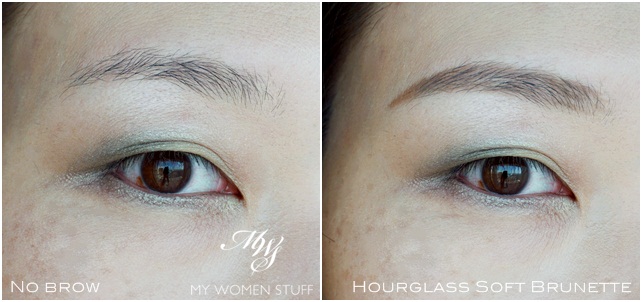 Since I purchased and fell in love with this brow pencil, I've stopped using any other. Even my stumpy formerly trustworthy Shu Uemura pencils have fallen by the way side. While taking pictures for this post, I twisted up the pencil to its maximum to see how much more I have left and I'm happy to see that I do have quite a lot more to go before I have to replenish this. With regular use like me, one pencil can easily last over a year. Perfect by me! 😀
IN A NUTSHELL

The Hourglass Arch Brow Sculpting Pencil is my holy grail brow pencil for now ever since I got it almost a year go. The slim, angled pencil shape makes pencilling in and shaping brows a breeze, and the hard texture of the pencil transfers easily to the hairs and the formula lasts all day. Hours! I like how it's retractable and therefore doesn't need sharpening, and there's no wastage of product. I love it!

PROS: Easy to use, Colour is natural on brows, Longlasting for hours, One pencil can last a very long time even with daily use, Good solid construction, Included brush helps soften and makes brows look more natural

CONS: Pricey, Hard to get if you do not have an Hourglass counter nearby

WHO WILL LIKE THIS: Anyone who likes an angled brow pencil tip but does not want one that needs regular sharpening, Anyone who wants an easy to use and very good brow pencil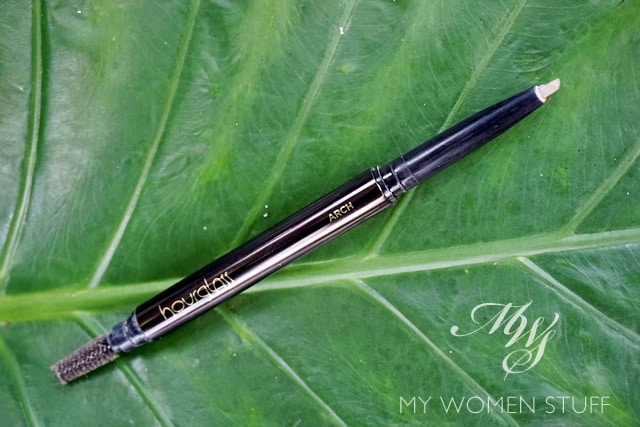 It's since come to my attention that Bobbi Brown has a brow pencil similar to this, and Shu Uemura will be launching one soon (FINALLY! But to receive my custom, they maybe just a year too late 😛 ) so it's great that we now have options. Me, I'm super happy with this one, and it's earned its permanent place in my makeup pouch. If I lose all my makeup, this will be one I'll repurchase for sure!
Have you used this Hourglass brow pencil? What is your current brow pencil and do you enjoy using it?
I still have my ZA brow pencil (which is another decent and affordable product) and a couple of Shu Uemura Hard Pencil 9 ones that sometimes find their way into my hands. But if I want to put a good brow forward, this is the one I reach for. The others are dispensable 🙂
Paris B
Hourglass Arch Brow Sculpting Pencil comes in 3 shades – Blonde, Soft Brunette and Dark Brunette Price: £26 | $32 Availability: SpaceNK.com and Net-a-Porter.com ship internationally