I haven't done a Bag Lust post in a while. This is primarily because I haven't been lusting after many new bags. *whew* Did you hear that? that was my bank account sighing in relief!
But last weekend, I held a little insta-live chit-chat session, where a few of you asked me what bags I've currently got my eye on. That's interesting. I never thought anyone bothered to read my bag-related ramblings LOL! But clearly, some of you do, thank you!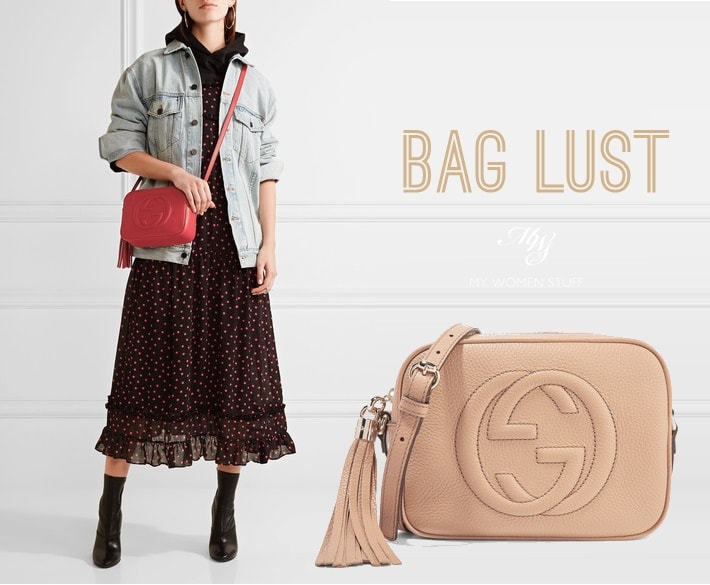 So, I took a look at one of my many online shopping carts, where I hold my wishlist items as and when the fancy strikes, and one bag jumped out at me – the Gucci Soho Disco. I held it in my online shopping cart in a few different colours. Yes, this is a bag I'm lusting after, so please feel free to talk me into or out of it! 😛
The Gucci Soho Disco is a little bag, as you can see, and not terribly practical for a working woman, but it currently suits my lifestyle. You can carry a larger tote for your other items, and slip this one inside to hold just your essentials.
I've gone by the Gucci store a few times in the past 2 years (yes, I've been lusting after this for about that length of time!) to paw at the Soho Disco and to have a little play. It isn't very large, but it is quite roomy.
The leather is a grainy soft calf-leather, that feels lovely and thick, and it is lined with casual canvas lining. I went into the store and emptied the contents of my bag into it to test for capacity (yes, I do that all the time – I have to know if it'll fit what I need! Most of the time, the sales people don't bat an eyelid. If they did, I'd still do it anyway LOL!)
It can comfortably fit a small wallet, mobile phone, a small makeup pouch or lipstick, keys, and some other bits and bobs like tissue paper or more importantly, a powerbank. It definitely fit more than I realised, and the strap makes for a fun, casual vibe. It slings comfortably cross-body for me and hits nicely at the hip.
Some people are leery about the large GG logo on the front, but I don't mind it really. It isn't terribly obtrusive, as it is in matching leather, picked out only by thread. If it was a shiny gold logo like YSL I might be a little more apprehensive.
Since I had a look at it, there is now a newer version, that comes without the tassel. The bag is also more structured, with a slightly stiffer feel to it. This new version is the green one that you see in the picture above. The nude and red ones are both of the older design, and this is really the one I want.
I can't decide if I should do it in nude or red. Both are lovely colours, and I've tried both on in the stores locally, but I haven't yet made the move to get them. Maybe one day, maybe never. Who knows! Till then, it's my bag lust 😀
You can get it at the Gucci boutiques or Net-a-Porter, where I've been holding my wishlist. Unfortunately, I've noticed the price has gone up a little on NAP, which bums me 🙁
Do you own the Gucci Soho Disco or have you played with it?
Thoughts? Oui? Non? Bite the bullet? LOL 😀 Actually, this is one of the more classic, quieter Gucci designs. I am quite taken by most of the newer Allesendro Michele designs, but I have to admit some of them are really loud. This one's quiet but elegantly casual.
Paris B