I go through phases with my makeup, and I'm currently in the "lazy girl" phase. I've been keeping things light and easy (with emphasis on easy!) with my makeup, so when I wanted to cut back on eyeshadow, I decided to take a very simple way out. I'd wear just coloured eyeliner!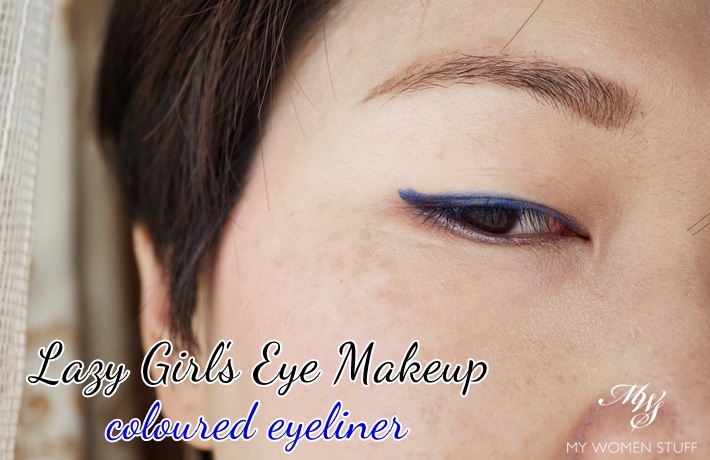 It pretty much started out because I was in a hurry one day and didn't want to spend time putting on eyeshadow. I do have my go-to palettes and products, but you know, sometimes, even those can fail you. So, I found myself reaching for a Chanel Stylo Yeux Waterproof eyeliner in a bright blue from one of the past seasonal collection, to add a pop of colour to the eyes.
Little did I realise that it was the start of a new obsession for me! LOL! 😀 I did end up with a save and splurge option so I wanted to share them with you. If you have brands with coloured eyeliner that you love, please share it with me? 🙂
My preference lies with the retractable eyeliner pencils for a simple reason – I can't be arsed to sharpen my pencils. Oh yes, I'm super lazy – I did say so didn't I? Often, even with my black pencil liners, I find myself using it all the way down to the nub, and it's only when the wooden part of the pencil starts scratching at my skin do I reluctantly look for my sharpener.
With most of the retractable eyeliner pencils in the market, they are skinny enough that you don't actually have to sharpen them at all, or they come with an in-built sharpener that you can use to neaten the tip, if that strikes your fancy. I hardly use it because I find it makes the pencil more prone to breaking off (and I'm lazy remember? 😛 )
I started out using the Chanel Stylo Yeux Waterproof eyeliner and I found that I really enjoyed using them. They do have a selection of colours that tempted me enough to pick up more, which I did just recently. Deciding I wanted a comparison with something a little more affordable, I also stopped to check out the extensive Sephora range of eyeliners and picked up a couple.
Remember, my preference lies with retractable style liners, so while I know that there are many brands out there in the market, I skipped them because the packaging wasn't to my preference. I'd love to hear of them though if you're up to recommending a fave!
SPLURGE: Chanel Stylo Yeux Waterproof Eyeliners – RM92 | US$33 each
I must say that I have personally enjoyed the Chanel Stylo Yeux Waterproof eyeliners, even if they aren't truly the most smudge-proof of liners. I recently picked one up in Purple Choc, a blackened purple. However, my favourite colour remains Fervent Blue, which is a bright blue. I thought it was limited edition, as I didn't see it at the local counter, but I honestly cannot be sure. I can't keep up you see 😛 The bronzed Sable colour that came out in the Chanel Summer 2016 collection is also a very pretty one for quick lining and for lining the lower lid to add some shine.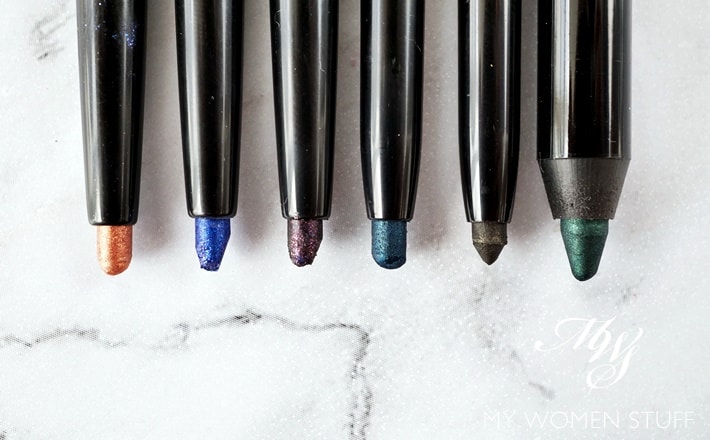 Left-Right: Chanel Sable, Chanel Fervent Blue, Chanel Purple Choc, Sephora Teal, Sephora Matte Moss, Sephora Good Mood
I like how the Chanel Stylo pencils are fairly thin, so you can use them easily to tightline close to your lashes, and you can similarly use them to draw a fairly precise line, if that's how you like it.
I do find that if I use an eye primer, like the NARS primer, the liner will stay on longer without fading. I do however find that if I draw a thick line (which is inevitable with hooded eyes like mine) then there is a chance of creasing. If I stick to a thin line along my lash line, then it stays put.
With the deeper shades, there is also some transference through the day, so I cannot say with 100% certainty that these are truly waterproof. If you see my smudge test below, they will rub off, but for some reason, they stay put on my lids (which aren't oily to begin with) for most of the day and I do need a proper eye makeup remover to remove them, but they will fade throughout the day. When used on my waterline or as a tightline however, I do find that it stays put for a good part of the day. Good enough for me.
I also find that quality seems to be a little inconsistent between the colours. Sable is smooth with lovely shimmer and shine without fall out. Fervent Blue has some fall out and is more glittery and does not apply as smoothly on lids, but stays put. Purple Choc has glitter which falls out so it isn't my favourite colour or texture.
In the permanent Chanel Stylo Yeux Waterproof range when I was at the counter, I didn't see many vibrant colours. It would seem that Chanel reserves their vibrant colour eyeliners for their seasonal collections, which is a pity – I'd love to pick up more, despite its shortcomings!
SAVE: Sephora Retractable Waterproof Eyeliner – RM45 | US$12 each
When I saw some affordably priced retractable coloured eyeliners at Sephora, I decided to pick them up for a quick test and comparison.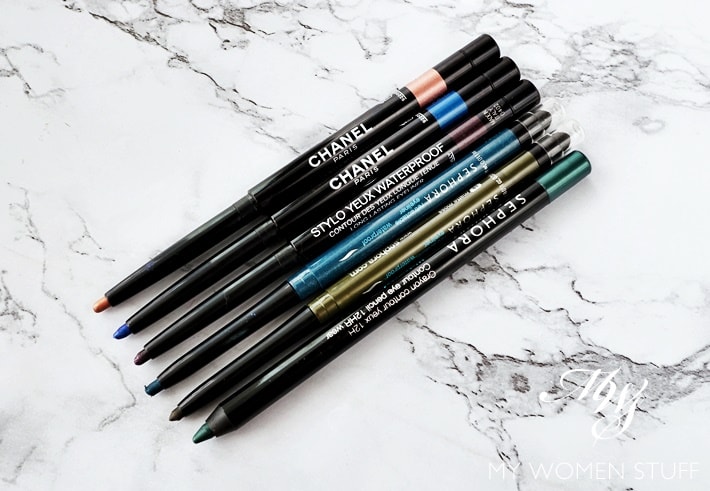 I thought Sephora might have some fun shades, but for some reason, none of the shades appealed to me. Perhaps it was the store I went to. The tester selection was grubby and when I found a colour I was interested in, I couldn't find the actual product because everything was messed up. So that experience really bummed me.
Still, I did pick up 2 shades – Teal and Matte Moss. The shades are quite close to what you see in the colour on the body, so that made it easy to pick out. However, I don't find the colours to be as vibrant as Chanel's.
Like the Chanel Stylo Yeux Eyeliners, these are thin and smooth on skin without tugging. They do well both for tightlining as well as for adding some colour. With coloured eyeliners, I like to draw on the lower lash line as well, for a pop of colour on what is otherwise bare lids.
Like the Chanel Stylo Yeux Waterproof eyeliners, I find that a thick line will result in some colour transference and creasing as the day wears on. If I go with just a thin line along my lash line, it is better. So, I do have to check occasionally, to ensure I am not a colourful panda. But Sephora seems to recognise this as well, because their pencils come with a foam sponge at the end, together with the sharpener, so you can smudge out the colour if you prefer.
However, I have to attest to how waterproof these are, because even through tears, they remain. Yes, they will smudge, and you may end up with your tissue paper turning teal, but when you look in the mirror, most of it remains. It's not an experiment I suggest you try, but it's good to know LOL! 😛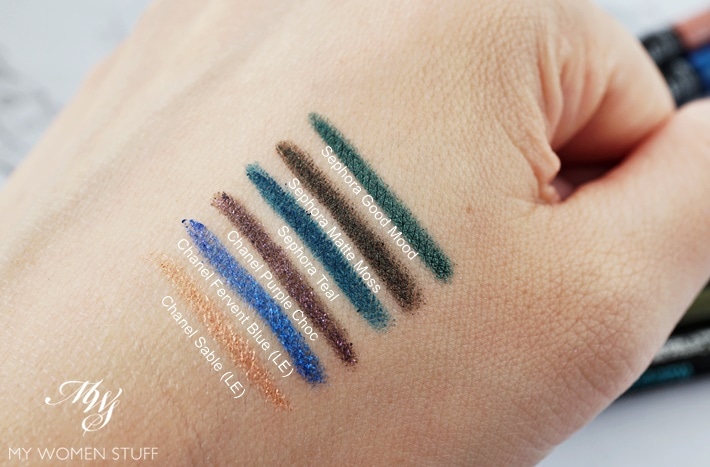 These are the swatches of the coloured eyeliners I own in both the brands I've featured here. I love the vibrancy of the colours and how easy it is when I'm feeling super lazy (which is EVERYDAY!). I haven't touched my eyeshadows in a while, which makes me feel guilty, but heck. At least I'm still wearing SOME eye makeup! HAHA 😀
I let the swatches set for a while, and then used my fingers to rub at them, and I thought I'd show you how they look.
The Chanel swatches have all but rubbed off (pity!) while the Sephora swatches are still there albeit a little more faint. This will I think, give you an idea of how well they will hold up. I will not say that either of them will stay put without smudging or moving, but when used as a liner (thin line on lash line or waterline) they perform well. They perform less well when used as eye colour, for which I would prefer something more budge proof like the Laura Mercier Caviar Sticks or Bobbi Brown cream eyeshadow sticks.
MY PICK
Despite the shortcomings, I do still like the Chanel eyeliners and I do want to try one in black, since I use eyeliners often. The Sephora ones are very nice for the price, but the colours aren't as vibrant as I'd like them to be. I honestly can't choose between the two so this one ends in a tie. I think they're both great products!
I do also realise that these days, there are many brands with coloured liquid eyeliner which will give a better result with a sharper line. While I enjoy using black liquid liner, I haven't quite embraced coloured liquid liners. I'm not sure why! Maybe there's something about the imperfection of a pencil liner that attracts me better, since I'm no makeup expert 😀
Do you use coloured eyeliner? Do you have a favourite brand that I should check out?
I'd love to know of any other brands I should check out, so please share if you know of any! I have realised, while browsing in the pharmacies that it isn't easy finding an affordable coloured eyeliner (I used to love the Silkygirl ones though! Not retractable unfortunately) and they are much easier to find in the higher priced brands. Less still in a retractable pencil format! But share your picks with me anyway, I want to know! 😀
Paris B