I don't usually repeat reviews (I first reviewed this back in 2007) but I'm making an exception for this product, because its withstood the test of time and because I've had quite a few requests asking me what I use for my brows and when I say its the Shu Uemura Hard Formula Brow Pencil, I've had reviews requested. After much procrastination, here it is 🙂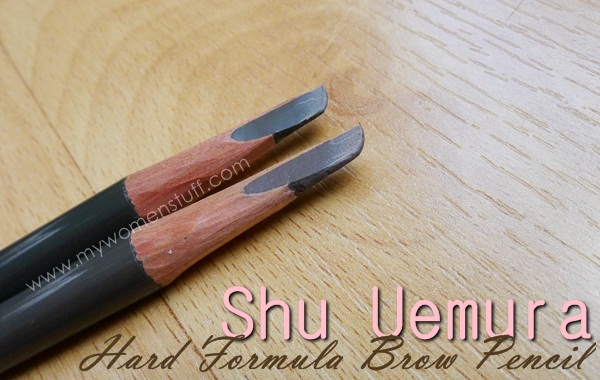 This product is one of Shu Uemura's iconic products – their Top 5 alongside their cleansing oil, deep sea water mist and eyelash curler. I can also vouch for the last which I also use daily.
So, what is so special about this pencil? I attribute it to the lead used, and the shape.
The lead is quite hard, and if you try drawing a line on the back of your hand, you get little to nothing. Its easy to say "Ah crap! What a waste of money!" But the beauty really is that it doesn't mark your skin but the colour grabs onto hair and colours it quite easily and naturally. We want natural looking brows, not brows that look stenciled on (You can get a tattoo for that 😛 ) and this pencil is great for that.
Of course, the special shape plays a part in making this one easy to use too 🙂
When you buy the Shu Uemura Hard Formula 9 Brow Pencil, it comes looking just like a normal round pencil with a sharp tip. You can ask the SA at the Shu boutiques or counters to sharpen it for you into the Niigata (sword) shape. Over here, most boutiques and counters have them ready sharpened so you don't have to wait.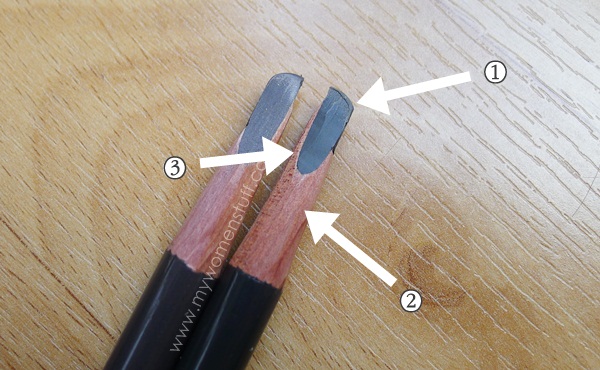 So what's so special about this Niigata shape? The pencil lead is sharpened flat so it resembles a sword. At the top, it is tapered to a flat angled tip (1). This shape actually makes it easier to draw or colour in your brows, and gets it at the correct angle.
The body of the pencil (2) is of hard wood and so is the pencil lead which is also hard. This allows the pencil to hold its shape in this design. You can try sharpening your other pencils into this shape but if the lead is too soft, it will not hold and will break easily. I've never had a problem with my Shu pencils breaking but don't go dropping them from great heights either!
If you look at it from the front, the wood is sharpened into a U shape, with one side higher than the other. The higher part is to protect and support the pencil so it doesn't break. The other side is lower and will dip as you use it.
I find that the angle is quite perfect for use in penciling in my brows. I've realised that I do have quite thick, if a little unruly brows. So, I don't really draw in my brows per se, but merely darken the hairs and define the shape for everyday. The thin flat tip allows me to draw a fine tail to taper off the end of my brows, and the shape is easily angled to colour your brow hair in short strokes.
For most Asians, Seal Brown 02 or Stone Grey 05 work quite well. It would be advisable to match your brows to your hair, so if you have lightened your hair, you might want to think about a lighter pencil. I use both Seal Brown and Stone Grey interchangeably.
In a nutshell
A brow pencil I find hard to do without. I have been using this for over 5 years and I keep coming back even after trying other brow products. In all that time, I have only repurchased once. Yes, one pencil does last quite a while even with daily use. I think this lives up to its hype and I will further fan the fires of this hype because it deserves it!
Pros: The shape makes it easy to use, You can take it back to any Shu Uemura counter or boutique to have it sharpened complimentary, It gives a very natural look to the brows as it mostly colours the hair and does not deposit too much colour on the skin
Cons: Initial investment can be pricey, Maybe inconvenient to sharpen if you do not have a Shu Uemura counter nearby
After using it often, you will find that the pencil will wear down until a point when it just becomes impossible to continue using. I notice this most when my brows start looking thick and weird. That's when I know its time to gather up my pencils and head to a Shu Uemura counter or boutique to have them sharpened, gratis! I have 2 so I can stretch out the sharpening time, but if you just have one pencil and use it daily, expect to have to sharpen it at least once in 2 months or thereabouts! 🙂 One pencil can last you a long time so I won't say its a pricey product – just initially.
You could sharpen it yourself. I've tried it, butchered my pencil and will never do it again 😛
I've tried using a lot of other brow stuff – cream, gel, powder and recently, liquid (!) but I come back to this pencil because I find it gives the best and most natural result for me and I get the job done in the shortest possible time too!
Do you use the Shu Uemura Hard 9 Brow Pencil too? Do you find it as indispensible as I do? 🙂
Paris B
The Shu Uemura Hard Formula 9 Brow Pencil retails at RM65 (I think) at all Shu Uemura counters and boutiques. Resharpening is complimentary.