Do I pay a lot of attention to Clinique makeup? I'm afraid not. I know they do some solid pieces, but they aren't what I'd call exciting, or even sexy. But the new, limited edition Clinique x Jonathan Adler collection is going to change that. Here is a collection I can get behind.
As Jonathan Adler said "My collection for Clinique is for women who want to crank up their glamour factor to eleven" Sign me up Jon!
And for a limited edition collection, one that promises not to break your bank. Clinique teamed up with designer Jonathan Adler, for a collection that shrugs off the more youthful, rather staid image of Clinique, and turns their makeup into art pieces, worthy of display in your flat lays, or in your makeup pouch. I mean, look at that lipstick! I was cooing all over it, enthralled by the beautiful geometric printed cover, capped by an acrylic, gem-like cabochon. I loved the look of the lipstick the most, and the wallet-friendly prices help you want to collect them all.
There is just one wee little down-side.
The eye and blush colours in the Clinique x Jonathan Adler collection are not special or limited edition colours. They are existing colours in the Clinique Cheek Pop and Lid Pop ranges. As you can imagine, I was rather bummed about this. Only the Lip Colour + Primer comes in additional 3 limited edition lip colours..
The upside is this. If you already own and love the existing Clinique Cheek Pop blushes (with the flower imprint) and the Lid Pop eye colours (also with the flower print) and the Lip Colour + Primer lipsticks, then you will be predisposed to love these too, for these are the exact same formula, except with the limited edition geometric print on the surface. I confess that I much prefer the look of this geometric print, which suits my style better than flowers. The reason you'd pick these up therefore, would be that you're a) a makeup collector, or b) don't already own the colours available or c) love lipstick and want that beautiful lipstick packaging because hey, lipstick will finish… eventually 😀
I was gifted with one piece from each range, so let me just quickly run through them and tell you which is the must have!
Clinique x Jonathan Adler Cheek Pop – RM95 | US$27
I love that geometric design which brings to my sci-fi trained mind, some alien ship schematic LOL 😀 I love it! The shade I have here is Plum Pop, and I already have the Cheek Pop in Plum Pop in the original gerbera print. I can tell you that the formula is the same. Pigmented, easy to blend, and a pretty pop of colour. I only like this better, thanks to the design which tells you how important design can be to human perception 😀
There are 2 shades available in the Clinique x Jonathan Adler collection – Plum Pop (pink) and Peach Pop (peach).
Clinique x Jonathan Adler Lid Pop – RM90 | US$20
I remember when the Lid Pops were released and how much of a fuss was made over them. These single eyeshadows boast a similar formula to the Cheek Pop blushes, where the colour is pigmented, with a cream-to-powder formula that sticks to skin and lasts. I however, never got any because, truth to tell, I'm not into eyeshadow singles, nor was I too enamoured with the embossed flower. I'm just not given to whimsical designs like that.
So, the Lid Pop in Willow Pop 05 was my first experience with the Lid Pop and I must say that I love this shade. If you like neutral, earthy tones for the eyes, then Willow Pop will be your friend. This khaki shadow has some shimmer, but only enough to keep the colour interesting. It swatches like butter and is very easy to blend. I, in fact, use this as a single colour all over my lid, blended out, and then with a dark eyeliner. Quick and perfect for lazy or busy days!
There are 4 shades available in the Clinique x Jonathan Adler collection – Cream Pop (beige), Grape Pop (purple), Willow Pop (khaki) and Aqua Pop (turquoise).
Clinique x Jonathan Adler Lip Colour + Primer lipstick – RM100 | US$22
The Clinique x Jonathan Adler lip colour collection boasts 6 shades, 3 of which are limited edition colours. The one I have here is a limited edition colour – Capri Pop and I freaking love it! 😀 But do also note that I do like this Clinique lipstick formula which I think is underrated. Do also note that in my earlier review, I wasn't sold on the packaging. But now I'm sold down the river! 😀
If you love red lipstick, then I dare say that Capri Pop is a must have. You know I don't say things like this lightly! Capri Pop is a bright, true red with just slight blue tones to be flattering. It brightens up your face so you barely need any other makeup (perfect for lazy days!) and it has a lovely easy to wear texture that glides on lips smoothly without tugging, and has the slightest of shimmer to plump up your lips. A beautiful colour in beautiful packaging. I haven't been this enamoured with a lipstick for a long time!
Locally, there are 6 shades, with the 3 limited edition shades being Capri Pop (red), Santorini Pop (berry) and Palm Beach Pop (Pink).
Here are the swatches on my arm of the 3 items I've featured here.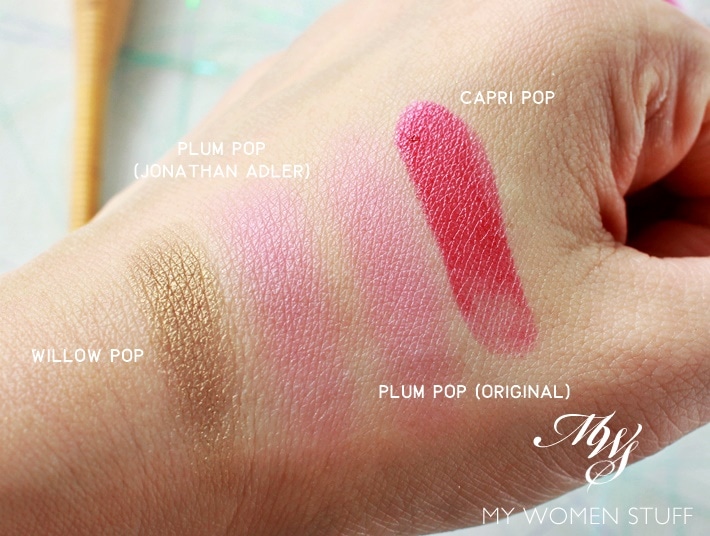 I've swatched the old Plum Pop and new Plum Pop side by side to show you if there's any difference (there isn't). Willow Pop is the loveliest khaki colour on lids, and I'm in love with Capri Pop lip colour!
IN A NUTSHELL

The Clinique x Jonathan Adler collection is a limited edition collection with geometric print embossed on the surface of the blush and single eyeshadow. The lipstick has the geometric print on the cover, together with a jewel-like acrylic cabochon. The lipstick boasts 3 limited edition colours, but the blush and eyeshadow colours are existing colours. The texture and formula in all the products are impressive, being all smooth, pigmented and easy to wear. It's a collection for makeup collectors, and for anyone who just wants a beautiful red lipstick! It appears that there are other items in the Clinique x Jonathan Adler range e.g. brush sets, cleansing brush, makeup palette, but it is not available in Malaysia. What we do have is a Clinique x Jonathan Adler cushion compact case that fits the Clinique cushion foundation.

PROS: Pigmented colours, Easy to use, Eyeshadow is easy to blend and smooth to apply, Blush is pigmented and easy to apply on cheeks, Lipstick applies smoothly without tugging and is opaque in one swipe from the tube

CONS: Limited Edition, The eyeshadow and blush colours are existing colours with a different print

WHO WILL LIKE THIS: Makeup collectors, Anyone who isn't a fan of the flower embossing on the blush and eyeshadow colours, Anyone who wants the perfect feature brightening red lipstick

PRICE: As above

WHERE TO BUY: Clinique stores and online
Oh and here's how the 3 items look on me.
On cheeks is the Plum Pop blush, which is a lovely pink. On my lips is Capri Pop lipstick, which I freaking love and have been wearing often (because I'm too lazy to wear eye makeup – win!) and on my eyes, which you can't see is Willow Pop and a dark eyeliner to define. If you only choose to get one item, get the lipstick. I love the packaging and the formula and the colours. You can get the other items later, if you don't mind the flower print 😛
Did you happen to see this new Clinique collection?
Would you wear Capri Pop? Go on, I dare you to! 😀
Paris B