Those of us who do our makeup shopping online would be familiar with the lament of not having proper swatches of colours to work from. When I was invited to give the new Clinique Pop Lip Colour + Primer a go, I was offered a selection of colours online. I didn't really have their names so I picked something that looked "berry-ish" a colour I knew I'd wear daily and often. As much as I love my red lipstick, I've not been wearing them as often as I should.
When it arrived, I had a bit of an "Oh crap!" moment when I saw that contrary to what the online picture showed me, the shade was not a berry red as I thought, but a colour that verges on being "nude" or "neutral". If there's one thing I shy away from more than chocolate, it's nude lipstick. (Look, I can't be the only person out there who doesn't like chocolate right?! 😛 )
The shade is 02 Bare Pop and in tube, it looked like a neutral, slightly pink-browned shade, with tiny little sparkles. My heart sank. If there's something else I can't handle, it's lipstick with sparkles.
But my job, as it were, is to try the formula, so I gritted my teeth, pursed my lips and slicked Bare Pop on. It's kind of hard to explain how it happened, but much to my surprise, Bare Pop has found its way into my daily lipstick pouch!
This is Clinique's latest lipstick offering, which is a lightweight formula that is supposed to glide on with bold colour, for a pigmented lip that feels comfortable all day.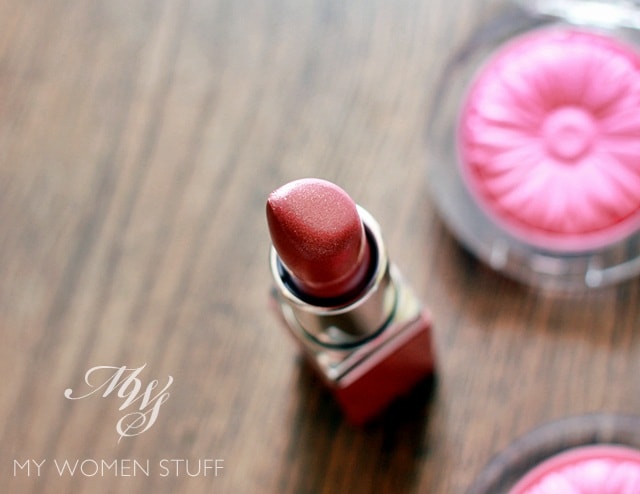 I do find that the product slips on quite easily on lips in a manner almost like that of a lip balm. I also found Bare Pop to be a little sheer and not as bold and unsaturated as the brand claims. However, I am told that it's due to the colour I picked. The brighter shades promise to have a bolder effect, which I do see from online swatches so my conclusion is that opacity may vary from colour to colour.
I have also read complaints that say that Bare Pop gives lips a frosty hue, which was something I was concerned with due to the visible sparkles in the bullet. However, I don't personally notice this frosty hue. I've lived through frosty lipstick. Trust me my friends, this isn't frosty.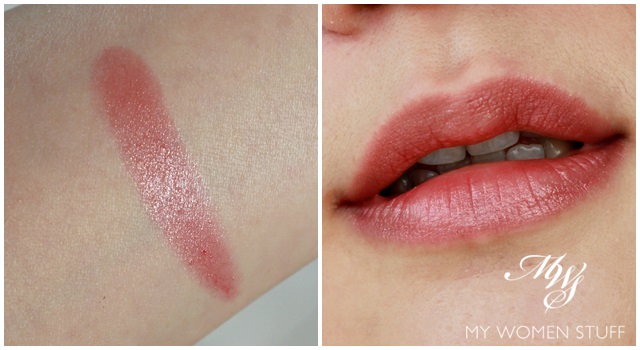 Clinique Bare Pop swatch on arm and on lips
There is however, obvious shine, which you may or may not like. Clinique also says that these apply semi-matte to which I say no. These are not matte. There is definitely a shine to it. I also find Bare Pop sheer, but then when I'm promised "bold, unsaturated colour" I expect a creamy, opaque colour.
Just based on the colour in tube, I'd never have picked this one up. However, I was quite pleasantly surprised to note that when I wear it, it gives my lips a very natural colour and shine. It makes for a good "no-brainer" lipstick or a weekend lipstick or just a casual lip colour. I'd wear this with heavier eye makeup and a pop of colour on cheeks offered by the Clinique Cheek Pop blushes.
As you can see, Bare Pop is a very safe lip colour. I keep it in my makeup pouch because it's a shade I can wear irrespective of what makeup I'm using on a particular day. I have a bad habit of not carrying the lipstick I wear in the morning and not reapplying my lipstick, so it's quite useful to have a safe shade I can pull out when I need it.
The packaging deserves a mention because unlike many people who like it, I don't. I thought I would, from online photos, but after having it for a while, I find I don't. It's dinky and square and I like that because it means it won't roll around and go missing. But I don't like the different coloured bases, which correspond to each lip colour.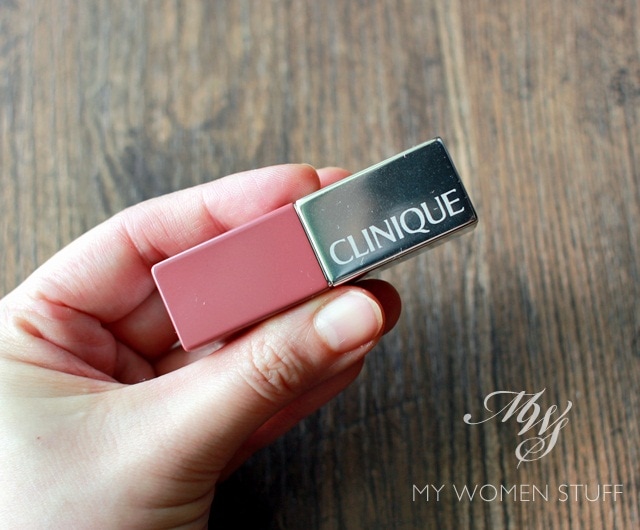 I suppose I'm just a little old fashioned. The colourful bases, whilst making it easy to find the colour you want in a pinch, also makes it look a little bit like a toy and unfinished. I suppose I take makeup a little more seriously hence my preference for a more streamlined look. As it stands, I have a tendency to feel like I'm working with a paint chip, which reminds me of the heady days of house renovation and cracking my head over paint chips and how I was supposed to imagine a whole wall from a tiny little chip. But I digress 😛
Packaging grouses aside, I'm quite happy with the colour and formula. I'm however, not in a hurry to get more colours because of the packaging. Catch-22 situation eh? 😛
IN A NUTSHELL

The Clinique Pop Lip Colour + Primer lipstick is a new range of lipstick that promises long lasting bold lip colours that are lightweight and comfortable on lips. I do not find these drying, and I agree that they are lightweight. For me, they slick on a little like a lip balm, with quite a nice slip. Based on the shade I received, Bare Pop, I found the colour a little sheer but I'm assured that the brighter, bolder shades have a bolder swipe of colour. Bare Pop is, for me, a nice day to day neutral lip shade. It is neutral with just enough pink to prevent me from looking like the walking dead. However, I'm not a fan of the packaging which I find a little unfinished. But that's me. I'm finicky that way.

PROS: Inexpensive, Lightweight and comfortable texture, Longlasting and not drying, Bare Pop is a very safe way to wear a neutral or nude lipstick due to the pink tones, Not as metallic as I thought it would be, Smooth to apply, Not scented

CONS: I'm not a fan of the packaging, Opacity of colour and shine may differ from shade to shade

WHO WILL LIKE THIS: Anyone who wants a lightweight lipstick with fairly bold pigmentation that isn't drying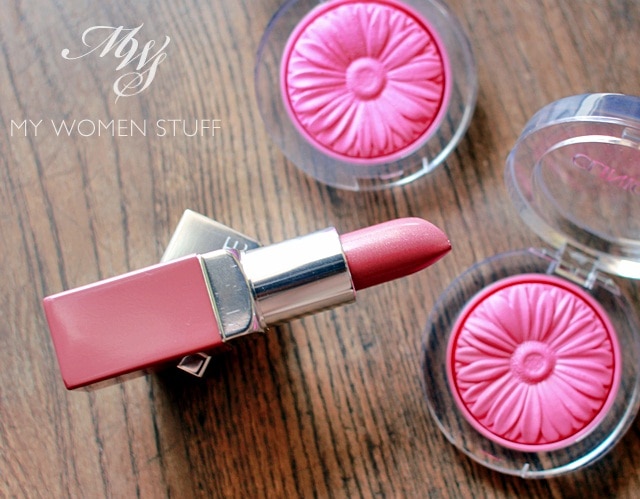 Have you tried these new Pop Lip Colour + Primer lipsticks? Do you like chocolate? 😛
Incidentally, speaking about pops, I recently found out that Clinique has expanded their line of Cheek Pop blushes, which are the ones you see in the picture above. I haven't seen the new shades, but if you have, please let me know what you think. I love these! They're so good, and so pretty, and not expensive! 😀
Paris B
Clinique Pop Lip Colour + Primer Lipsticks are available in 16 shades Price: RM83 Availability: Sephora in April 2015 Clinique counters from May 2015
[show_shopthepost_widget id="691468″]