Ergh! I was told these very popular Clinique Cheek Pop blushes would be available here in mid-February, but it seems like it might be delayed. I'm afraid I'm running with this however as it's already been scheduled, so if you don't see it at your Clinique counter or online (you do know you can shop online?), don't fret. It'll appear in time, and they are permanent and they will be worth the wait I promise you!
What are these Cheek Pop blushes then? One of the new hidden gems from Clinique!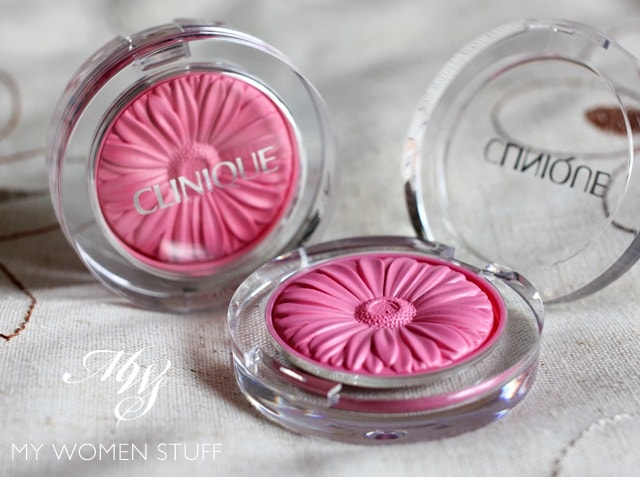 The Cheek Pop blushes are vibrant blushes that come in 4 very wearable shades and whilst are powder blushes, have an interesting cream-to-powder texture and finish that is fascinating. But what will really catch the eye of most people would be the design. We have not see something this pretty, yet this functional in a very long time!
The Cheek Pop blushes come imprinted with a gerbera on its surface which is impressive with its attention to detail and intricacy. The best part is that the embossing does not disappear with a few uses. I've been using these quite regularly and the pattern is still pretty intact. In fact, these pictures were taken after a couple of uses so you will have reason to smile at these flowery blushes for a long time to come 🙂
But pretty pattern aside, the Clinique Cheek Pop blushes pack a punch and I must say, surprised me every step of the way. These deserve all the accolades tossed at them, and then some!
Each Cheek Pop blush comes housed in a transparent lucite case, with a base that corresponds to the colour in it. There are 4 shades available for now:-
Plum Pop – a light cool pink
Berry Pop – a deep berry pink
Ginger Pop – a warm coral red
Peach Pop – a warm coral pink
I have yet to see Ginger Pop and Peach Pop for myself but I have been seeing many pictures and swatches online and they look absolutely beautiful so I'm quite taken with them too. They are the warmer shades so if you fare well with peach and coral blushes you will want to look at those and if you fare better with pink shades then you will probably prefer Plum Pop or Berry Pop.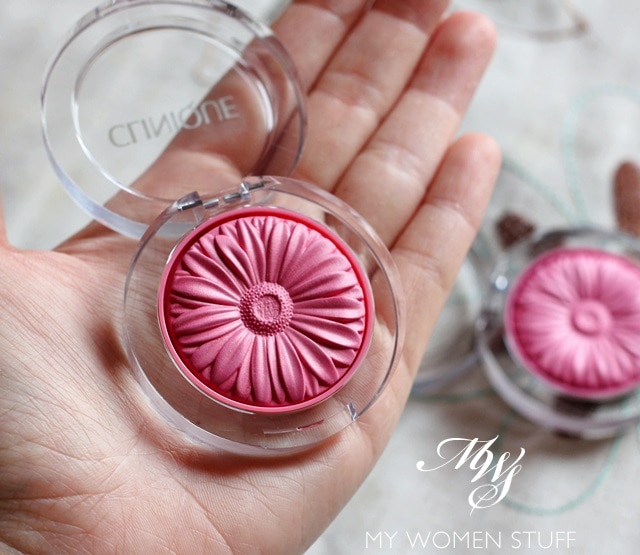 Clinique Cheek Pop in Berry Pop for size reference
They aren't very large, but the colours pack a punch and the price is very affordable (RM80 yo!) so I really am not complaining at all.
In pan, and putting Berry Pop and Plum Pop side by side, I must confess that it is actually quite hard to tell them apart. The tonal shades are close and unless you view them in bright light, they aren't that noticeably different.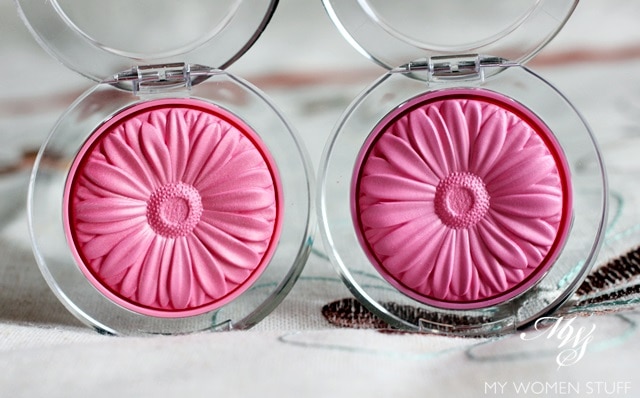 Clinique Cheek Pop Left: Plum Pop Right: Berry Pop
In brighter light, you will notice that Berry Pop has a deeper colour that Plum Pop but to the naked eye there is minimal difference. Does that mean therefore that you can just get away with just one instead of both?
Actually I do think you can. Whilst there are subtle tonal difference between the 2 cool shades and the 2 warm shades, I personally find them a little too similar on skin to warrant getting all 4 unless you are a collector. However, between each tone category lies also a subtle difference so it does pay to get the shade right the first time.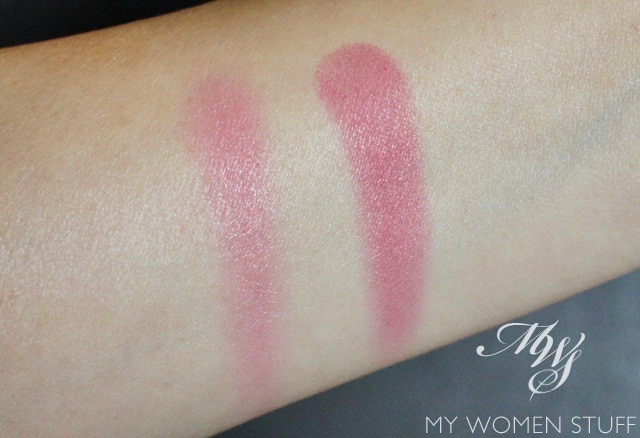 Clinique Cheek Pop Swatches Left: Plum Pop Right: Berry Pop
As you can see, while Plum Pop and Berry Pop look similar in pan, on skin they are quite different. Plum Pop, despite its name displays no plummy tones and instead is a light, cool toned pink which I personally find flattering on fair skintones. On deeper skintones you may have to layer it a bit.
So for deeper skintones, I think Berry Pop will serve you better. It is a cool toned berry pink that I'd pick in a heartbeat if it was a lipstick but in a blush, it is a shade that gives me pause. I personally think this will be more flattering on someone with deeper skintone and while I get it to work, I need to be careful with it and I prefer using Plum Pop which I find more flattering.
Clinique Berry Pop blush – look at the intricacy of the pattern! This is after at least 2 uses.
The texture of these Cheek Pop blushes are very interesting as they actually feel a bit like a cream and even look like a cream blush but it's a powder blush. I just use my regular blush brush to pick up product and even the soft Lunasol Cheek Brush works just fine. In fact, I like using it because it picks up just enough colour to allow me to build on as when I work with Berry Pop I find it a bit too strong for my skintone. So my advise would be to work out the shade you'd like and then go with a light hand and blend and build colour along the way because these are surprisingly pigmented.
Longevity is very good as well. I apply these over foundation and they last practically all day on me – a minimum of 8 hours before I notice it's gone. The incredible texture gives me a sheer, blush from within glow that I love especially with Plum Pop so that's my favourite of the 2 that I have. I am considering Peach Pop as I suspect that Ginger Pop might be the counterpart to Berry Pop, both being deeper in tone, so I'll report back when I get it 🙂
For completeness, here's how both the blushes look when I wear them.
This is Plum Pop, the cooler light pink toned blush.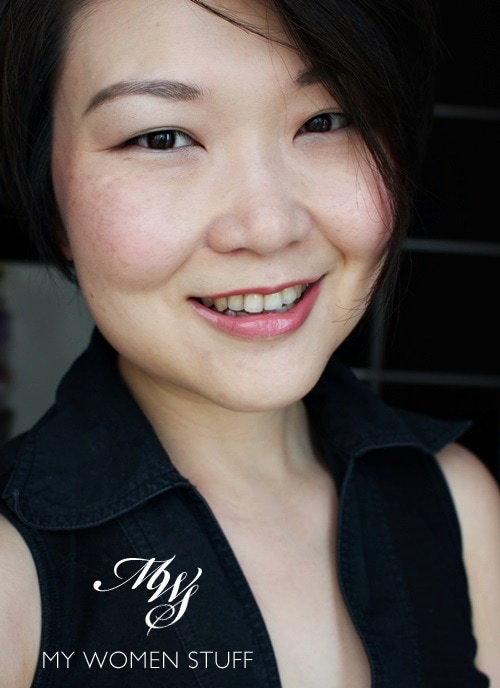 This one's Berry Pop the slightly deeper toned berry blush used with a very light hand and blended out.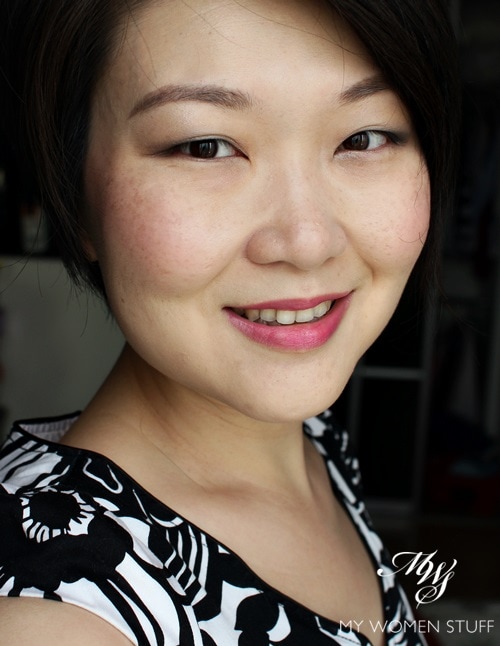 To be perfectly honest, on cheeks, despite the difference in lighting etc, there is little difference between Berry Pop and Plum Pop. I find Plum Pop more flattering and less likely for me to make a mistake with. With Berry Pop, I can sometimes look like I've put on too much blush and it then looks less flattering on my skin.
Personally, I'd just pick one from each category, despite the affordable pricetag and incredible texture. It just doesn't quite make sense to own all 4.
In a nutshell

Get them when they're released! 😛 These new Cheek Pop powder blushes from Clinique apply like a cream and give a very lovely transparent glow on the skin that is very flattering. The colours are vibrant and will flatter most skin tones. I personally find them too similar to warrant owning all 4, but owning one cool and one warm shade does make sense as they are excellent quality products, long lasting, pretty to look at, easy to use and very affordable. You can't ask for more in a blush!

Pros: Affordable, Longlasting, Pigmented, Pretty design, Compact and easy to use, Flattering colours, Permanent, Not powdery on skin

Cons: None

Who will like this: Anyone who loves a pretty blush, Anyone who wants an affordable blush that performs well and does not look powdery on skin
I have to admit I was taken by surprise by these Cheek Pop blushes. I own a Clinique blush or two and while they are alright, they aren't anything I'd write home about. Some of the pretty patterned ones released in previous years are a right disappointment as they were so sheer to be invisible. These however, have received accolades and bouquets all over the world and I must say, they deserve every bit of it.
After the Chubby Stick Intense, these are the next best things to have come out of the Clinique makeup stable in recent years and I'm so glad they've finally stepped up their game. Good job! 😀
Are you eyeing these blooming beauties? Which colours would you get?
I plan to pick up Peach Pop, based on the swatches I've been seeing. It looks pretty but I do want to check it out in person first to ensure it's not too warm. I personally would only pick one cool and one warm colour, but you know, don't let me stop you getting all 4 if it strikes your fancy 😉
Paris B
Clinique Cheek Pop Blushes come in 4 flattering shades – Ginger Pop, Peach Pop, Plum Pop and Berry Pop Price: RM80 Availability: Clinique counters and online