When the world raved about the Clinique Chubby Stick lip balms, I sat in my corner, watching the raves and thinking something was wrong with me because I didn't quite warm up to them. I found them drying and uncomfortable and no one else did. Sure the light tint of colour was nice and it was nice that it was so portable but as a lipbalm? Nope.
So when Clinique came out with the Chubby Stick Intense, I wasn't at the forefront of the queue lining up to get these. I hung back, afraid I would be disappointed again. Then, I tried one and I was all "GET ME MORE!!"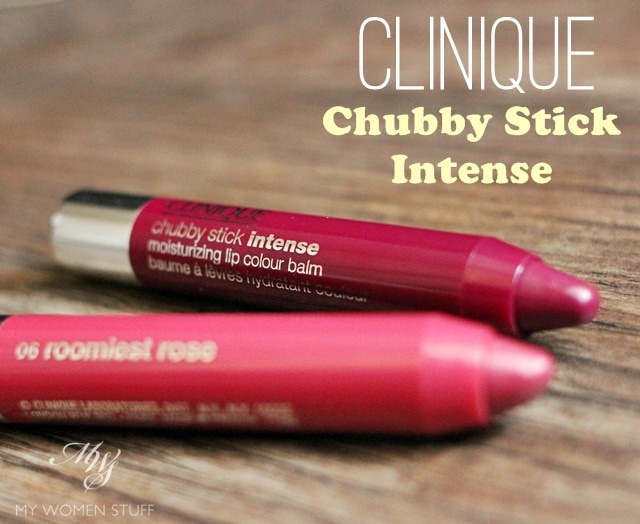 Yes, you could say I'm a fan of the Chubby Stick Intense Moisturizing Lip Colour Balm. I have 2 for now and I plan to pick up even more because these are just amazing lip products! The colour is absolutely lovely on, it isn't drying one bit and it's just so portable and easy to use!
For all those of you who asked what lip colour I was wearing in the Dior Golden Snow post, it's this – Chubby Stick Intense in Roomiest Rose 🙂
The Chubby Stick Intense lip colours are to me, essentially lipstick. They come in a portable twist up pen form like the regular Chubby Stick Lip balm except that these, as the name implies provide a more intense colour. I'm all about intense colour. Why wear lipstick if you don't intend to show it off, that's my philosophy LOL 😀
I started out with Roomiest Rose 06 which is, as the name implies, a rose lipstick except that it goes on my lips a slightly warmed rose-red. The intensity is good. Far better than the regular Chubby Stick Lipbalm but falls short of a true opaque lipstick. In that sense, the name "intense" is quite a misnomer because it's intense when compared to it's sheer lipbalm chubby counterpart, but not all that intense when compared to other lipsticks.
The texture is creamy and it feels moisturising on lips which makes it a very comfortable product to wear and one which I can safely say will suit many, even if you aren't the sort to wear lipstick. The swatches here should give you an idea of what I mean.
Clinique Chubby Stick Intense swatches 1x – Left: Grandest Grape Right: Roomiest Rose
With just 1 swipe down my arm, the colours have that moisturizing balm texture to them, but aren't as intense as the name implies. In fact, I'd say that they are very wearable shades precisely because they aren't super intense, which I know scare many people.
I recently picked up Grandest Grape which looks a deep dark plum in the tube. I must say I was a little worried because I'm past my deep lip phase (makes me look older than I am!) but when swatched, I was very pleasantly surprised to see that it is a cool-toned berry red that is much lighter than what I see in the tube.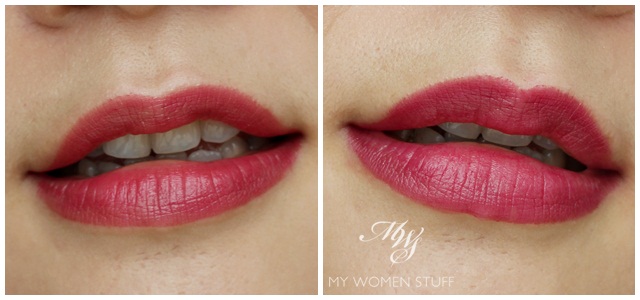 Left: Chubby Stick Intense Roomiest Rose Right: Chubby Stick Intense Grandest Grape
You may notice that the Chubby Stick Intense have a bit of transparent texture and some glow to the product on lips. That's probably the lip balm element of it, which makes it very comfortable to wear. Roomiest Rose as you see, has slightly warmer tones while Grandest Grape pulls slightly cooler, but both have a red base and that's how I like my lipsticks. I must say I was not expecting it but I am pleasantly surprised.
Here are both shades worn in a full face shot, to give you an idea of how it looks.
Clinique Chubby Stick Intense – Roomiest Rose
Clinique Chubby Stick Intense – Grandest Grape
They look quite similar on, don't they? 😛 Grandest Grape is a little deeper so if you don't like deep tones in lipstick, don't go for Grandest Grape. Roomiest Rose however is a very lovely face brightening shade that I think will suit many so make that your first, and you'll be hooked! I was 😛
In a nutshell

I love these! I didn't like the Chubby Stick lipbalms but the Chubby Stick Intense lip colours have blown me away with their lovely colours and texture. I haven't been this excited about a new lip formula in a while so believe me when I say I want more colours! I find them smoother in texture than the regular Chubby Stick lipbalms and they aren't drying on my lips at all. The colours aren't as intense as the name implies when compared to other more opaque and intense lipsticks. But they make very good everyday lipsticks and are pretty affordable to own one in every colour. Some day 😀

Pros: Affordable, Not drying, Nice colours, Easy to use, Lightweight texture, Portable design, Semi-opaque colour and texture makes it easy for most people to wear most colours

Cons: None

Who will like this: Anyone who likes wearing more intense coloured lipsticks, Anyone who did not like the Chubby Stick lipbalms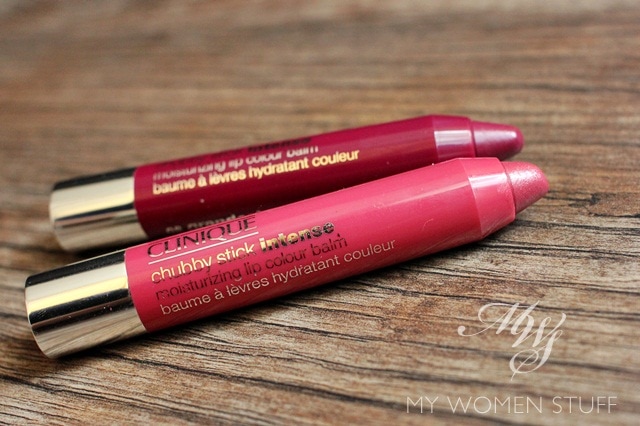 I wear Roomiest Rose quite often, as you can tell from how much I've worn off the edge of the product. It's definitely a colour to check out and a very nice way to ease into wearing a brighter coloured lip product. I like how lightweight it is and how comfortable it is to wear all day. Love these! Now that Clinique has an online store, it's going to make it even easier for me mwahahhaahah!
Are you a fan of the Chubby Stick Intense lip colour balm? Which is your favourite colour?
I'm eyeing Mightiest Marachino next. It's a bright red and heck, I love my bright reds! Also thinking of trying Curviest Caramel which is a nude (and I hate wearing nude lipstick because it washes me out) but I tested it at the counter and there is quite a bit of pink in there that might help me not look like a corpse. Come on then, tell me which colour I should pick next? 😉
Paris B
Clinique Chubby Stick Intense Moisturizing Lip Colour Balm comes in 8 shades in Malaysia Price: RM60 Availability: Clinique counters or Clinique online