Hello peeps!
I did a brief round up of the #MWS10 party I held with Jo Malone London that it would be remiss of me to not give Chanel a similar tribute because their generosity blew me out of the water!
Just over a week ago on 5 August 2017, I held the #MWS10 Luxury Makeup Party generously co-hosted by Chanel Malaysia in conjunction with my 10 years of slogging at the blog. It was held at the brand new Chanel Beauty Boutique at KLCC (at the concourse area, if you're wondering where it is) and much to my surprise, Chanel had actually closed the store just for me! Ok, us. But who's counting!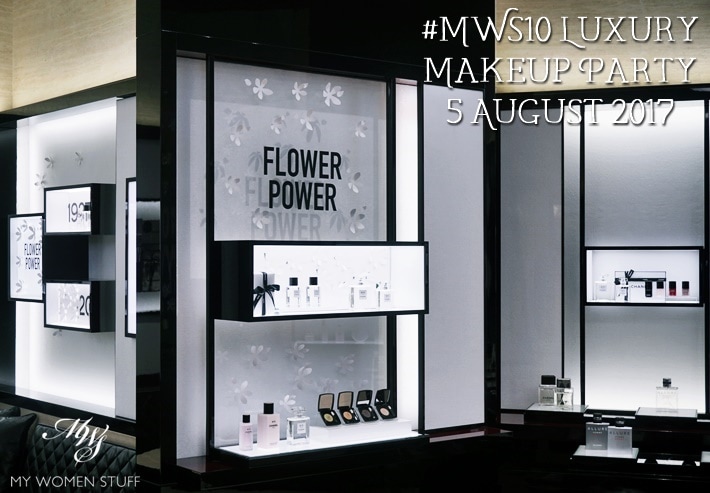 We'd earlier agreed that because it was a Saturday, and therefore a busy time in store, the store would remain open to the public. I told everyone to flash their special invitation, so we can be sure that only invited attendees would get the special treatment prepared for them.
So, imagine my surprise to arrive at the store at 10am, to see the "Closed for Private Event" sign up, alongside barricades! Attendees had to check off their name at the entrance, and I know we disappointed a few potential customers who were wondering who this bloody upstart was, spoiling their Saturday morning shopping! 😀 Wah, as I would say in local colloquialism, it was a "syiok sendiri" moment LOL 😀
For those who aren't sure what I'm blabbering on about, it is this party that I issued an invitation for. I had space for 11 readers to join my friends and I for a special little pampering morning at Chanel, where 20 of you were quite literally given the run of the store and pampered with makeovers, drinks and canapes. So that was fun 😀
As often happens to me at these things, as with the last, I positively fail at being a social media influencer (not that I claim to be one!) because I forgot to take photos nor post any stories on Instagram. I guess you could say that I was living in the moment, and the moment doesn't allow you much time to split your life between being online and on the ground, and I much rather be on the ground! 😀
I don't have as many photos this time around, as they were kindly taken by my friend Lyn who gave up being a guest and acted as my photographer at my request. Thank goodness for kind friends, for I would otherwise not have any photos at all 😛
Attendees could play around with the makeup and skincare, and opt to have makeovers, which were deftly carried out by the obliging makeup artists. This was really the best time to have foundation colour matched properly (as everyone was happy to offer an opinion LOL) and to try something new. I know some friends took the opportunity to try out some new eye palettes, and colours they might not otherwise use, and they looked stunning!
Also on offer was the new Chanel Crayon lipsticks, which aren't out at counters, but which you can check out at the Chanel beauty boutiques as they are exclusive there for now. I did try one, which was pretty and hydrating, but I'm a little on the fence about it, so I'm waiting to see if I'd pick any up.
From the readers who RSVP-ed (for once I got a 100% RSVP rate! LOL! Chanel, I guess) it was so nice to meet people I'd only ever known by their online handles, over the years. Some I know, have been reading my blog for ages, and still reading, which I found gratifying. The "worst" bit would be being told that they'd been reading since they were in college or university haha! Goodness girls, you made me feel positively ancient! 😀 😀
My heartfelt thanks goes out to Chanel Malaysia, for their generosity in hosting the event and feeding everyone quite well with the canapes. I was told the scallops were scrumptious, and I didn't get any! LOL! Also, on top of the generous goodie bags everyone went home with (containing a full sized Chanel Blue Serum and Lip Gloss and sample of the Huile de Jasmine – wah!) they very generously contributed 2 lucky draw bags worth over RM1000! So, 2 girls went home very happy that day 😀
Thank you everyone for coming, and for spending your time with us. Thank you too for your gifts, and I hope everyone had a good time and enjoyed themselves. I wish I could have spent a little more time with some of you, but perhaps next time 🙂
Thanks for being such sports to stick to the dress code Mei Ping (Sorry I forgot to take the group photo before you left!), Christina, Izyan, Laura, Eileen, Lyn, Rahainah (came all the way from IPOH OMG! Thank you!! I hope your trip was worth it!), Xin, Plue, Bee, Simu, Yiing Zhi, Judy, Lara, Lezel, Ee Laine, Jade, Yen, Sarina and Romana. I made it easy, promise! 😀 And I'm sorry if I mixed anyone up 😛
Will I have another? Gosh, I'm not sure haha! I'm supposed to be in talks, so we'll see. So, who should I talk to next? Hmm… 😉
xoxo
Paris B