It looks like matte liquid lipsticks are still going strong in the makeup world and are now branching out from the niche brand market into the mainstream market. That is sometimes a sure sign of demise of a trend LOL!
I came across pictures of the NARS Powermatte Lip Pigment matte liquid lipsticks, but paid them no heed, as they aren't a type of makeup I'm interested in. I'm an old-school creamy, glossy lip kind of gal.
But one day, a tube landed in my hands. I was guest judging for the upcoming Elle Malaysia Beauty Awards, and this was one of the items in my little box of goodies I was sent to be judged. As a beauty junkie, I was interested to try it of course. I mean, who knows? Maybe this could be the one to change my mind about matte liquid lipsticks!
But did it? 😉
Unhappily, no, it did not. In fact, it reaffirmed everything I hate about matte liquid lipsticks! I know 'hate' is a very strong word, but that's how I feel unfortunately. No offence of course, if you love those sorts of textures. We are all entitled to loving or hating different products – that's what makes us interesting. Imagine if we were all homogenous. Oh wait, it sometimes feels like we are… Ugh. 😛
I do have one nice thing to say about the Nars Powermatte Lip Pigment. I like the packaging. I like the matte feel of the plastic, with the window showing you the colour of the product within. It's not special however. YSL has had it for a while, and Dior just came out with a similar product in similar packaging. But it's sleek and attractive.
It must be said that for the most part, the beauty world seems to be in love with the NARS Powermatte Lip Pigment. I am therefore in the minority, but unsurprised. Matte liquid lipstick is still a big thing, and still very popular. These Nars ones do have very impressive pigment.
But when I open the tube, this is where the problem begins. The applicator is a stiff, pointed applicator. I've tried this a few times, but I cannot get to grips with the applicator. It does not apply the product smoothly, and while the stiff pointed tip is supposed to make application more precise, it also makes it more messy.
If you're working with a deep colour like the one I have here – Under My Thumb, a deep burgundy red – it is SO HARD to get it to colour inside the lines. I'm going to suggest here, that unless you have very steady hands, use a lip liner first, then use this to colour in your lips. Every time I use this, I end up over-drawing my lips, because it's just so hard to get a crisp line. I hate the applicator. But most people don't.
Second, I dislike the texture. The texture is very lightweight and truthfully, does not feel like anything on lips. Until it starts to dry, in which case, it causes my lips to pucker, and accentuates lip lines. Gah! Not flattering. That said however, that is something that happens with all matte liquid lipstick I've tried, so it's not unusual, just normal behaviour.
The pigment is crazy. Opaque in just one swipe on lips. However, I find it streaky. It's hard to get it to apply evenly, unless you really work at it. Even then, it's not that flattering, to me. Perhaps if you're working with a lighter shade, it is less obvious. But in the deeper colours, this is a real problem. I'm a seasoned lipstick wearer, and I'm facing this problem – imagine if a novice were to get their hands on this?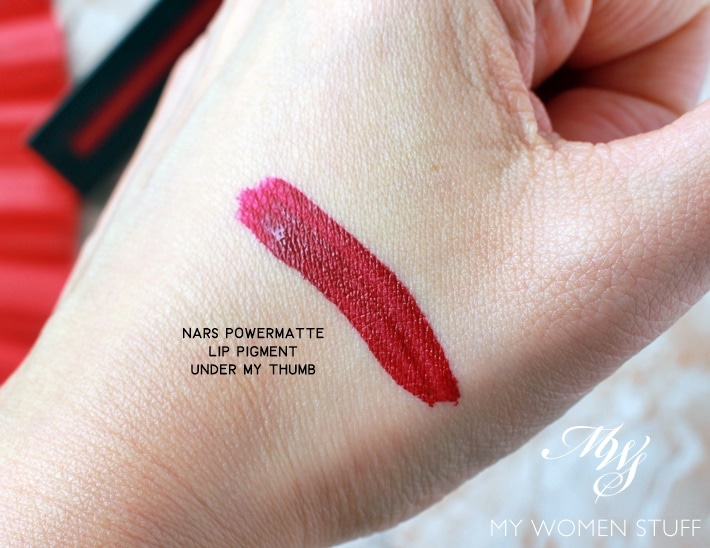 You may see what I mean in this swatch. The unevenness of colour. I can even it out, but it will take a little work, and I felt people should be aware about this. In the lighter colours, it's less of a problem.
Third, the Nars Powermatte Lip Pigment never dries down. It has amazing staying power, and actually stains your lips, especially in a deep colour like Under My Thumb. Unfortunately, the top layer never sets. So it will mark your coffee cups, your cutlery as you eat, your clothes. It will move around and stain everything that remotely comes close to your face. You have to be very careful as you eat, for if you were to be savage and eat messy foods that involve the use of your lips, you will find the colour smearing. Not attractive.
Fourth, I find this drying. It makes my lips feel tight, and puckers it up. I'm not particularly impressed by this at all. If matte liquid lipstick is your thing, then I'd love to hear how you like this in comparison to others. But I'm not a fan.
IN A NUTSHELL

The NARS Powermatte Lip Pigment is a range of matte liquid lipstick that boasts very strong pigment, and a matte liquid lipstick texture. I like the packaging, but little else about the product. The stiff, pointed applicator is hard to use, the formula while lightweight, is drying on lips, and the texture applies unevenly. It also smears and does not set. Oh, and it stains, so watch out for clothes and cups and teeth etc. I'm not a fan of this at all. But I'm in the minority. The lighter shades may be better in this instance.

PROS: Sleek packaging, Very pigmented colour

CONS: Weird stiff applicator makes it hard to apply, Product applies streaky, Does not set and will transfer everywhere, Very drying, Stains

WHO WILL LIKE THIS: Anyone who already likes using matte liquid lipstick

PRICE: RM97 | US$26

WHERE TO BUY: NARS boutiques and counters and Online (USA), Ulta, Net-a-Porter, Nordstrom, Sephora, Selfridges (UK)
Here's how Under My Thumb looks on me 🙂
I think it's a beautiful colour. It's the texture and application that I have issues with. If it was in a cream or satin formula, I'd be all over it.
Did you try the NARS Powermatte Lip Pigments? Are you a fan of the matte liquid lipstick trend?
Needless to say, I'm not a fan. That's why you don't see me use nor feature many popular niche brands that market it, especially local brands. I'm all about creamy, satin or glossy lip textures. They give you such lovely plump, kissable lips! Why doesn't anyone like that anymore?! 😛
p/s It just struck me that I haven't been writing about makeup in well, weeks! I'll have to remedy that won't I? 😀
Paris B