It's no secret that my holiest of holy grails for concealer is the NARS Radiant Creamy Concealer. I adore it, and I'm on Tube #3. If they discontinue this, I'll throw a fit! But seriously, it's the best concealer I've ever used, whether for the undereye area, or for concealing marks and blemishes (I don't currently have acne or spots, so I use it primarily for the undereye and for pigmentation spots).
Earlier this year, I noticed that NARS had added a new concealer into their line-up. The NARS Soft Matte Complete Concealer. Oh hello!
Unlike the Radiant Creamy Concealer, the NARS Soft Matte Complete Concealer comes in a pot, and it's a fairly thick texture. The packaging alone was quite enough to put me off, if I'm to be honest.
The cap has that slight rubbery feel present in most NARS Cosmetics' packaging, and as you can see, attracts dust and marks. It is also hard to clean. I don't like the packaging 🙁
But I told myself to give it a chance, so I did.
You can use a concealer brush with this, and if you're squeamish, you probably would. I personally just dip my finger in, because I'm the only person using this. What I find is that the product is quite thick and heavy. So, it is very easy to overdo.
What I do then is this.

Dip my finger in, rub the surface of the concealer, rub it along the back of my hand to warm up, and then PAT it where I need it, blending as I go.

UPDATE: This has quickly become a favourite concealer now that I know the right way to use it. Use a brush like this one and blend it in as I share with you here. The coverage is decent, and it is quite an impressive product. I use it very often now both for the undereye (just a tiny bit) and to cover blemishes.
What I find is that the coverage is quite high, and the texture quite thick. If you aren't careful, it can look thick and cakey and quite artificial. If you sheer it out however, then coverage is lower.
I also find that this works best on well moisturised skin. If you have flaky bits on your skin, this will accentuate it. It dries down matte, and it accentuates flakes and fine lines. For this reason, the heavy texture, I dock points, for it does not perform very well on the undereye area. You need to really be very careful to apply a thin layer, and to blend out nicely. If you use a damp sponge, it might work better. I just use my fingers and it doesn't work half as well.
I would personally use this for concealing blemishes or skin discolouration and unevenness. I sometimes use it along my cheekbones, where I have pigmentation, just to even out the skin tone. I also sometimes use it around the nose, where I see redness. Do note that while coverage is high, it does not blot out blemishes. It will cover and conceal perhaps 80%.
In terms of shade, I wear Vanilla (Light 2 – I wear Mont Blanc in foundation) in both the Radiant Creamy Concealer and the Soft Matte Complete Concealer.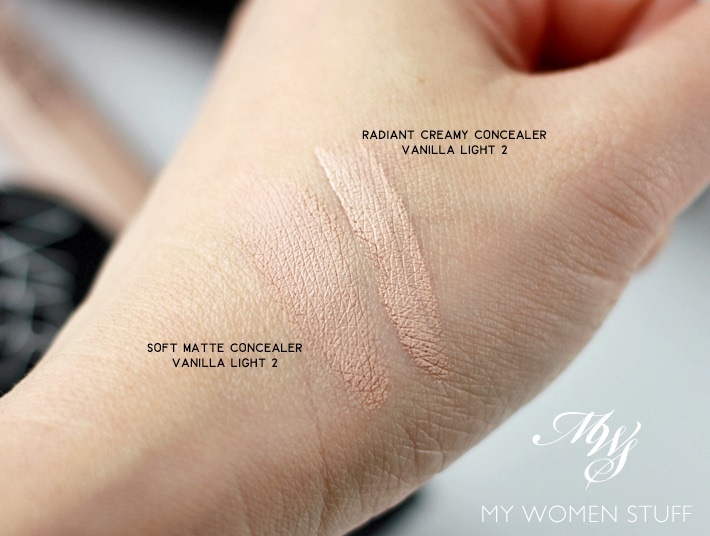 Shade-wise, I'd say they are fairly close. Vanilla does have a slight pink tint. I also find that Soft Matte Vanilla dries down a little darker than the Radiant Creamy Concealer. Once sheered out it doesn't matter, but it's there.
In general however, I find that this is a less friendly option to the Radiant Creamy Concealer, which I much prefer for functionality and performance. Also, it isn't as flat as the Soft Matte Complete Concealer, and I feel that it just performs better overall.
IN A NUTSHELL

The NARS Soft Matte Complete Concealer is touted as a high coverage cream concealer that comes in a pot. I find it medium-high at best, as the texture is fairly thick so you have to use just very little. I recommend warming it up before patting into the skin, to avoid the thick, cakey effect you will encounter, if using fingers. But a better way to use it is to use a brush as I share above. Also, there is a possibility of it accentuating fine lines and flaky skin. So, be careful when using this. I personally prefer the Radiant Creamy Concealer which is more user-friendly, and does about the same things that the Soft Matte Complete Concealer does, except with a soft radiance that I find more flattering. But I do still use this very often because the right tools make all the difference

PROS: Good coverage if you layer very thin layers and pat it into skin, Used with a good and proper fluffy brush it blends well into the skin with nice coverage

CONS: Not very high coverage for those who are expecting to totally cover marks and blemishes, Thick texture settles into fine lines and matte texture accentuates flaky skin

WHO WILL LIKE THIS: Anyone who wants a higher coverage, matte cream concealer

PRICE: RM115 | US$30 | £23 for 6.21ml

WHERE TO BUY: NARS Cosmetics boutiques and counters, Sephora, Nars Cosmetics online, Space NK, Net-a-Porter
Have you tried this NARS Soft Matte Complete Concealer? What about the Radiant Creamy Concealer?
While I did say there is an affordable option for concealer that is quite good, nothing, and I mean NOTHING touches my Nars Radiant Creamy Concealer. It's the one item I cannot be without! 😀 To answer my own question, nope, the Radiant Creamy Concealer remains firmly enthroned but this will come a close second 😀
Paris B