I'd been going on and on to anyone who'd listen, how terribly pleased I was that the Les Beiges Healthy Glow Sheer Colour Stick a.k.a the Chanel Les Beiges Healthy Glow stick blush, is now permanent. I first bought mine in 2015 when it was limited edition (I thought it was last year, 2016! Goodness, time flies!) and I swear, it is one of my most used, and most well-travelled blushes!
And now, Chanel has expanded this little category to include a new shade! YAY!!
If there is one item you want to treat yourself with, one item from the Les Beiges collection you want to own, just ONE – pick the Healthy Glow Stick Blush. I promise, you will not be disappointed! 🙂
The new shade, which you see above, is No. 23, which, as you will see below, looks rather similar to No. 21 which I own, except this one now has a touch of shine. It is a warmed pink, and no. 24 is a deeper coral, also with a touch of shine that is very subtle and quite imperceptible.
I also have a few swatches and thoughts on some others items in the new Chanel Les Beiges and Cruise Makeup line-up, so hop along for the ride! (It makes a nice change from all the angst on the blog the past week hehe…) 🙂
Chanel Les Beiges Healthy Glow Sheer Colour Stick Blush – RM170 | £34 | US$45
There are now 4 colours available in this blush. No. 20 (bronze), No. 21 (pink), No. 23 (pink with shine) and No. 24 (coral with shine). I own both No. 21 from the original line-up and No. 23.
Chanel Les Beiges Healthy Glow Sheer Colour Stick Blush No. 21 (left) and No. 23 (right)
They look remarkably similar don't they? No. 21 is my old one on left, and No. 23 is the new one on right. In terms of shade, I find them very similar, with No. 23 being just a tiny touch deeper in tone than No. 21. But the primary shade is a warm pink, that I personally find flattering and will be flattering on most.
It's very easy to use, which is why I travel with mine almost exclusively. It requires no tools, it is slim and portable, and it's beautiful. It's quite idiot-proof, and allows you to do your makeup on the go, which is what I sometimes have to do, in a hurry.
I usually just draw 1 stripe on my cheek (don't press too hard, it's quite pigmented) and then use my fingers to blend the colour out. It blends out very easily and leaves behind a transparent colour on skin, that looks just like a natural flush. There is a dry-touch texture, which isn't unusual since the product contains silicone (and quite a high amount of it, for it to feel this way) but this helps make it feel more comfortable on skin. No turning oily, no slipping, no settling into fine lines. Super easy to blend, and looks very flattering. You can't ask for more, really!
No. 23 has a touch of shine, but it is very fine and not metallic not obtrusive at all. You can see it in the swatch below, where you may just catch a shine coming off No. 23 as compared to No. 21. I also find that it has a slightly warmer tone – just a touch.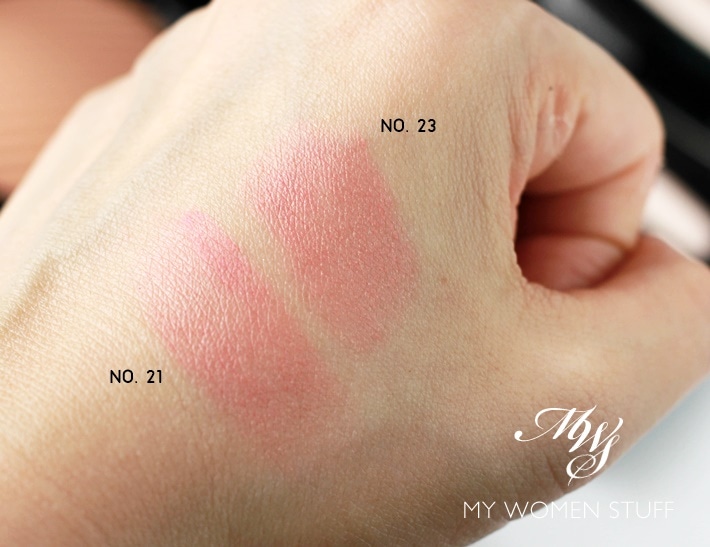 If you just want to pick up ONE item from Chanel makeup, or to treat yourself to a little pick-me-up, pick this one up. For the record, my blush stick in No. 21 is 2 years old and still going strong. Not dry, not dried out, and still performs as well as the day I bought it. Super love! 😀
I've been asked if you could use this on your lips, as you would a Nars Multiple. I suppose you could, if you like that sort of dry texture on lips, but similar to my thoughts on the Nars Multiple (which I'm not a fan of, sorry), I think it looks better on skin than it will on lips. I'd stick to a regular lipstick 🙂
Now that I've dedicated most of my post to this one item, here's the rest (that in my view, you could skip – but it's just my view! Sorry Chanel! 😛 )
Instead of a Summer makeup collection, Chanel calls their collection the Cruise Collection, and it's the first ever Chanel Cruise Collection for makeup. Lucia Pica sure is stamping her mark on the brand! Usually, Cruise Collections are found in the fashion lines, and it's interesting that it's now brought over to makeup. I find a "Cruise Collection" far more romantic than "Summer collection" 😀
Chanel Les Beiges Healthy Glow Luminous Colour – RM200 | US$58 | £42
This new product is part of the Chanel Cruise Collection 2017, and at first glance at it, I thought "Oh, another bronzer!" But wait a minute, it's not exactly that.
The Les Beiges Healthy Glow Luminous Colour is a bronzing powder that comes in 4 shades, and starts off very sheer, giving off a hint of luminosity and warmth on skin. The colour you see here is Medium Light, which is the lightest shade in the range.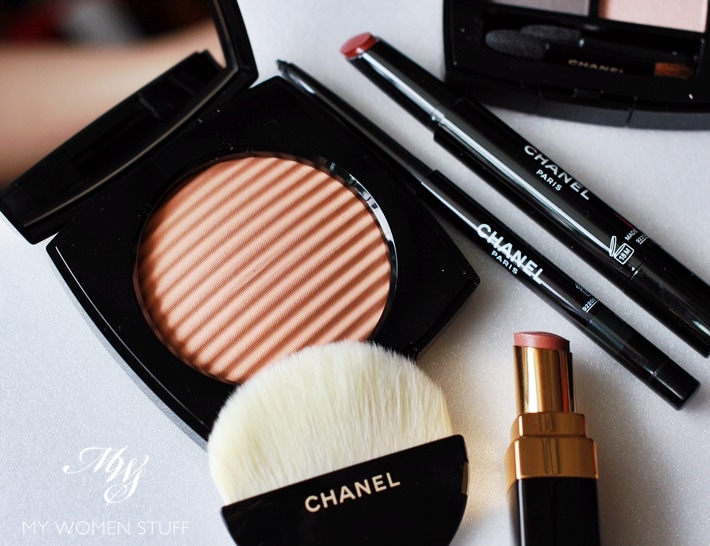 In pan, it looks like a medium brown powder, with a lot of warmth (yellow) to it. If you see the swatch below however, you may notice how light the colour actually is. For me, this is about 1 shade deeper than my regular skintone (Chanel foundation in 10) so it isn't very much of a contrast on my skin at all.
If you have a skintone that's deeper than mine, this will look more like a highlighting powder on you. So, pick a deeper shade. I don't quite know how I feel about this. I tried wearing it, and it barely showed up, as a bronzer. I now know how to use a bronzer (thank goodness! Only took me 10 years to figure it out!) but because this is so light, I treat this as just giving off a little warmth to the skin. Especially useful, when using a higher coverage foundation, because those tend to make your skin look flat. This helps add colour, and makes a nice base for a pop of blush.
If you're looking for a bronzer, I'm not sure if this will sit well with you. I'm not the best person to ask. I use it, often wondering why I bother, but when I do catch that image in the mirror that seems to reflect a little shadow where I need it, I figure it's working. I do prefer something with a cooler, and more grey based tone so this isn't my first pick. Lovely texture although a little powdery when you run your brush over. Blends easily, but something you should test out for yourself.
Chanel Les Beiges Healthy Glow Natural Eyeshadow Palette – RM260 | £45
It's interesting, but the USA is only expected to get this palette in July or October 2017, depending on which source of news you receive, but it's already available in Europe and Asia. Yay! 😀
When I first clapped eyes on it, I fell in love. Ok, I have a partiality for very neutral shades like these in recent times. I've stopped playing with pops of colour, maybe because I'm boring and lazy like that.
So, this one was something I knew I wanted to check out. But is it worth the money?
That's a very hard question to answer. I'd say this – If you use light makeup on a regular basis, and don't go for eyeshadow that is strongly pigmented, you might like this. If your preferences lean towards eyeshadow textures and colours like those from Urban Decay or MAC, and you like strong colours on your eyes, you'd wrinkle your nose at this one. If you use Japanese brand eyeshadows, and appreciate the barely there colours on eyes, you will appreciate this better.
The colours in this Les Beiges Healthy Glow eyeshadow palette tend to the light and sheer, with a satin texture. It is not terribly sheer, but it is sheerer and markedly less sparkly than the regular Chanel eyeshadow quads. It has a satin texture of the quad from the Le Rouge collection, but without the depth of colour.
I personally like it, because I don't wear a lot of eyeshadow anymore, and I prefer something easy to use. This is easy to use for me. Brushes, even the softest of brushes, pick up the colour and deposit it easily on lids, and it is fairly easy to blend. The deepest shade is the dark grey, which you can use as a base, or as a soft smoke out. The other shades are just a few shades deeper than my skin tone, and it gives off a very "barely there" sort of eye makeup look. As I said, it's a look you either love or hate. I won't say I love it, but I can work with it.
Chanel Stylo Yeux Waterproof Long Lasting Eyeliner 837 Horizon (Limited Edition) – RM100 | US$33
I am a major fan of the Chanel Stylo Yeux Eyeliners, so a new release always makes me happy. The limited edition shade in the Chanel Cruise Collection is 837 Horizon and 847 Terra Rosa. The one I have shown you here is 837 Horizon.
It is supposed to be a deep, blackened green. Truth be told however, all I see is black. Not a deep black, but a black regardless. Doesn't bug me, because I'd just use it to line and treat it as I would a black, or dark eyeliner. The contrast is nice against the very light Healthy Glow Eyeshadow Palette, but it is ultimately a black eyeliner. Get it, if you love the Chanel Stylo Yeux, but you can otherwise pass.
Chanel Rouge Coco Stylo – 207 Sepia, 217 Panorama, 227 Esquisse (Limited Edition) – RM120 | US$37 | £28
No secret again, that I'm a huge huge fan of the Rouge Coco Stylo lipsticks, so texture wise, I love them. Best read my earlier review to know more about these and the texture. I do find the formula a little soft, so it is something to get used to. It seems to almost "melt" on lips, and offers a lovely, glossy shine. If you love matte lipstick and the matte lip look, you won't like this. If you love glossy lips, and a pigmented pout, you will.
207 Sepia, which I own, is a browned red. More brown than red, and a colour I unfortunately do not wear often, as I find it ages me. I feel it will look better on someone with a deeper skin tone, or maybe someone who likes deep, browned reds like this. It is neutral, but a deep neutral.
Chanel Rouge Coco Shine – 527 Golden Sun, 537 Golden Sand (Limited Edition) – RM120 | US$37 | £28
Similarly, I love the reformulated Rouge Coco Shine lipsticks, so again, no complaints on texture. Again also, if you prefer the pigmented, matte lips look, you won't like this one. The Rouge Coco Shine lipsticks offer a sheerer colour compared to the Rouge Coco range, but with a shine infused, that give your lips a lovely shiny pout. I love lipsticks like this, so I like it.
What I'm not crazy about is the colour. I have 537 Golden Sand, which in tube, looks like a straight, brown. A brown with slightly cool tones, but a brown nonetheless. When swatched on my arm, it's a sheer …. brown. A colour I won't wear. But when I wear it on my lips, the sheerness of the colour allows my natural lip colour to blend, and it then takes on a slight rosiness that makes this colour wearable for me. It then looks neutral, a lipstick I'd wear when I don't really want to wear a colour.
But I like wearing colour, so a slick of the Rouge Coco Gloss over Golden Sand gives it a transparent colour that still looks neutral at its base, but with a colour on top, that I find more flattering.
Finally, here are the swatches of the products I've shown you above.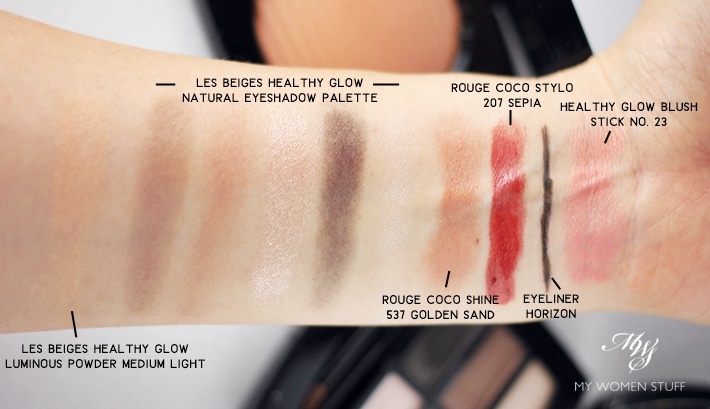 You may notice that the Healthy Glow Luminous Powder is quite light, and rather warm, coming off a little orange on my skin. the Healthy Glow Eyeshadow Palette is also rather light in tone. This is why I say it won't suit everyone, although it looks pretty as heck!
Notice also how brown the Rouge Coco Shine in Golden Sand is, but as you'll see below, it's not deadening to my complexion.
I thought I'd show you what the Healthy Glow blush stick looks like on me. I actually also used the Healthy Glow Eyeshadow Palette and the Healthy Glow Luminous Colour in Medium Light, but, as I was headed out for a meeting, and as I'm not a makeup artist, nor very skilled at applying it, it doesn't show up that prominently. Still, I hope it gives you an idea of how it'll look when you wear them on a day-to-day basis.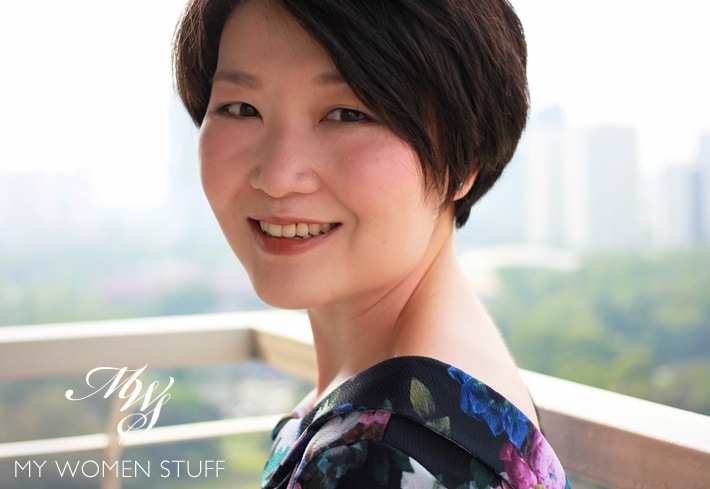 Cheeks: Healthy Glow Stick Blush in No. 23, Healthy Glow Luminous Colour in Medium Light on perimeter of face
Eyes: Healthy Glow Eyeshadow Palette, lined with Stylo Yeux in Horizon
Lips: Rouge Coco Shine in Golden Sand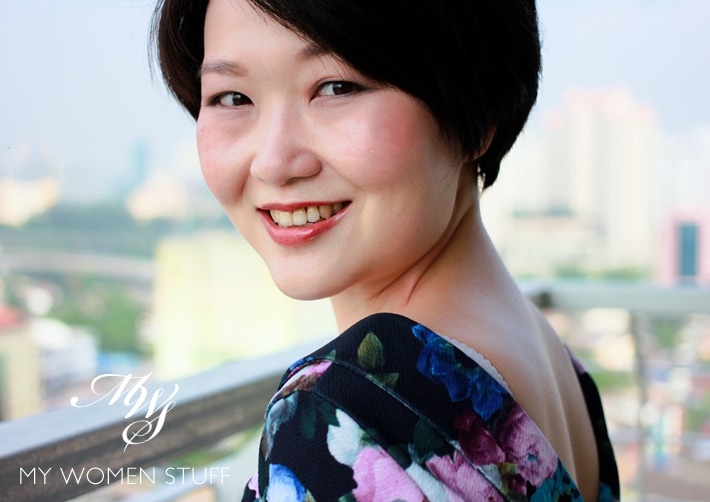 Similar as above, except I topped the lipstick with a Rouge Coco Gloss in a sheer coral but, I have forgotten what it was 😛 I much prefer the touch of colour it gives me, although the more neutral tone Golden Sand gives, kind of works too.
So that's my Chanel Les Beiges, Cruise Collection 2017 round up!
As I've said right at the top, if you want just one item, pick the Healthy Glow stick blush. It is, for me, the best item in the whole collection. Everything else is optional 😉
Which item catches your eye best? Do you own the Healthy Glow stick blush?
The Healthy Glow stick blush is one of my favourite Chanel purchases ever. I'm glad they made it permanent, and that they're expanding the colour range. Not that I need another, you understand. But heck, it's just tempting that way 😛
Paris B