Chanel first launched their Rouge Coco range of lipsticks some time back in 2010. I was quick to jump on the wagon and picked up Paris and Camelia. I wore them often and I enjoyed using them, maybe because they were Chanel and the only Chanel I could afford LOL! Don't we all feel that way eh?
While there were some reports that the Rouge Coco lipsticks were a little drying, I did not personally feel it to be so. They weren't hydrating though (Chanel released Rouge Coco Shine to deal with that and I prefer Dior Addict in a straight fight comparison), and Paris did leave my lips feeling a little dry sometimes, but nothing I would really complain about. I've used worse. But, over time, I felt that they weren't as comfortable on my lips as I'd like them to be. It just struck me that my Paris and Camelia lipsticks are now over 5 years old and I still haven't used them up! Oh boy!
Fast forward to 2015, and Chanel has addressed this problem by overhauling the whole Rouge Coco line and introducing the newly reformulated Rouge Coco lipstick range, which promises better hydration. I can get on that! 🙂
In revamping the Rouge Coco range, Chanel has also revamped the names so the new Rouge Coco lipsticks are now named after friends, relations and lovers of Mademoiselle Coco Chanel. What this means for you and I is that, you might just be able to pick up a lipstick with your name on it! 😀
I was generously gifted with 16 shades with a selection from each of the 5 colour groups available, from the very nude to the very flamboyant, so here's what I think of the new formula and here's how some of the more interesting shades look when I wear them – 16 FOTDs. You don't get this every day! 😛
But first, a word about this new formula.
There are 5 colour families which make it quite easy to pick a colour. Just pick a colour family and then work from there. What this means is that there is a colour to suit anyone.
The other thing I noticed is that while the colours of the lipstick look quite bright and vibrant in the tube, they tended to swatch a little more sheer than I expected. The colours weren't as vibrant once translated onto skin, and they had a rather more transparent texture to them. I'm not really complaining about this, because I've realised that you can't really have a hydrating lipstick formula that is very opaque. I think something in the ingredient list has to give.
In this case, it's the colour. So, if you are looking for something opaque in 1 swipe from the bullet, then I think you may be a wee bit disappointed. But if you want a lipstick that feels hydrating on lips, and lightweight, but imparts a nice transparent veil of colour which you can easily build up, then you may want to take a look at this new Rouge Coco range.
I like how the colours do not go on my lips looking too glossy, but yet imparts a nice gentle glow without looking matte (I'm not really a fan of matte lips although I've grown to appreciate matte makeup elsewhere) The pigment in the deeper or brighter shades are stronger than those in the lighter shades, so if you have always been on the fence about wearing a bright lipstick, then this is also a nice place to start.
First, it's a Chanel, so like duh! 😛 Second, the colour doesn't go on lips very strongly, so you can easily control the brightness of the shade. If you like to wear something bright like I do, then you may find that 2-3 layers will give you the strength of colour you prefer. But the nice part is that you get a nice colour without your lips puckering up and drying out as the day wears on.
I also find that different shades wear differently. The brighter shades wear longer for me while the lighter shades disappear more quickly. With some of the bright shades like Dimitri, Arthur and Gabrielle, I could take them all the way through lunch and beyond with little touch up. With some others, I'd just about get through my lunch and then reapply.
Let me show you some quick swatches of the colours I have, with some brief descriptions and how they look when I wear them on my lips. The swatches on my arm should give you an idea of what I mean by the texture, while the lip swatches will give you an idea of how it looks when I wear them. After all, lipsticks are worn on lips not on arms, right? 🙂
These swatches represent the Coral and Pink shades of the new Rouge Coco formula.
Edith 424 – A rose pink, Edith is a very wearable shade that I feel will suit most. I like this one for a my lips but better shade. Better, because it makes me look more alive.
Olga 422 – A pale pink, Olga is a colour I'd never pick for myself at the counter. It is a milky pink in the tube, and it took me about 4 layers of colour to get it to show on my arm! This is unfortunately a colour that washes me out. But I think it'll look much better on someone who has a pale, lighter, more blonde complexion.
Roussy 426 – In tube, Roussy made me a little apprehensive. It looked quite like a bright pink and I'm not really a pink lip wearer. But much to my surprise, it swatches a much rosier hue on my skin which instantly makes it wearable for me. It still looks markedly pink on my lips, but a wearable pink.
Mademoiselle 434 – Looking like a rather dull brown in the tube, I wasn't even sure why it was placed in the pink category. Mademoiselle is an existing shade and one that is very popular because it is supposed to be wearable by anyone. I never quite took to it. On my arm, it looks brown but on my lips, it takes on a slightly more rosy hue. It isn't unflattering, but it isn't a shade I'd personally pick for myself.
For ease of reference, this is how these shades described above look when I wear them on my lips. Olga as you can see, is a wash out for me, and unsurprisingly, my favourite is Roussy because it's bright, but Edith has found its place in my daily lipstick pouch 😀
Legende 428 – In tube, looking more rosy than Mademoiselle but with a slight browned base is Legende. I find this one more wearable than Mademoiselle.
Misia 418 – The corals weren't too flattering for me unfortunately, as I felt them to swatch more orange than I expected. Misia is one of them. It looks like a reddish coral in the tube, but swatches quite orange. I don't wear orange very well.
Catherine 410 – This is my least favourite shade out of the lot, and also the strangest I've ever worn. Catherine in the tube is a milky peach and the swatch took me 5-6 layers to get the colour to show. Similar to Olga, I don't wear milky shades like these because they don't suit me. They will suit someone who likes shades like this I know, but not me. You will see below that Catherine looks like nothing on my lips, just a sheen.
Coco 416 – Coco is what I'd call a straight orange hue in tube. However, when swatched it has a bit of a reddish tint that makes it wearable for me. In fact, Coco is what I'd expected Misia to look like so naturally I find it all a little confusing LOL! 😛
And here are the swatches in an FOTD. I've intentionally kept the makeup the same throughout just so you see what the lipstick colours look like when worn on lips. You may notice how they don't look half as bright on lips as they do in the tube, which could be a pro or con, depending on your expectations. However, you will also notice how they leave lips with a lovely sheen of colour, and that part of it I like a lot!Out of this quad, I actually found myself liking Coco. It's bright yet not too orange but not what I'd term coral either.
The next batch of shades are those that fall into the Red, Nude and Plum categories. RED! YES! 😀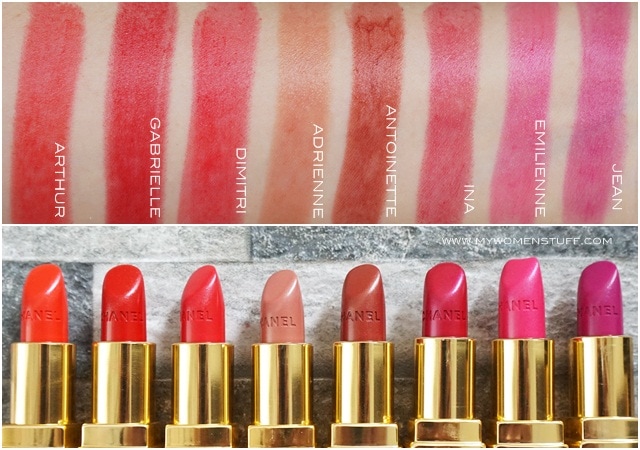 Arthur 440 – A popular shade, Arthur is a warm red in the tube that looks almost orangey. On my skin however, it is warm but with a strong red tone, thankfully. I find that it isn't as bright as it really looks if you just apply 1 layer of colour but you can easily build it up. Warmer skintones will appreciate Arthur better.
Gabrielle 444 – This one's a true red and the lip shade worn by Kiera Knightley in the promotional images for the Rouge Coco lipsticks. The shade is a deeper, truer red and I love it, as can be expected 😛 It's gorgeously sultry, yet if you don't layer it on, it is actually very wearable.
Dimitri 442 – I find that Dimitri is a lighter and brighter version of Gabrielle. Worn on lips, it takes on a warm, bright red with a slight blue tone that I find flattering. If you have a slightly cooler skintone then Dimitri might be the one to pick over Arthur.
Adrienne 402 – A browned nude that again, isn't one I'd pick myself. But in the spirit of experimentation, I wore it to see how it'd look on me. As expected, it wasn't something I'd wear often. Perhaps if I wear a very strong smokey eye (which is almost never!) I might pull this out. But for everyday, this isn't for me. It also took quite a few layers to get the colour to show. I find that true for all the light shades. But apparently, this is supposed to be "the nude lipstick to own" as shared by international makeup artist Kay Montano, while I beg to differ, I can see why… if nude lips are your thing 😉
And here are how the first 4 shades above look when I wear them. As can be expected perhaps, the reds are what look best on me, and you may notice how more washed out I look with a nude lip. I can't decide between Arthur, Gabrielle and Dimitri (I love this name!) so I'd have to pick all 3 – not surprising, for those who know me LOL! 😀
Antoinette 406 – This one's a straight brown, which again, isn't something I'd pick for myself. Brown shades like these, that have a slight red tone, do suit those who have a deeper skin tone who want a lipstick that is a my lips but better shade. On fairer skintones, it can be a bit aging. But if you have a deeper skintone, I'd suggest you look at Antoinette. It'll be lovely on you!
Ina 450 – Ina is a bit strange. It has a slightly metallic tint to the plum-pink shade in the tube, but that metallic tint disappears on skin! Thankfully so because I was afraid it'd look frosty. I'm not sure why Ina is grouped with the plum shades because I found it a bit more pink than plum. A very wearable shade especially if you aren't much into bright colours.
Emilienne 452 – Emilienne looks fuchsia in the tube, but when I swatched it, it looks pink. So, again I'm not sure why this is in the plum category, unless I'm missing something. I find this shade a little milky for my liking so it isn't a shade I'd wear very much of, but the colour itself is quite cool so if you have a cool skintone, this one will look more flattering although there is a risk of it looking a bit bright.
Jean 454 – Now this one is indisputably a plum. Purple almost in the tube! I was afraid it might be aging the way some purple lipsticks are, but it isn't so it's definitely one to consider as well, if you'd like to add a plum lip into your look.
Here's how they all look on me. Emilienne seems to clash with my skintone a little, I feel while Ina makes it looks more alive. Antoinette, while wearable does make me feel a little older than I should be so it's not a colour I'd wear often!
I personally gravitate towards bright lips and red lipstick so I'd personally pick the reds and the pinks. I actually say pink although I don't wear a lot of pink, because I found that for the most part, the pinks were deep enough that they weren't too frivolous or pale the way pinks can be. But what I can say is that the new texture is lovely, but the longevity and opacity varies from shade to shade. If you want something that'll last longer, pick a brighter or deeper shade. Otherwise, pick a shade you'd wear the most often, because you will want to 😀
IN A NUTSHELL

Chanel has revamped their Rouge Coco range and called it the Rouge Coco Ultra Hydrating Lip Colour range of lipsticks with new shades and new names. The colours are bright and vibrant although I find that they go on a little more sheer than I expected. I also find the texture a little soft. I pressed a little harder on Catherine to get the colour to show, and it broke! There is some gloss but no shimmer so there's no danger of any shade looking frosty. A lovely glow is imparted to the lips, but some shades may need layering to bring the colour out. They do feel a lot more hydrating, and I find that the longevity is fairly good. I'd applaud the improvement because I do like them a lot better now than I did 5 years ago!

PROS: More hydrating formula, Comfortable and lightweight on lips, Colours are transparent and easily layered for more opacity, Gives lips a nice glow, Longevity of the deeper and brighter shades are good

CONS: Pricey, Some may find it sheerer or not as vibrant as they like, Texture is a little soft

WHO WILL LIKE THIS: Anyone who wants a hydrating lipstick with a good selection of colours and opacity
These have been out for a while. It took me a while to get this review out, because I had to find a day when I had the luxury of time to swatch 16 lip colours on my lips (it's a feat, let me tell you that!) but I'm glad I took my time. It gave me the time to play around with them more, and to work out what I liked and disliked about the different colours and how long they lasted for me. It also taught me to stay away from light, pale shades and that I can expand my lipstick wardrode with different colours. Useful lessons to bear in mind 🙂
Do you own a Rouge Coco lipstick? Is there one with your name on it?
Other than the obvious male names, I think it would be fun to own a lipstick with your name on it. Unfortunately for me, none of them are mine 😛 If I were to pick 1 fave, I think I'd go with Dimitri. I like that Russian vibe, and I like how the colour looks on me. But the one in my everyday pouch is Edith for when I need quick touch ups 😀 If you have checked these out, I'd love to hear your thoughts and your faves! 😀
Paris B
Rouge Coco Ultra Hydrating Lip Colour comes in 26 shades Price: RM106 | £26 | US$36 Availability: Chanel counters in Malaysia or online at Nordstrom, Nieman Marcus, Selfridges, Saks Fifth Avenue