When I started out on my makeup journey, the first thing that eluded me was eye makeup. It still does, so I keep it very simple. Sometimes, that's best. Then, the next thing to elude me was bronzer. That still does.
I picked up numerous tips over the years (this one's the most helpful!) but in reality, I was deluded. The heavily contoured, chiselled look didn't appeal to me, and I always looked like I'd fallen face first into dirt every time I tried wearing bronzer.
Recently however, I decided to give it another go. I mean, it's makeup. If I didn't like it, I'd just clean it and start over right? 🙂 In the process, I not only started to get the hang of wearing bronzer, I taught myself a few very easy tips that I'll quickly share with you, in the hope it'll help whoever's bronzer-challenged like me 🙂
Ask Yourself: Why are you using bronzer?
This is, I feel, the most important question to ask yourself before you begin. Why are you using bronzer? Are you trying to join the face contouring trend? Are you trying to define your features? Or, are you like me, and just want to see how a bit of warmth on your skin can help you look better.
The use of bronzer in makeup started out, from my memory, as a way to add a touch of warmth to your skin, to mimick the healthy sun-kissed glow from the sun, or to enhance a tan. But if you're a typical Asian (like me!) you'd run screaming from the sun. We want to remain fair and lovely, dammit! LOL! 😀 This was why I didn't buy into the bronzing trend. I didn't want to look tanned, I wanted to look whiter than white! 😛
But when I was playing around a month or two back, I noticed that just a touch of warmth on my skin actually made me and my makeup look better. Blush looked prettier, and my face didn't look as flat (genetics, what can I say?!). I could also just use my bronzer in place of blush, and it looked a touch more natural than when I go for a no-makeup makeup look with base and blush. It was a personal revelation and I also realised that it didn't look very artificial or brown at all! In fact, I barely noticed it, when done right.
Get the right bronzer brush for you
The tricky thing for me was finding a bronzer brush that didn't leave me with brown streaks running down the side of my face. A lot of the time, we're told to get a dense brush, because you need that density and compactness, in order to properly 'contour'. But I wasn't out to contour my face, I just wanted a little warmth.
Nars #11 Bronzing Powder Brush
Dense brushes didn't work for me, and I eventually found that what really worked for me, was loose, fluffy brushes. I like using the Nars #11 Bronzer Brush, because for me, that's the right shape and density. But as a brush, I'm not crazy about it. It's started to shed, and while soft, it isn't as soft as I'd like it to be. I haven't looked to see if I could get something similar in one of the Japanese brush brands I favour, so if you know of one, please do let me know!
The reason why the Nars #11 brush works for me, is because of the size of the head with its large surface area. I find that it picks up product more easily, distributes it more evenly, and allows for a more natural, diffused effect. Sometimes, I use the Wayne Goss #2 brush which has a smaller head, but is very soft. So, I use it very lightly along the sides of my face. The soft brush head diffuses product better without leaving streaks and looking patchy.
I now swear by the Hourglass Ambient Lighting Powder brush.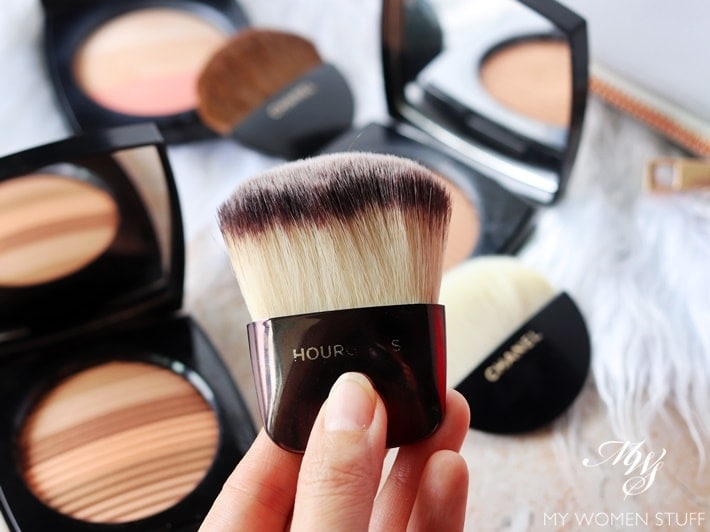 It is all you ever need for a beautifully diffused bronzing powder, that gives just the right amount of warmth to your skin, angles perfectly under the cheekbones, yet fluffy enough to buff and diffuse colour over skin for a very natural look. Look no further! I own 2! 😛
Get the right bronzer for you
If you have a medium to deep skintone, getting a bronzer that suits you isn't half as hard as when you have a lighter skintone. With light skintones, any colour will show up more strongly and there is always a risk of a bronzer looking too dark or deep on your skin.
I also personally feel that a matte bronzer is a better option than one with shimmer (although if done well, it can give a nice glow to the skin). I only have 3 bronzers at the moment and have no real plans to add to them.
Clockwise from Top Left: Bobbi Brown Elvis Duran bronzing powder, Guerlain Terracotta Joli Teint 00 Clair/Light Blondes, Guerlain Terra Inca (limited edition)
The shattered powder is the Guerlain Terra Inca bronzer that I've owned from yonks ago (you can see how it looks in its original, non-shattered glory if you follow the link). Right after I bought it and blogged about it, I dropped it on the floor from not very high, and it promptly shattered. Sigh. But I still use it because it's so damned pretty 😛 There is shimmer, but very very fine, and the golden powder does give a beautiful glow to the skin. I sometimes pick up the golden bit to use as a warm highlight and I can use it as a blush too. It's gorgeous – Guerlain makes amazing bronzers and powders.
The other one I own is Bobbi Brown Elvis Duran bronzer. This was a gift that I looked at, reeled in horror at how deep it looked, but which I've grown to enjoy using. It's matte, and the colour is a tad deep, but because the Nars #11 brush diffuses the colour so well, I can wear it quite easily on my light toned skin and you can wear it light, or build it up. It isn't too orange, which was something I was afraid of. It's actually wearable!
The final bronzer I've added to my collection is the Guerlain Terracotta Joli Teint powder in 00 Clair/Light Blondes. This one's very light and less of a bronzer than it is a slightly warming powder. Quite imperceptible, but damn, if it isn't pretty! 😛 I may want to check out another Guerlain matte bronzer to add to my collection, if only because when it comes to bronzers, Guerlain is second to none in terms of quality. But I'll take my time, because I don't use them that often to justify buying more! 😛
The right way to use a bronzer is how it works for you
The most common question when bronzers arise is this "What's the right way to use a bronzer?" I have here some diagrams that can help from this previous post. It was published in 2012 and I've only just gotten the hang of it, 5 years later haha! Gosh, I learn at a snail's pace! 😛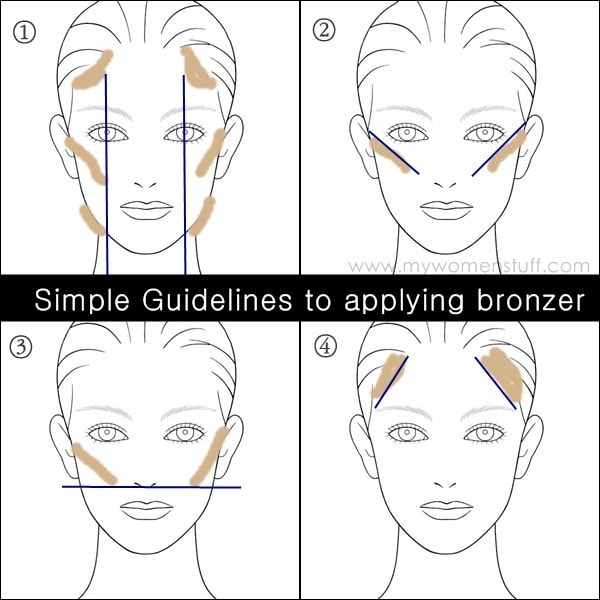 But here's what I've taught myself – the best way to use a bronzer is how it works for YOU!
For me, I use a stylized large 3 method – start at the temples and draw a 3-shape alongside your face, so the first curve goes a little under your cheekbones and the second curve goes along your jawline. It's a bit like Picture 1 above. Using a large fluffy brush, the effect is fairly diffused, without any harsh lines (I don't dig the contoured look so I'm of no help there if that's the sort of tips you're looking for!)
This is really one of the easiest ways to wear a bronzer, and it's also less likely that you'd make a mistake, unless you pick a powder that's too dark for you. This method just lightly enhances the shadows on your face, to give the impression that it's a little more (I hesitate to use the word) contoured. You'll find that your features pop a little more too.
After that, I put some blush on my cheeks, and I find that the blush looks a bit better. This is more so when I wear a warmer toned blush like peach or coral, and when I wear a pink blush, it pops a little more. I rather like the effect!
I'll just show you quickly what I mean in the side by side image below.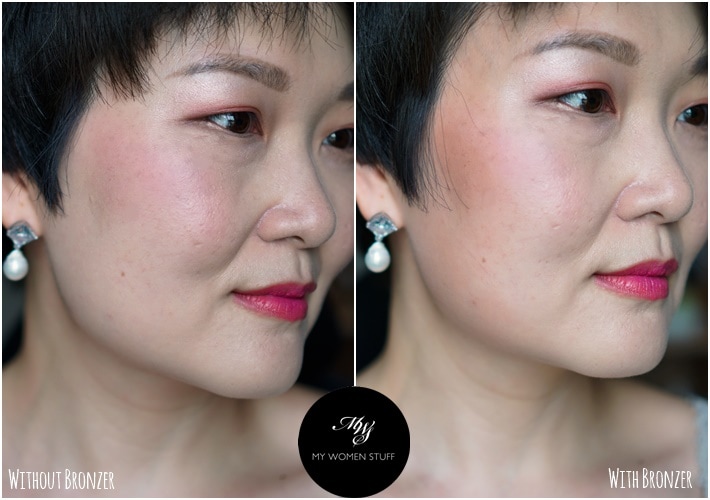 Using Bobbi Brown Elvis Duran bronzing powder
On left is without bronzer and on right, I've applied some bronzer along the sides of my face. I've piled it on so it actually shows up for photos, but in reality, you'd barely notice the contrast. I hope you'll see what I mean about the blush looking a bit prettier, and more natural? It almost seems like the blush blends into the skin, as opposed to just being a splotch of pink. It also almost seems like the facial contours in the image on your right looks slightly more defined, as opposed to the one on the left.
So, this post isn't really about teaching you how to wear bronzer. What it tells you is that, like me, you'll have to figure it out for yourself. Do you want a strongly contoured look? You'd need more precise application, a different brush, maybe even a different bronzer product.
Do you want to just add a touch of warmth? You'll likely need a certain type of brush and a lighter powder but you won't really need skills for that – I don't and I managed it without anyone telling me "Excuse me, I think you've got some dirt on your face" 😀
Do you wear bronzer and do you have tips to share? What's your favourite bronzer product?
I've stayed so far away from bronzer that I don't even know what's out there anymore LOL! The only brand that I know makes amazing bronzers is Guerlain, because they built their name on it. The Terracotta bronzers are legendary. I may not pick up another, but who knows. Never say never! 😉 So, what's your favourite bronzer or brush or tip? Share!
Paris B