I've been wanting to tell you about one of my most-used and favourite brushes for a while – the Hourglass Ambient Powder Brush. Despite its name, I don't use it for powder nor for what Hourglass intended it for. Instead, it's a brush that has helped me appreciate wearing bronzer or what I prefer to call a complexion-warming powder.
I shared once before about how I had finally learnt to appreciate wearing a bronzing powder and I shared the brushes I was using. But I realized that those brushes were still a little too precise for me. I decided that I don't wear bronzer to contour – I wear it to add a touch of warmth to my skin, because I find I look better that way.
Enter then the Hourglass Ambient Powder brush. You can see how worn away the print is on mine – it's because I use it practically everyday! Or every day that I wear makeup. Even on days when all I wear is a light tinted base, a touch of complexion warming powders help me look a whole lot better.
I was first introduced to this brush by Sophia of Makeup Blogette on Instagram. When I watched her doing her makeup in videos, she used to use this brush, and I was intrigued. More so by the size, shape and lack of handle! So one day, I gave in to my curiousity and picked one up.
The bristles are taklon (synthetic) which makes them very very soft against the skin. As much as I prefer using animal hair brushes, I must say that I have come to appreciate the new synthetic bristles that are popping up now.
The brush itself is very interesting. It has rather long, very dense bristles in a flat, wide brush-head. The handle is very short, giving you just enough space to grip it, with allows for you control the brush better. You might not be used to a brush without a handle, but you'll soon get the hang of it – it is very easy to just grip, as I show you below.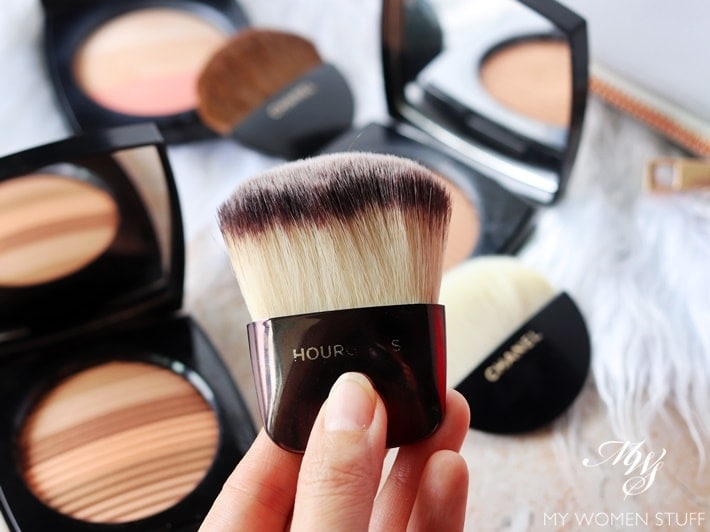 In terms of width, the Hourglass Ambient Powder Brush is wider than most face brushes I own.
Hourglass made this brush for use with their Ambient Lighting Powder. I think you are supposed to swipe it over the powder and then apply to your face. I personally prefer a very light dusting of powder to set my foundation, so I prefer using a large, fluffy brush for that purpose.
What I use the Hourglass Ambient Powder Brush therefore, is to warm up my complexion. I love this for use with bronzing powders, because you can use it to loosely contour your face, or, to just brush the powder along the sides of your face to warm the complexion.
I find that although it is very dense, it actually diffuses powder very nicely against the skin, so you don't actually end up with stripes along the side of your face. If you do, you can very easily buff it out, because it is so soft that it doesn't feel scratchy, nor hurt your skin.
I also find that the slim design allows for you to position it, so you can create a shadow in the hollow of your cheekbones, should you so wish. I just place it at a 90° angle to my skin, and gently buff to disperse powder and colour.
My current favourite powders for this purpose are the Chanel Les Beiges Healthy Glow Luminous Colour powder (this and this are my most used ones!). I wasn't too keen on them till I got this Hourglass Ambient Powder Brush, because it is this brush that made wearing such products a cinch, and helped me appreciate them!
What I do is to tap (I literally TAP) the top of the brush directly against the powder, so the powder is only on the top portion of the brush. By tapping, I don't pick up too much product. Then, I apply it directly perpendicular to my skin, buffing the colour in as I go. The result is a very natural healthy glow that looks flawless and seamless on my skin.
The other reason I love this brush is because it is so portable. It comes with a pouch (I've lost mine it seems 😛 ) and it is so slim that it slips right into the side of your makeup pouch. Because there is no handle, it barely takes up any space at all.
You can also use this for applying blush, and it is especially useful for applying cream blushes because it diffuses the colour so well, and buffs the colour in so naturally. I'm about to get one just for blush, while I keep this one for my bronzing powders! Yes, I love it that much! Definitely one of my better brush investments to date, and for the record, I have a ton of face brushes and blush brushes! 🙂
IN A NUTSHELL

The Hourglass Ambient Powder Brush is a synthetic bristle, dense, wide brush with a very slim, short handle. You can use it to apply powder, bronzer or blush and can be used for cream or powder products. I personally prefer it for applying colour face products, because it diffuses colour very well, is very soft and gentle against the skin. I also love how portable it is, and it comes with its own pouch. I am going to pick up another because I use this everyday and I need a back-up for when it's being washed 😛 One thing to note. When the brush first arrives, it looks and feels rather "flat" along the top. But as you use it, it fluffs up more and will resemble my brush that you see here. Definitely a product that looks and functions better the more you use it! 🙂

PROS: Dense synthetic bristles are very gentle on skin, Buffs powder seamlessly into skin for a very natural appearance, Can be used for powder and cream products, Perfect for bronzer newbies, Easy to use, Very portable, No shedding despite numerous washings

CONS: Pricey but will last a long time

WHO WILL LIKE THIS: Anyone who wants a very practical, portable, brush for bronzer, blush and powder

PRICE: RM171 | US$38 | £35

WHERE TO BUY: Hourglass Cosmetics website, Cult Beauty, Space NK, Net-a-Porter, Nordstrom, Sephora
Have you used this Hourglass Ambient Powder Brush? Do you own similar brushes?
Online reviews about this brush appear mixed, but I love it to death and if I can just have one brush with me, I'd pick this – I'd use fingers for everything else 😛
Paris B