One makeup product I don't have any of is bronzer. I'm your typical Asian girl, preferring to be fair than tanned 🙂 So I always shied away from bronzers and bronzing. To say this is my first bronzer is not quite true. I have bronzer/blushes before this (Dior Bronze Harmonie Rose Brazilia comes to mind as do a couple more other Dior Bronze Harmonie palettes) but they were always more of a blush than bronzer.
I stopped by Chanel to take a look at the Soleil Tan de Chanel bronzers over the weekend but they too were more blush than bronzer (and after playing around a few times, I realized I didn't quite like them very much. Soloverly has a quick review of Bronze Corail) So I ended up at the Guerlain counter, where the SA sat me down, made me over and showed me just now NOT scary having bronzer on can be. I wasn't too tanned, nor too orange nor too anything. It looked just like me… just a bit better. Mom told me it looked natural.
And the rest as they say, is history. The Guerlain Terra Inca Sublime Radiant Powder followed me home like Mary's little lamb 😛
The powder imprint is lovely. Like the rays of the sun and it does have a very Inca slant to the pattern. Its one of those things that look so perfect you almost do not want to use it. But that would be silly right? 😛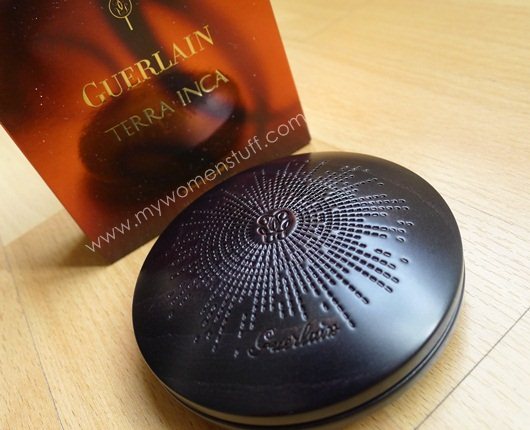 The packaging deserves mention. The bronzer powder comes in a wooden case that has 2 parts – cover with giant mirror and bottom with powder – held together by magnets. Very firmly held together I might add. I like the lacquered wooden case. Or if it isn't wood, it does look and feel like faux wood.
Its sturdy and there's no risk of fingerprints marking it or anything for that matter.
Its quite a large pan too as its a powder for the face and body. Oh yeah you read that right 🙂 You can dust this shimmery powder over your décolletage for some impact 😉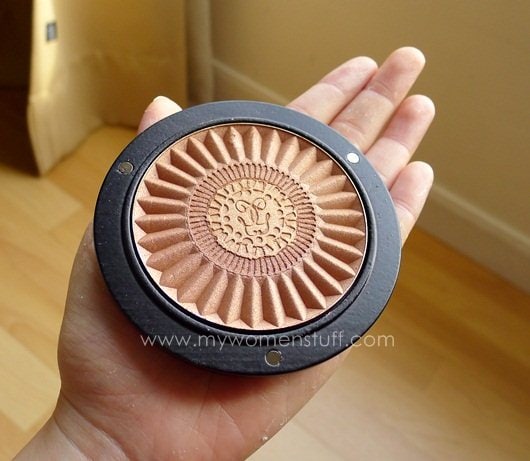 A very large pan. One I could never envisage finishing.
The powder comes in 2 shades – gold in the middle and brown-pink on the sides. The tone of the powder is quite neutral. I did not detect any orange in it, and it is also very shimmery. Used with a light hand, mixed with Dior First Light Summer Powder or the Guerlain Illuminating Pressed Powder or Meteorites pressed powder, it is subtle yet lifts up my skin… AND DOES NOT TURN ME ORANGE! The last bit in caps is very important. I'm deathly afraid of walking around like Paris Hilton after her fake tan.
Guerlain Terra Inca Sublime Radiant Powder Swatches Left: Middle Right: Outer ring
You can see from the swatches that the powder is shimmery and that it isn't orange either way but has a nice gold tint to it. The SA used the gold in the middle around the eye area and on the high points of my cheeks and the outer ring close to my hairline and along the cheekbone to contour. She also used the gold in the center as eyeshadow, which when paired with liner and mascara, is a very pretty natural look. She did warn me that I have to use a very light hand on my skin or it'd be too much.
I've been working to duplicate the luminous look she achieved, and I haven't been looking dirty or muddy or like the setting sun. Its not crazy shimmery on my skin (I don't use a lot) and its got a sheer luminous tone to it that gives a hint of colour but does not look blotchy. I do prefer to add a pink blush (usually Bella Bamba or Guerlain Blush G) on the apples of the cheeks for a pop of colour. It does brighten up the complexion and is very pretty. I could get the hang of this bronzer yet!
Pros: Light texture, Lovely golden tone on my skin, Shimmery highlights and lifts the skin, Does not turn orange
Cons: Expensive
One thing I'm not partial about is the scent. Guerlain powder products usually have a violet scent but this one smells of jasmine and I'm not a fan of jasmine. Still, the scent is only there when I'm using the powder, but it does not transfer onto my skin so its not quite a minus point.
Will I get into bronzing though? I'd say no. This is likely to be my first and only bronzing powder I'd purchase. Hence I made it worth its while 🙂
Are you into bronzing or bronzers? Most bronzers I've tried tend to look muddy or too brown or too orange on me. I'm not into looking darker and I am already quite light skinned so its not been easy finding a bronzer that doesn't do everything I don't want it to do. This one sort of hit the spot and I'm quite glad to find it 🙂
Paris B
Guerlain Terra Inca Sublime Radiant Powder retails at RM211 at Guerlain counters and is limited edition for Summer 2011