"Noir" is always associated with the dark and broody. Cue Film Noir.
I earlier showed you photos of the Guerlain Blush G Serie Noir which is Guerlain's limited edition blush for Spring 2011. Not a very Spring sort of look is it? I'd go so far as to say that it wouldn't look amiss in a Summer makeup collection. But its certainly far from being dark and broody. I think its called Serie Noir because of the black lacquered case that looks serious and noir on the outside but when you open it, it surprises you with such a bright pop of colour in the pan.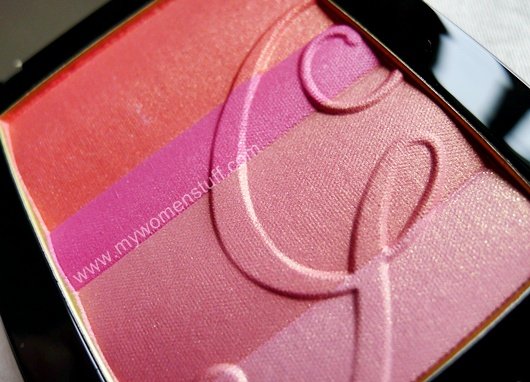 But it sure looks very pretty. I like blushes that are pretty yet practical. There is nothing intricate about it except the signature G. Nothing to cherish so much that you wouldn't use it, the way Guerlain Cherry Blossom blush was last year. This is a straight forward blush with 4 colours that you can mix or use separately as you wish.
My initial thought going in was "Oh this is going to be easy. Just swipe across the colours and blend. Easy Peasy!" Turns out I was wrong. The "problem" is that the Blush G is very pigmented. Its not obvious when I swipe it on the back of my hand (which you'll see below). In fact, that's when I thought it would be a piece of cake.
But when a brush touches it, it seems to suck up all the pigment and if you aren't careful, deposit them all on your cheeks. I spent the first 2 days getting to grips with this blush and re-doing my makeup because I just ended up with too much on my cheeks. The swatches don't show it that way though. These were swatched with fingers and you can see they are sheer but buildable.
For some reason, with a brush, it takes on an intensity I cannot duplicate with merely using my fingers. Its a good and a bad thing. If you have medium-dark skintone, you would likely not have a problem. If you have very light skintone, you just have to be extra careful.
The trick therefore, is to lightly TAP your brush on the surface of the blush, blending the colours as you go. Tap on the back of your hand until you see only a faint hint of colour on your brush. Only then do you apply to your skin.
And when you do this, this blush comes into its own. It delivers a beautiful pink blush with hints of peach that is very alluring. Somehow, on my skin it did not look as fuchsia or orange as it did on the model on the Guerlain ad or Temptalia (she looks lovely in that shade, I don't – I'd look like the setting sun). On my skin, its a warm pink peach that I very much prefer. I was dreadfully afraid it'd go on orange or bright pink.
I have a cool-neutral fair skintone and hence my tip to be careful when applying this blush because it is easy to overdo. I think it will work on most skintones, because its got warm and cool tones in the palette. The Orange and Peach-pink are both warm tones while the Fuchsia and Pink are cool. You can mix more or less of each shade to get your perfect mix.
I like wearing this blush with a neutral eye. The best I've found is to pair it with grey eyeshadow and a pink/rose lipstick. For some reason, it really goes well. The blush brightens up your face, while the grey eyeshadow cools things down and adds depth.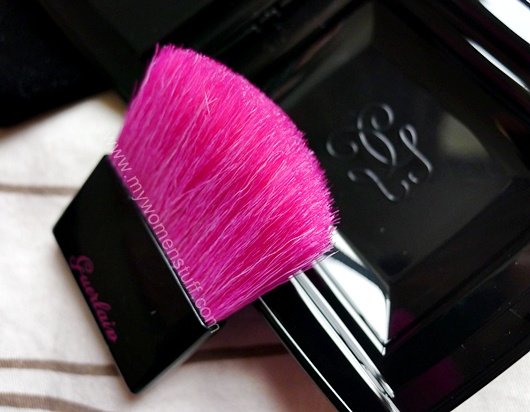 Oh I should mention there is a brush included with neon pink bristles. Cute, but not something I'd use. The sleek case is beautiful and screams luxury as does the neon pink satin lined black velvet case the blush comes in.
Pros: Fine, smooth texture, Pigmented colours, Interesting mixture of colours, Well packaged
Cons: Easy to overdo, Pricey, Limited Edition
Do you need this blush? Of course not.
But I own tons of blushes and I don't have one that deposits this sort of intricate mix of colours on my cheeks 🙂 I sometimes wear just the bottom 2 shades for a pretty pink-peach look and when I'm feeling brave, I do the top 2 shades for a bolder warmer look. If I use a smaller blush brush, I can use each colour individually too.
So, get it if you have a bit of money to splurge and you want something quite unique that you can tailor to suit your skintone depending on your look of the day; or get it if you want 4 blushes, or 7 in one handy palette, depending on how you use it. Because this is limited edition for Spring 2011 🙂
Paris B
The Guerlain Blush G Serie Noir comes in 1 shade and retails for RM202 at Guerlain counters. It will go on sale from January 20, 2011. Guerlain counters can be found at Parkson KLCC, Parkson Pavilion, Sogo, Isetan The Gardens and Tangs Pavilion.