Ladies, I told you MWS readers are the best and I'm not wrong! 😀 When I posted my reivew on the Vichy Aera Mineral BB Cream yesterday, reader Jayie from Singapore asked how it might compare to the new Vichy Aera Teint Pure liquid foundation already released there. My response was that since we don't have the Aera Teint foundation here right now, I can't compare them both. But she did, complete with swatches and photos! What a darling! 😀 Here's what she has to say about them, slightly paraphrased from her email to me.
I went to compare the Vichy BB Cream and liquid foundation at Watson's. On your left is the BB cream and on your right is the liquid foundation in the shade Light Ocre 020 (the only sample available). The other shades available in the Vichy Aera Teint Pure liquid foundation are Pink Ocre 010, Dark Ocre 030 and the darkest colour in 040 (forgot the name, sorry!)
The foundation is definitely yellow-based compared to the bb cream, though both blended into my skin. The BB cream is still a tad lighter. (I'm supposed to be NC25 in MAC) I compared it also to Dior Nude foundation in 020 and I find that the texture of the Vichy Aera Teint is lighter than that of the Dior Nude and it is very easy to blend.
As far as I can see from the box, the ingredients are EXACTLY the same, but the BB cream states that it contains SPF20, and the foundation doesn't. The BB cream is 40ml, and retails in Singapore for SGD49 (RM99 in Malaysia), and the Aera Teint foundation is 30ml for SGD39.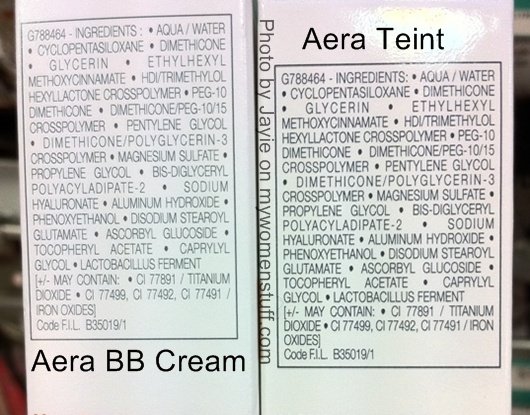 I was very tempted to buy the BB cream because of the description, but in the end, practicality won and I bought the foundation!
Update: Here are more swatches of the Vichy Aera Teint Pure foundation
Top to Bottom:
040 Natural Beige -supposed to be the darkest but to me it's not that dark. yellow-based definitely
030 Dark Ocre – more neutral colour looking to me, I think this will suit me better because 020 is a tad too peachy for me
020 Light Ocre – peachy beige colour, good if you want to brighten up your skin
010 Pink Ivory – super pinkish peach colour, doesn't look like it will suit Asian skin?
right side : BB cream – looks a bit Greyish to me. the SA says it supposed to blend in all skin tones.
Jayie
Thank you so much for doing the research and taking the photos, Jayie! You've just made me terribly intrigued by the Aera Teint Pure foundation and since the BB Cream and foundation do look very similar, perhaps those who have problems getting the Vichy Aera BB Cream to match their skintone can wait for the liquid foundation 🙂
Paris B
This is a reader review by Jayie who, on her own initiative, took photos and did comparisons of both products to share with me and on My Women Stuff. If you'd like to share a post, please feel free to drop me an email with your ideas.