So other than the Dior Lace collection, the other collection I'd been waiting for for Spring 2010 is Guerlain Cherry Blossom. That blush!! Don't tell me you didn't go "Ooh!" when you saw the stock pictures.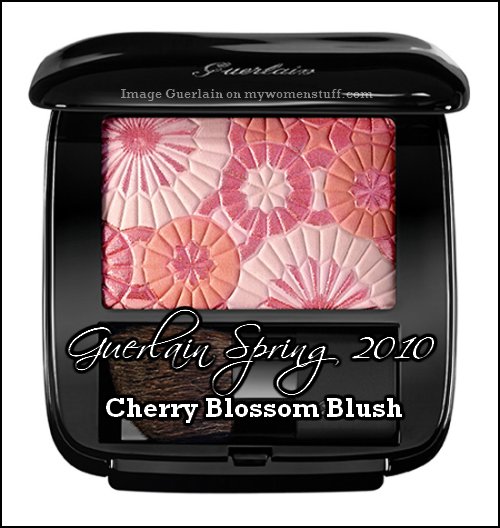 Yesterday, while browsing at Isetan, I decided to check if the Guerlain counter had the new collection and lo and behold! They did! Of course the ol' heart went pit-a-pat in anticipation. But you know what? I'm underwhelmed 🙁
Don't get me wrong. The palettes are gorgeous. The interplay of colour and textures is beautiful in both the limited edition eyeshadow and blush palettes.
The Jeu D'Ombrelles eyeshadow palette (RM186) I found very sheer. The colours look strong and iridescent in pan, but when swatched, it just went on light and sheer. On my skin, the 2 purple shades look similar. It was sad.
But I was there for the blush. I knew when I saw the pictures of the eyeshadow palette that I won't get it because of the strong purple influence. Purple eyes don't go well on me. So, I saved up for the Guerlain Cherry Blossom Blush. But walked away yesterday feeling a little let down – and without the blush in my hand 🙁 Here's what I think of the Cherry Blossom blush.
The blush is gorgeous in pictures and in real life. The insert shows the stock image which was released in Nov 2009. By the time I got to the Guerlain counter yesterday, most of the top layer had been rubbed off which made me realize that the red tones are only overspray.
The base colour of the Guerlain Cherry Blossom Blush (RM150) is in fact, a combination of only 2 shades – pale cream and peach. At RM150 (US$45) I think its affordable by Guerlain standards.
BUT the big question is, will I get it? I was all ready to shell out good money for this up till yesterday!
My answer is I don't know. I swatched it a few times. It goes on my skin a light pale peach with very very slight shimmer. Don't get me wrong. Its a lovely versatile colour that very few can go wrong with. Its perfect for everyday and the smooth silky texture is awesome. But yet I balked.
I guess I was hoping that the colour would be more representative of how the stock photo looked – light peach with a hint of rose or pink. To find out that there is no rose tone in the blush at all was a major disappointment 🙁
I did however, fall for the new Guerlain Kiss Kiss Strass sheer lipstick (RM105). Rouge Broderie (321) is so beautiful! Sheer red with loads of iridescent shimmer. My sis agrees so if I buy anything, she wants me to get her that one 🙂
Have you seen this collection and if you have, what do you think of it? I'm still contemplating if I really want that blush anyway. Crazy I know but there you go 😛 If you own the Guerlain Cherry Blossom blush, do share if you like it. I can always be persuaded LOL…
Paris B