Brushes! An obsession I've been gently nurturing over the years ever since I discovered just how much better my makeup can look when I use the right makeup brushes. It's also why I decided to share my thoughts on brushes here on the blog, more often. It helps justify my purchases LOL 😛
As fate would have it, when I decided to take a little more interest in makeup brushes, 2 big brands revamped their makeup brushes! How about that for serendipity?! 😀 One of them is NARS and I'm rather surprised that we aren't hearing a lot more about it online.
NARS Artistry Brushes – #20 Blush Brush, #42 Eyeshadow Blending Brush #40 Eyeshadow Brush, #11 Bronzing Powder Brush
The new NARS Artistry Brush collection replaces their existing brushes and there are 16 pieces in this range which consist of both natural hair and synthetic bristle brushes, depending on your needs. The matte lacquered handles and matching matte metal ferrule now look a little more luxurious as compared to their brushes before this, and I find them nicely weighted so it's nice to hold.
I'll just give you a quick overview for now as I haven't been able to wash them out properly before using them (anyone else glad the water rationing has come to an end even if temporarily?!), so I'll have more details for you to come. They're permanent, so no rush 🙂
There's a fashion touch to these brushes that I simply love – that lovely pop of colour on the base end of the brush. Does it bring a famous red soled shoe to mind? 🙂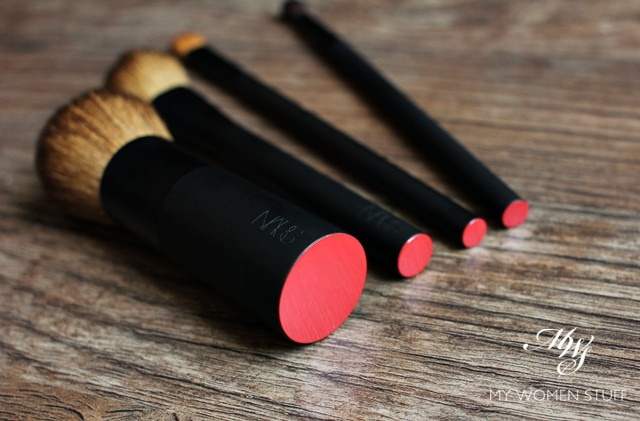 The red is a bit deeper and more glossy than what you see in the photo above, and it's an almost "blink and miss it" feature because there's absolutely no sign of it when viewing the brush from the side. No leaking of colour around the edges, and no hint of the colour at all until you catch a glimpse of it when you do your makeup in front of the mirror. I like that touch.
The other thing I noticed was how long the brushes were.
The Bronzing Powder Brush #11 (RM210) is a nice size. It is quite large in diameter but the length and size is easy to hold.
I did find that the handles of the #42 Eyeshadow Blending Brush (RM120) and #40 Eyeshadow Brush (RM120) a little longer than I expected or am used to. It is in fact a little longer than most regular brushes and although well weighted so it's easy to hold and manage, could get in the way, if you like working close to the mirror.
NARS Artistry Brushes Left: #40 Eyeshadow Brush Right: #42 Eyeshadow Blending Brush
I placed the brushes on the NARS Eyeshadow Duo so you have an idea of size. The Eyeshadow Brush #40 (RM120) is a general use brush that you can use to apply eyeshadow all over your lid or to blend. It has a paddle shape with a rounded domed tip. It's fairly larger than I expected and it is natural sable hair. It feels soft and not scratchy at all. I'll report back on how it performs once I've had a play.
I picked the Eyeshadow Blending Brush #42 (RM120) because I'm going through a phase with blending brushes. This has natural hair (I'm not sure what it is – could be goat) and is interestingly firm but fluffy and pliable which tells me I could have as much luck using this to apply colour as I will with blending. It doesn't feel super duper soft like brushes of white goat hair, but it's soft enough not to be scratchy against the skin.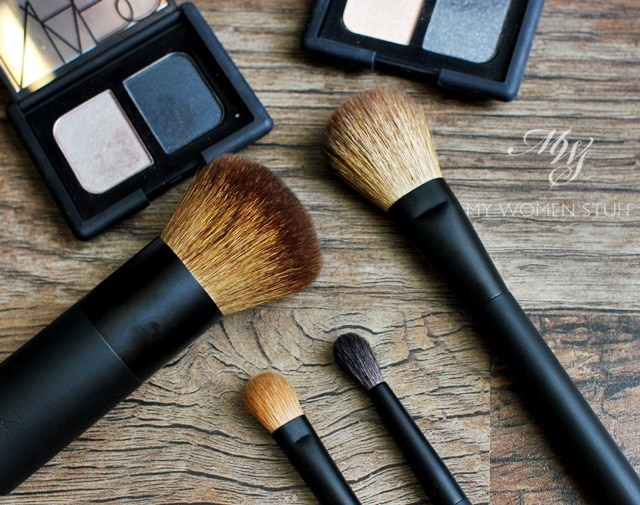 Since I love blush, I'm always on the lookout for blush brushes so the Blush Brush #20 (RM170) was a natural choice. I must confess that I was a little wary at first because I wan't sure if the brush would feel soft. I'm not too sure what animal the hair is from but it feels a bit firmer than the goat and squirrel hair brushes I own, and not as soft. That is not to say however that it's scratchy or inferior in any way. It does feel lovely and gentle on skin, and carries a smaller brush head which allows for more precise colour placement, and the firmer bristles will allow it to pick up colour better. Super soft brushes have their place but sometimes, it's just too much work to get colour onto skin.
The Bronzing Powder Brush #11 (RM210) is one I picked not because I'm into bronzers, but I wanted it for buffing finishing powder and I plan to try using it for blush. The head is fairly densely packed with natural hair bristles and it feels dense, almost like a kabuki brush; yet, it's pliable so it moves nicely against the skin. It doesn't look very soft, but it feels lovely which surprised me because I'd read of people saying it wasn't. It is!
The other NARS Artistry Brushes available are (descriptions from NARS):-
Powder Brush #10, RM 210 – Blends, buffs, and diffuses loose powder for a lustrous finish. Double domed with layers of full, soft hair to pick up and deposit powder evenly.
Cream Blending Brush #12, RM 115 – A versatile, multi-use brush for face and eyes. Designed for gentle application of concealer around the eyes and effortless blending of cream textures.
Precision Blending Brush #13, RM 105 – For precision application of concealer. Ideal for focused use on spots, pigmented areas, or around the eyes and nose.
Contour Brush #21, RM 170 – Expertly angled for sculpting and highlighting the cheekbones. An artist essential to define and blend with controlled application.
Diffusing Brush #41, RM 120 – A must-have for blending and creating the smoky eye. Lush bristles softly apply shadow for a light veil of color.
Wide Contour Eyeshadow Brush #43, RM 120 – The go-to artist essential that does it all: tap, blend, or sweep shadow with ease. Angled shape allows for all-over or precise application.
Precision Contour Brush #44, RM 115 – The firm, flexible hair design of this brush is ideal for applying concentrated color in the eye crease.
Smudge Brush #45, RM 115 – The smoky eye artist essential. Expertly deposits color along the lash line and diffuses and softens eyeliner.
Push Eyeliner #46, RM 115 – Transforms any cream or powder eyeshadow into an eyeliner for a smooth, fine line at the base of the lashes. Use wet to apply powders for stronger color impact.
Angled Eyeliner Brush #47, RM 115 – Designed for impeccable glide when applying liquid and cream textures along the lash line. Perfect for use with NARS Eye Paint to create a variety of effects, from natural to dramatic.
Brow Defining Brush #48, RM 105 – Define, shape and fill in sparse brows. Firm bristles provide control and deposit powder for a hair-like effect.
Precision Lip Brush #30, RM 105 – Designed with a wide, flat surface to evenly apply lipstick with precision.
Pricing-wise, being from NARS, I'd say it's on the steep side, but not crazy expensive unless you decide to pick up a bunch of them at a go, in which case your wallet will weep. Based on individual brush prices, I wouldn't complain, but then I am a little desensitized to brush prices after my last Hakuhodo haul so I'm probably not your best judge of price or value 😛
Have you seen these new NARS Artistry Brushes around? Which one grabs your eye?
I will say here that the brushes I have are not scratchy in the least. They do feel different (firmer) when compared to other high quality brushes like those from Hakuhodo or Lunasol or RMK or Japanese brush brands in general. While I may be a bit on the fence about the blush brush, I think the other ones have their place. I'll take them for a spin and let you know my thoughts on the individual ones (with comparisons where I have similar ones) in due course. Which would you like to read about first? 😀
Paris B
NARS Artistry Brushes come in a range of 16 brushes and are permanent items. Prices are as set out above and they are available exclusively at the NARS store at Pavilion Kuala Lumpur