Are you bitten by the ombre lip bug? I wasn't. For some reason, it's one of the makeup trends that passed me by. I did notice however, that there are two sorts of ombre lips – the Western ombre lip trend, and the Korean ombre lip trend.
The Western ombre lip trend has a deeper colour on the outer lip, and a lighter shade on the inner lip. This, I find, makes lips look larger and more pouty. The Korean ombre lip trend is reversed, with a deeper colour on the inner lip and a very light shade on the outer lip. I think it's supposed to give off an innocent vibe, like that of someone who's just sucked on a cherry lollipop. Neither is really my style LOL!
But I know the Korean lip style is quite popular. There are any number of makeup tutorials out there teaching you how to create this look. But if you're anything like me (read: not great at following instructions 😛 ) then Laneige has made the job a million times easier!
Enter the Laneige Two Tone Tint Lip Bar, an improved version of the existing Two Tone Lip Bar. You can tell that it's the new version by the V-shaped lip colour. Wanna see how it looks when I wear it? 😛
I received 3 shades in the mail, and if I'm to be perfectly honest, I wasn't too sure how I felt about them. I mean, I wasn't into the whole ombre lip look. I prefer a solid lip colour, and as I'll show you below, I think I look better in it. Still, it's just makeup right? Let's experiment! 🙂
As the name implies, the Laneige Two Tone Tint Lip Bar is supposed to offer more of a tint of colour. However, I found that the colour (in the V-shaped portion) is pretty intense. The outer layer, despite the pretty pastel colours, is a transparent balm.
Laneige Two Tone Tint Lip Bar L-R: 07, 08, 04
The different shades therefore are formed by the actual colour in the V-shaped portion of the lipstick. I was warned that the original version was rather drying on lips, so I was a little apprehensive. However, I'm going to tell you that these are really nice and moisturising on lips.
I attribute it to the balm portion, which is quite soft and emollient, and leaves my lips feeling comfortable and moisturised. What this feels like therefore, is like a balmy, moisturising lipstick. Very comfortable, so thumbs up in that area!
The other thing I wasn't sure about was the shades. I haven't personally had many good experiences with Korean makeup because their lip colours can be a little off for me. These however, were a pretty decent colour – nothing too strange or too warm.
The Two Tone Tint Lip Bar swatches are below, swatched straight from the tube.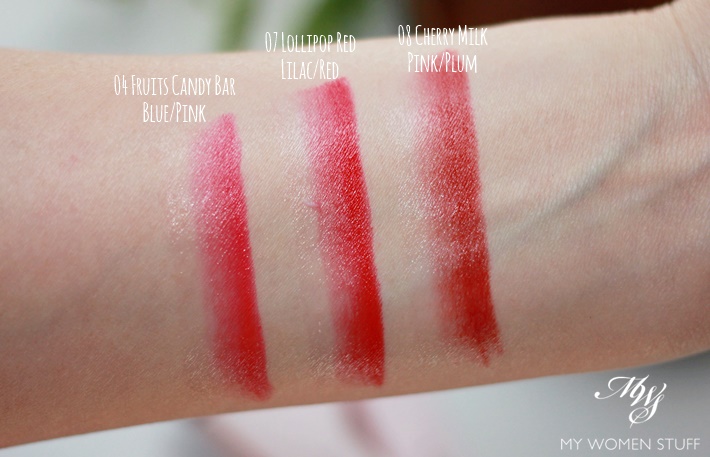 You can see how on left, is the balm, which swatches clear. On right is the colour as contained in the V-shaped part of the lip colour. The middle, where the V cuts into the balm, is where the colours intersect and blend out and makes the ombre.
The 3 shades I have are:-
04 Fruits Candy Bar Blue/Pink – It's a fuchsia pink housed within a pale blue balm, and it actually swatches quite strongly, but surprisingly more red than pink.
07 Lollipop Red Lilac/Red – This one's a red within a lilac tinted balm and similarly, swatches quite a strong red. The balm portion tempers the colour somewhat, so someone who is afraid of wearing red lipstick might find this more wearable. Personally though, I prefer wearing it all over.
08 Cherry Milk Pink/Plum – This is actually my favourite of the 3 shades. In tube, it's a very very deep plum which looks quite scary and gothic. But when swatched, I loved the deep cherry red!
Here's how the 3 shades look when I wear it.
I wore 04 and 07 as an ombre lip. For the bottom lip, I angled the V-shaped portion to apply to the inner lip, while the balm applies onto the outer portion of your lip. For the top lip, you have to turn it the other way around, so the V-shape applies on the inner lip. It's a little awkward when applying on the top lip, due to the angle of the lipstick.
Personally speaking, I wasn't too thrilled about how the ombre lip looks on me. I feel it makes my lips look smaller than normal, and a little disproportionate to my face. As the colour is quite strong, it isn't necessarily a "tint" of colour at all, but a full on opaque lip colour.
I much prefer how it looks when I wear it as a normal lip colour, i.e. blended all over my lip as I did with 08 Cherry Milk. I love the colour, how it looks and how it feels, and I think it's a great lipstick – I'm just not sold on the whole ombre thing 😛
IN A NUTSHELL

The Laneige Two Tone Tint Lip Bar is a liptick with a lip colour on one side and a clear balm on the other. The way it is made allows you to swipe it on to immediately create a Korean ombre lip style. Personally, I like to just wear the colour all over my lip. The colours are attractive, opaque, and the texture is comfortable and moisturising. There is a sweet candy scent that may or may not appeal to you. It doesn't usually sit well with me, but I quite enjoyed this one. The plastic packaging does make it feel like a toy, but I forgive it because the colour and texture is impressive and in this day and age, it's pretty affordable.

PROS: Moisturising, Allows you to create the Korean ombre lip look with very little effort, Does double-duty as a normal lipstick, Comfortable to wear on lips, Slim and handy one hand application, Affordable

CONS: Sweet candy scent, Plasticky packaging cheapens the product

WHO WILL LIKE THIS: Anyone who wants a balmy, moisturising lipstick, Anyone who wants to create a Korean style ombre lip

PRICE: RM80 – 8 shades available

WHERE TO BUY: Laneige counters and stores and selected online stores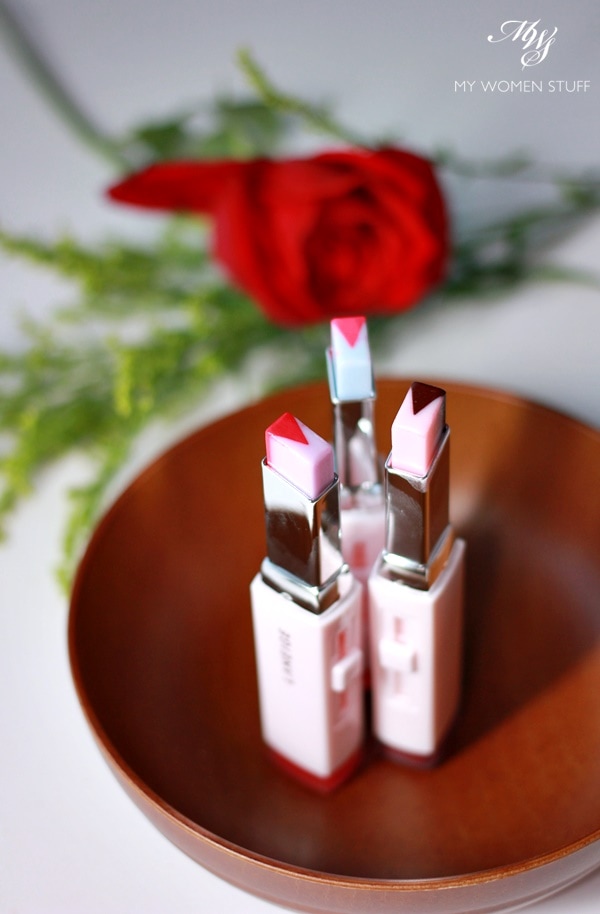 Do you like the ombre lip trend? Have you tried this two tone style lipstick from Laneige?
Having tried it, I'm not sold on the ombre lip look on me. I much prefer a full on lip, and better yet, in a bold colour. I think it suits me better, but hey how about you? Have you tried the ombre lip trend?
Paris B