I first came across the concept of using a mist to set your makeup many years ago. I was taught then, that a thermal water spray mist could do double duty to set makeup. For a spell, I was using it because it helped powder foundation look less powdery. When I switched to liquid foundation, I stopped.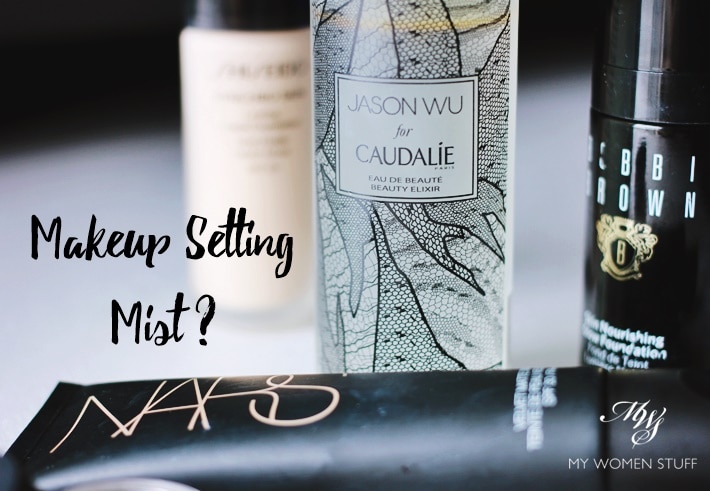 I remember one day, a friend waxing lyrical about this mist from Urban Decay, that sets and holds your makeup, literally all night long. She swore up and down that her makeup did not budge one bit. Considering that it was a hot evening, and she did still look fairly fresh while I was wilting, I believed her.
But I never tried it, because I never found the need to. I'm one of those people who tends to let nature take its course. If it melts, it melts. But recently, I was taught a new way to use a product I'm not a fan of, and I have to say, I was sold.
But the question is this – do you use a makeup setting mist?
I don't. Not generally.
But I had this bottle of the famed Caudalie Beauty Elixir lying around, and didn't know what to do with it. One day, I got to talking with the people from Caudalie Malaysia about this, and how I'm not a big fan of the product as it is (as a facial mist), and they told me I could try using it as a makeup setting spray instead.
Oh hang on! What was this?
So I tried it. You shake it up, and the lovely thing about the Beauty Elixir, is that has a lovely fine mist. So, I did my makeup, and at the end of it, shook the bottle of Beauty Elixir, and sprayed a fine mist all over my face. It did not leave it sopping wet, and dried quickly.
Much to my surprise, my makeup did stay on better and longer through the day! The other added benefit was that it took away any powdery look caused by setting powder, and give my skin a more natural glowy finish.
I now have it back on my dresser, where I use it, not as a skincare product, but as a makeup setting spray. It doesn't dry my skin, and I don't mind the sharp scent, and I like how my makeup looks when I use it occasionally.
Incidentally, when I met Mathilde Thomas, co-founder of Caudalie, she too mentioned that the Beauty Elixir can be used as a makeup setting spray. I was glad to inform her then, that it does work, and I love using it for that purpose! 😀
For now though, this is the only makeup setting spray mist thing that I use, and even then, only occasionally. I don't really have a need for it on a day to day basis, only for when I have a long day or perhaps, for a formal occasion. Otherwise, I let it slide 😛
Do you use a makeup setting spray? What do you use?
If you own the Beauty Elixir but don't quite like it, try using it this way too. I have a suspicion that the oils included in the product is what helps the skin take on a more dewy, glowy appearance, while the water in the mist is what helps hold your makeup in place. But what do you use? 🙂
Paris B