I have a theory about using lip balm, that centers on it causing over-dependancy. But don't take my word for it. It's just my personal theory LOL In cool, dry weather, I welcome lip balm to prevent chapped lips. But not otherwise.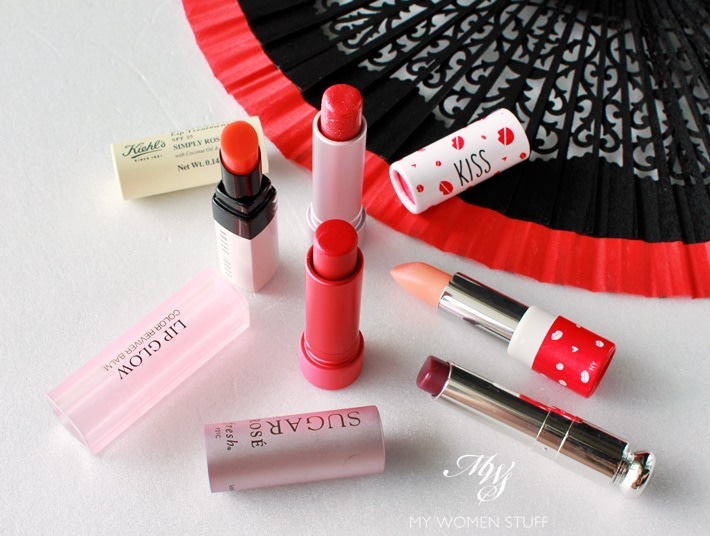 That said, I've found myself reaching for certain lip products in my stash in recent times. I blame the weather. It's been hot and cloudy by turns (which is playing merry hell with my health!) and I just don't really feel like putting on lipstick. So, I go for something light in colour, and balmy in texture. Just to give my lips that little bit of shine and a hint of colour.
For this purpose, tinted lip balm serves its purpose. It's generally lighter in colour than most balm-lipstick hybrids, and gives lips a bit of shine. Here are 5 I've been using lately – what are your faves?
Kiehl's Butterstick Lip Treatment SPF25 – Simply Rose – RM85 | US$19.50
Kiehl's launched a new range of lip balms early in the year, that included 1 untinted version, and 4 tinted ones. I picked the tinted one in Simply Rose, which is tinted red. Of all the tinted lip balm I own, this one is the most pigmented, as you will see in the swatch below. So, I tend to regard this more as a lip colour than a lip balm. You can't really apply it without looking in the mirror, or risk looking like Batman's Joker 😛
I find the texture thick, but it is fairly comfortable and keeps lips moisturised, while giving a nice colour. The cap screws on just like the Fresh Sugar Lip Treatment, and to be honest, for all intents and purposes, it could well be the Fresh Sugar Lip Treatment! It probably comes from the same factory as they don't share the same mother company (Fresh is, at time of writing owned by LVMH while Kiehl's is owned by L'Oreal). It is however, not my favourite, but will do in a pinch.
Fresh Sugar Rose Tinted Lip Treatment SPF15 – RM105 | US$24
I bought the Fresh one a while ago, when it was RM65. Then, it went up to RM84 by the time I posted my review and I'm HORRIFIED to see that it's now RM105 at Sephora. It's a decent tinted lip balm, offering nice balmy texture, protecting your lips and giving lips a tint of colour. But at that price, for this brand, I say skip it. Just get the Kiehl's one – same thing. Or close enough.
Clarins Joli Baume Eclat du Jour – RM79
This one I reviewed here, is limited edition, but still available. If you get past the peachy scent, it is lovely on lips, gives a very surprisingly pretty tint of colour, making lips look just that bit better, and feels comfortable. It has been a surprise favourite for me, finding residence in my daily makeup pouch, for when I want a quick touch up, without applying a new lip colour.
Dior Lip Glow Color Reviver Balm Berry – RM120 | US$33
Another surprise favourite that's now a daily lip colour for me. I know the Dior Lip Glow in the original pink colour is very popular. But I never quite got into it, primarily because on my lips, it never really showed, and pink just isn't my colour. But this year, Dior released a new Lip Glow shade in Berry, which I can't tell if it's limited edition, or if it's permanent, because I'm getting conflicting information.
In tube, it looks like a deep berry lipstick, and seems quite intimidating. But it swatches a very sheer tint of berry which I love, because it adds a nice depth of colour to lips, without looking too obvious. Perfect for my current makeup look, which focuses on very light makeup. The texture is like the Clarins one – balmy without being sticky. Kiehl's and Fresh tend to be more sticky. I love this one, and yes, it is expensive. But hot damn, it's amazing.
Bobbi Brown Extra Lip Tint in Bare Melon – RM113 | US$34
Bought this one on a whim, and I love it! Adds just that tint of colour, feels very comfortable on lips, just like the Dior Lip Glow, without being sticky, and gives lips just that tint of peach, that brightens the complexion without screaming "Look! I'm wearing makeup!"
I believe Bare Melon may be a limited edition colour, and the Extra Lip Tint itself may be permanent. But don't quote me. These things change so quickly! Just know that when I was last at the Bobbi Brown store recently, it was still on sale. Expensive, yes. Lovely? Absolutely!
I thought it might be helpful to show you some swatches on my arm. While I know most of us wear lip products on our lips (duh!) this was helpful to show the difference in colour (if any).
The Kiehl's Butterstick is surprisingly pigmented, while the other 4 featured are very sheer. TINTED lip balm. That should tell you something LOL! 😀 I found Kiehl's Butterstick and Fresh Sugar Tinted Lip Treatment the most sticky. Dior Lip Glow, Clarins Joli Baume and Bobbi Brown Extra Lip Tint felt more comfortable on my lips in our weather. I don't have dry or chapped lips, nor flaky lips, so I cannot tell you how it treats that. I use this as a light lipstick.
My favourites are the Dior Lip Glow and Bobbi Brown Extra Lip Tint. Clarins Joli Baume comes a close third, with Fresh and Kiehl's bringing up the rear. All in all, a nice option to lipstick, and perfect for just adding that tint of colour and shine, and a treat to your lips.
Have you tried any of these? Do you wear tinted lip balm and what is your favourite?
I actually dont' quite like those that look clear then go on with some colour, or that say they will shift colours according to your skin PH or crap like that. I like knowing what colour I'll get. I know there are more out there, so quick, tell me your faves! 😀
Paris B