After last week's marathon blog content, I think you're about as wiped as I am LOL! I haven't blogged daily for a couple of years now, and I'd forgotten how much it really takes out of a person. I take my hats off to all the bloggers who are still churning out daily content, because guys, you deserve all the accolades you get. I can't go there again. It's too draining – physically and mentally.
With this in mind, I thought it would be nice to kick back with some little beauty hors d'oeuvres, or bite-sized appetizers in the beauty world. These are little snack-bites of some upcoming new releases that you can keep an eye out for, if it catches your fancy.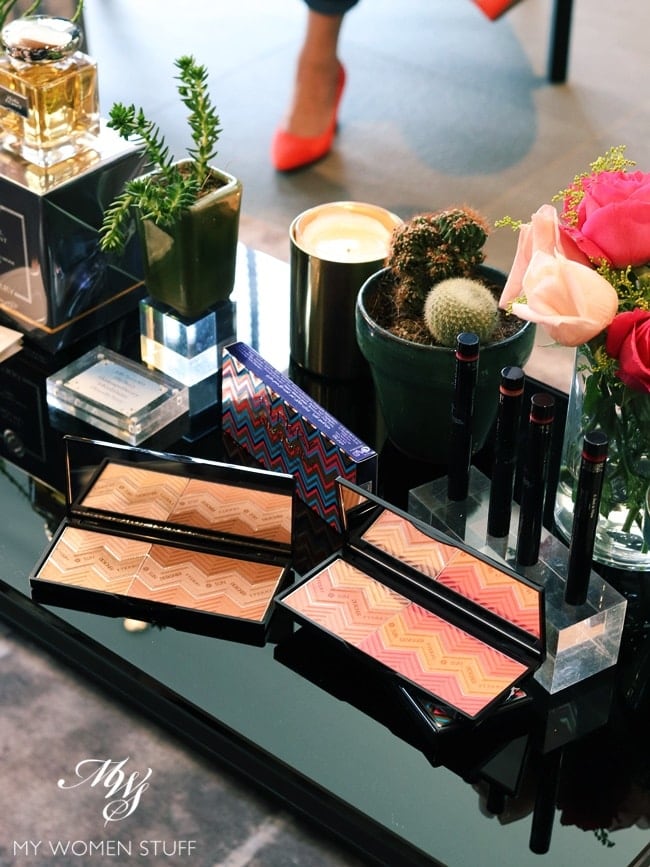 By Terry Hippy Chic Summer 2018 Sun Designer Face Palettes
There are one or two that I will go into greater detail at a later date. But for now, grab an iced lemonade, kick back in your most comfortable chair, and enjoy these little beauty morsels 🙂
Shiseido Essential Energy Moisturiser – April 2018
Ever felt like your skincare isn't doing anything for your skin? That is a common lament. We use the same products, but we don't see as good benefits from using them as we did when we first started. While I attribute it to the 'plateau-effect', Shiseido has come up with a different diagnosis.
As we age, our skin loses the ability to respond to products. Enter therefore, the brand new Shiseido Essential Energy range of moisturisers. These creams are inspired by neuroscience, and contain ReNeura Technology™ that work to reawaken skin sensors. How it works, is that it gives your skin new energy, so when it detects information from your skin using the Active Response Powder (a more pliable form of powder included in the products), it then transmits and boosts using Ashitaba extracts, the essential energy to your skin.
Science-y mumbo-jumbo aside, what this creams do is to reboot your skin. So, think of this like your computer. Sometimes, it gets clogged up with too much information, and it hangs. So, hitting the reboot button clears the clogs in the system, and makes everything run more smoothly. I'm told that after this, you can revert to your regular creams or skincare and it will perform better.
At present, the Shiseido Essential Energy range consists of only 3 items – all of which are moisturisers. They come in 3 different textures to suit different skin types. I have a feeling that this is the start of a new range from Shiseido, and more products will be added in future.
The 3 items are:-
Shiseido Essential Energy Day Emulsion SPF30 PA+++ – RM210 for 75ml – This is a lightweight emulsion that has a pink tint to make your skin look more radiant. It felt very light on my hand, and absorbed quickly with a slight powdery feel. I'd peg this as one for those with oily skin types. The addition of SPF is good, but SPF30? I'd have preferred SPF50 and maybe then you could even use it as sunscreen.
Shiseido Essential Energy Moisturising Gel Cream – RM240 | US$48 for 50ml – This is targeted at those with a combination-oily skin type, as the formula is a lightweight gel. It does not contain SPF so it would be a day and night moisturiser. I found the texture fairly light, with a lotion feel, that absorbs quickly into skin. For someone with drier skin, a few drops of facial oil will make it feel more comfortable.
Shiseido Essential Energy Moisturising Cream – RM240 | US$48 for 50ml – This is the cream version targeted at those with drier skin types. This would be the one I'd pick for my use. The texture feels quite thick in the pot, but it spread very easily, and sank into skin very easily. It did not feel too heavy on my skin but I did feel like it wasn't as moisturising as I'd like, just based on how it felt on my hand.
I will note that they are fragranced, albeit a pleasant slightly citrus fragrance that was not too strong. They are also primarily targeted at those between 25-35 years old. People who have been using skincare for a while, and maybe need a bit of reboot.
I may or may not be giving these a go (I'm a whole decade over the maximum target age group! LOL! 😀 ) , but if I do, a more comprehensive review will be sure to come in future. With skincare, due to their permanent nature, I prefer to take my time with them and dissect them properly. Regulars will know this 🙂
WHERE TO BUY: Shiseido counters, Sephora (Please note that I checked Sephora.my and saw that the prices are higher there than the recommended retail price from Shiseido. I'd buy from Shiseido – don't be fleeced!)
By Terry Hippy Chic Summer 2018 – April 2018
Drawing on from memories of a Summer well spent at Ibiza, Terry de Gunzberg has translated the vibrant warm colours of a sunny seaside town into the By Terry Hippy Chic Summer 2018 makeup collection.
New in this collection are the Sun Designer palettes (RM299 | €52) that you see in the first picture above. They come in 2 shades:-
Sun Designer Palette No. 5 – Hippy Chic – A palette of 6 shades warm brightening powders on left and brighter colours on right. This would be more suitable used as a blush palette, with its lovely shades of warm coral and pinks that brighten the complexion and adds a touch of golden sun
Sun Designer Palette No. 6 – Happy Sun – A warm toned palette of 6 shades that do double duty as bronzer and blush. This one would I feel work best for someone who prefers a palette that you can use to contour or add a little sun-bronzed warmth to your skin.
Also brand new from By Terry are 8 shades of Twist On Lip Colour (RM169 | €29.50). These are dual-toned lipsticks, with 2 different colours in a tube. You can use them to create a gradient lip colour, or angle them, to have 2 colours in the same tube, that offers some variety.
While this concept isn't very new in the makeup world, By Terry says that it is inspired by Korean makeup. But what makes this different, is the texture. I found the colours very strongly pigmented and opaque, with a glossy, creamy shine. They also glide on lips very comfortably, offering a glossy, creamy pucker. Bring back the gloss and shine! I've had enough of the dried-out, matte lip trend 😛
I believe that these may be limited edition, and available while stocks last 🙂 Tell me if you want more a more indepth look and swatches and I'll try to oblige 🙂 Do note that By Terry is available on Sephora.my but their prices are much higher than what you get at Ken's Apothecary, so I'd recommend you buy from Kens for best value. I don't know what stunt Sephora.my is pulling, but it's shite 😛
WHERE TO BUY: Ken's Apothecary stores and online, Cult Beauty, Net-a-porter, SpaceNK
Chanel Les Beiges Makeup Collection 2018 – May 2018
When some items from the upcoming Chanel Cruise Les Beiges makeup collection dropped into my lap, I let out a squeal of delight! And you should know by now that I'm not given to squealing 😀 These are dropping only in May 2018, but if you love the Les Beiges line as I do, then you will want to wait for it.
Chanel Les Beiges makeup was launched in 2013, and as a range, focuses on nude, barely there makeup. Makeup that just makes your skin look better, naturally. None of the heavy contouring or bright pops of colour. Just lovely natural glowing skin. That is a makeup philosophy that sits well with me, so naturally, it is a range I gravitate to, starting with my first powder in 2014!
These are a few of the items I have. If you remember the Les Beiges Eyeshadow Palette from last year, there are 2 new additions this year, still in a neutral tone, but with more pink-purple accents, as you see above (Light), and in more warm-gold accents (Deep). It also looks a smidge more pigmented which I think will sit better with those who found last year's too light. The Les Beiges Eyeshadow Palette will retail at RM285.
There is also an addition to the Les Beiges Healthy Glow Sheer Colour Stick Blush (RM175) No. 5, in a brighter pop of coral. I love the Les Beiges stick blushes and have faithfully collected them through the years starting with No. 21. I'll be very curious to see how dark or usable No. 25 will be.
A new addition to the line is the Les Beiges Sheer Healthy Glow Tinted Moisturiser (RM220) that comes in 3 shades – Light, Medium Light and Medium. I unfortunately received Medium, which I can say for certain will be too deep for me, so I'll try to get hold of one of the lighter shades to test, if I can.
Another new addition is the Les Beiges Lip Balm (RM142) that also comes in Light, Medium and Deep. The one in the picture is Light, but because it is a red, I'm find with it. I do wonder how sheer or balmy it really is, but I do like sheer balmy lip colours in general.
And finally, the piece de resistance of the Les Beiges collection – the limited edition Les Beiges Harmonie Multi-Colour Healthy Glow powder (RM220) in Light, Medium and Deep. The one in the picture is in shade Medium, with alternating stripes of pale pink and medium toned powders. While my first instinct is to return it as it looked a bit deep, I was reminded also that I use the Les Beiges Healthy Glow Powder in Medium Light almost daily to subtly warm up my complexion. I reckon I could do the same with this, with a light hand, and a large fluffy brush. I also think the lighter powders in there will help temper the colour somewhat, and help make it more wearable for me.
I will bring more detailed and up-close pictures of this Les Beiges 2018 collection later this month, and it interests me greatly, and I know it probably interests you too 🙂
WHERE TO BUY: Chanel counters and beauty boutiques
Did you enjoy these beauty snacks? Are you looking forward to checking out any of the items featured?
Do let me know if you enjoy these little snippets and I'll try to incorporate them from time to time. I hope that it'll help give you a little more information in a wider context, and maybe help you plan ahead, if I receive advance information.
It is also opportune at this time to let you know that I'll be taking a wee blog break to go on a much-needed vacation. So don't expect any updates for the next couple of weeks. But if you'd like to know where I am, or what I'm up to, Instagram will be where I'll be. I'll share some snippets, but I will be spending a lot of time offline, enjoying some time detoxing 🙂 Catch you on the flip side! 😉
Paris B