Ohayo Gozaimasu peeps!
Wow, 2 weeks has just flown by for me, and I've thoroughly enjoyed my time away. It isn't something I think you want to hear, is it? LOL! But seriously, I have enjoyed my time away from the blog and social media, and it's been refreshing to mind, body and soul.
I did share and update my going-ons on Instagram, and I thank you for joining me and for telling me you enjoyed the content. I did have some major adventures while on holiday, so it made for interesting stories to tell LOL!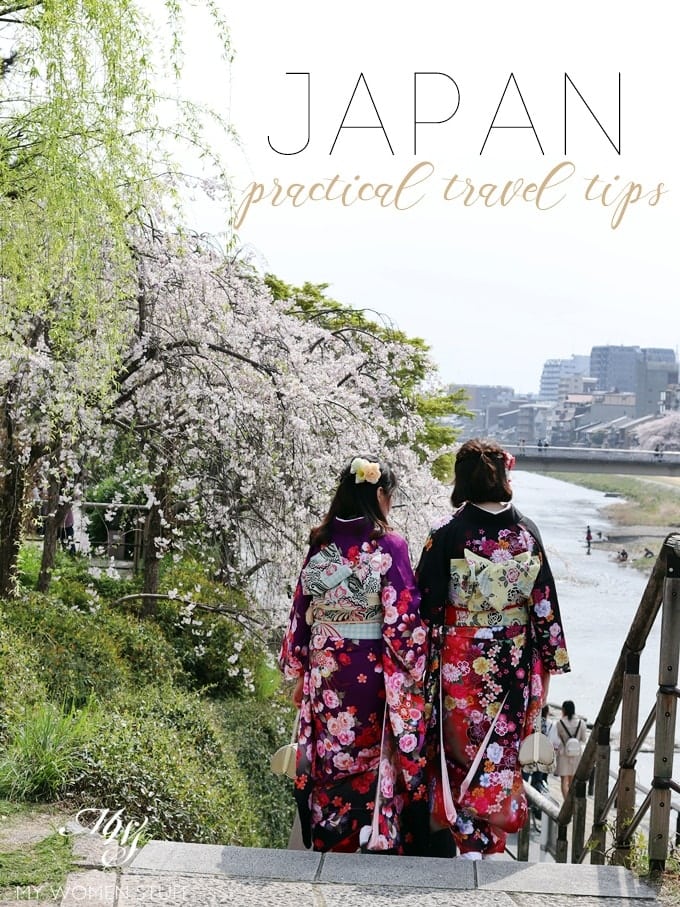 For those of you who've preferred to stay off social media and have no idea where I was, I was away in Japan. It was a trip I decided to go on with a friend, rather spontaneously early this year, and one I learned quite a lot from.
While I kept my travel tales to Instagram and shared a lot of them during an Instalive chat on the weekend, I did receive many questions. It turns out that so many of you are planning to visit Japan at some point or another, who had a lot of questions, so, I thought I'd share here some practical tips on travelling in and around Japan – Tokyo and Kyoto – based on my personal experience.
Japan has changed a lot since my first visit, pre-tsunami in 2009. I even had to apply for a tourist visa back then!
If you have more tips to share, please do chip in, and if you have questions, ask. If I can't help you, someone else will be able to! 🙂 This isn't a travel diary, so don't worry. I'm not going to bore you with the details 😛 It'll just be some basic, practical things you might want to think about before and during your trip.
Before you travel to Japan
Here are a few things I recommend you do before you travel to Japan. Do note that I am travelling from Malaysia.
Rent a mobile (portable) WiFi – We contemplated getting a local SIM card or a mobile WiFi from Japan, but opted instead to rent one locally (Malaysia). It wasn't terribly expensive as it was just about RM15/day and could support up to 5 devices. We were spending a lot of time together so it was practical. If travelling in a group, I recommend getting one unit to be shared by 2 people, just to be practical as you will likely split up. You can otherwise get local SIM cards and rent local mobile WiFi at the airport when you arrive in Japan, but having a device on you immediately means you can be connected immediately. Airport WiFi is patchy. Free WiFi is now more commonly available in Japan in stores, cafes and restaurants, but I found that many of them didn't work as well as they should. The AirBnB apartment we stayed at offered a mobile WiFi for our use but it didn't work very well. The one we brought along served us much better and spared us a lot of grief.
Download these phone apps – I'm on iOS and the App Store didn't work while I was overseas. So, download these apps before you go. I used these apps the most.

Google Maps – very important because it'll help you gauge travel distances and times and directions and give you public transport times and information
Japan Travel by Navitime Japan Co. Ltd (link)- if you are using a JR Pass, this app helps you make the most of your JR pass for train travel by optimizing JR Pass routes
XE Currency (link) – For an indication of exchange rates. Or any other currency exchange apps
A Japan taxi app or Uber – We didn't download one before we went, but it would have been useful to have it. While taxis are very expensive in Japan, it is useful to be able to take one, especially when heading to and from your rented apartment (if you're not staying in a hotel) as it may be far from a train station. It is easy to walk about in the cities, but if you're dragging your luggage with you, it can make for a slow, stressful journey. Uber is only available in Tokyo but it might come in useful.

Buy your JR Pass (Japan Rail Pass) – If you plan to travel between cities in Japan, buy your Japan Rail pass before you go. There are many websites you can buy from, some of which may offer discount codes, so look around. I did see that you can buy it at the Japan Rail East counter at the airport, but I think it is more costly. To be safe, buy before you arrive. You can use it for the Narita Express into Tokyo and for travel on any JR East lines. However, the pass is quite expensive, although it offers unlimited travel for the days you purchase it for. So, be sure to do your math and calculate your cost before buying, to ensure you maximise its use.
Print your accommodation address in Japanese – English is now more widely seen on signs and electronic instructions, but the majority of Japanese still don't speak or read English very well. They are incredibly helpful, but it will be more helpful if you have your necessary essential information in Japanese especially addresses for taxis. It can otherwise be frustrating, both for you and for the person trying to help you.
Upon Arrival in Japan (Narita Airport)
I travelled in early April, partially to experience the Spring sakura season. It was quite an experience, but do note that if you want to do the same, half the world has the same idea as you. We arrived in the afternoon, and we took about 1 hour and 45 minutes to clear immigration! The queue went on for miles, and progressed quite slowly. The next time I go, I will likely opt for a flight that arrives in the morning or evening, or just don't go during Sakura season 😛
In the alternative, fly into a smaller airport, not into Narita Airport because the immigration queue time is a killer.
You can exchange your JR Pass at the airport. Once you clear immigration and get your bags, head to the JR East Travel Centre. There will be a queue and the people do speak English, and are very helpful.
Travel around Japan
We were ambitious and decided to head straight from Narita to Kyoto, to start our journey there, working our way back towards Tokyo. It was a good idea, but be sure to leave yourself time between train transfers. I will probably never attempt this again 😛
We got on the wrong train at Shinagawa Station, and were halfway to Nagoya before we jumped off at the next station, Yokohama. Fortunately for us, the next train that came along at Yokohama was our original train! But you may not be so lucky.
Be sure to look at your train number on your ticket, and match it to the train number on the SIDE of the train. There is an electronic signboard on the side of the train that you should take notice of.
In Kyoto
In Kyoto, depending on where you stay, you can literally walk around the city quite easily. It is also very easy to get to the main sights within the city itself.
The JR Pass is not very helpful for travel within Kyoto, unless you stay near the Kyoto Station. I found that it was more convenient to take the local bus. The local bus is a flat rate of ¥230 (as at 2018) per trip, and you can buy a day pass for ¥600 for unlimited rides. Tickets and passes can be purchased on the bus itself, just before you alight.
We took the bus all the way to Arashiyama Bamboo Forest, which is a distance away from Kyoto city, all at a flat rate. I think it is good value and is very easy to get around. Buses are very punctual and Google Maps will tell you exactly which bus to take, from where, and how many stops there are to your destination. This is why you need a mobile WiFi and Google Maps.
In Tokyo
Again, within the city itself, the JR Pass isn't as useful. So, only buy the JR Pass if you plan to make some day trips from the cities you visit. We went to Yokohama, which I thoroughly enjoyed and will return to some day.
Within Tokyo, the easiest way to get around would be by subway. There are different lines operated by different operators, so the easiest way to get around will be to buy a prepaid Pasmo or Suica card. It is preloaded with an amount and you can just tap and go. It is also a little cheaper to travel using the prepaid card as opposed to buying individual tickets. You can buy the cards from the ticketing machines, which have English instructions so it is quite straightforward.
Do note that Uber is available in Tokyo (only in Tokyo) and prices are actually higher than taking a taxi. However, most Uber drivers can speak English, and it is easier to use the app, especially if you can't communicate in Japanese. We only used it to take us from our accommodation to an airport bus stop on our final day.
Eating in Japan
Food is I find, rather expensive in Japan, depending on your expectations, and your exchange rate. A bowl of ramen or udon, depending on what it contains averages between ¥500 – ¥1000 (approx RM20-RM40). Naturally, you can find cheaper options in smaller shops or further away from the city. Portions are however, quite large so if you don't eat very much, you may be able to share a bowl. Order a side dish so you don't get the evil eye for taking up space. Most noodle eateries operate via a vending machine, so you make your order at the machine, get your ticket and pass it to the waiter who seats you.
You may be able to find some affordable food at little izakaya restaurants, which we also ate at. We had lots of delicious yakitori and grilled meats on sticks for a mere ¥80 (RM3.20) a stick, washed down with delicious cold beer or cocktails.
Many places now offer an English menu, so ask for one. Unlike my last trip almost 10 years ago, this time, I wasn't scalped by unscrupulous vendors, because I knew just what I was eating and how much I was paying.
I had to try a cubicle ramen noodle at Ichiran Ramen. This is a ramen that you eat in a little cubicle by yourself, ostensibly so you can savour it without distractions. It was crazy! We queued for about 45 minutes and if I'm to be honest, the taste was just average. The experience was good however, but I am no ramen connoisseur and I will never do it again. In fact, I feel it to be over-rated, so my apologies to my travel partner who kindly put up with me for this bit of nonsense LOL! 😛 This is why it's important when going on holiday with friends to set expectations.
If on a tight budget, head for one of the kombini, or convenience stores that dot the city every few hundred meters. Look out for 7-11, Lawson or Family Mart. There is a good selection of bento sets, onigiri, oden and yakitori sticks that you can buy. They can heat it up for you so you don't have to eat them chilled. However, barring one or two stores I saw, most have no space for you to sit and eat at. So, you will have to take the food back to your apartment, or to a nearby park.
If you want to splurge on sushi or sashimi, you can of course, head to one of the markets, sushi restaurants, or just head to a kaiten sushi (conveyor belt sushi) restaurant. I highly recommend Himawari Sushi at Shinjuku area in Tokyo. It was very affordable for lots of delicious, fresh, raw fish that I read comes straight from Tsukiji Market. I also had an affordable omakase set at Kyoto from a little restaurant that was delicious. There's no real need to queue up nor to pay top dollar, unless your tastebuds are very sophisticated. Mine aren't. Everything tasted good to me 😛
I do find that buying drinking water can be rather pricey. So if you stay in an apartment with a kitchen, boil your water and bring it out with you. It will be heavy, so again, this is something you want to think about for your budget and convenience as compared to looking fashionable. I think you can drink water from the tap, but I just preferred to be safe. If it's cold, bring a thermos and bring hot water out with you. It'll make you feel better in the cold.
If you're a coffee drinker, I personally find the coffee in Japan from cafes quite pricey, and not all are enjoyable. They are more affordable from the convenience stores. But I brought my own instant coffee for my morning coffee, and that is something that you can do too.
Disposing of rubbish
This I found quite a hassle, as for some reason, trash bins are really hard to find! Also, trash is separated into combustible (can be burnt) and incombustible (cannot be burnt) so that might be why. At tourist spots, you can usually find bins. But otherwise, be sure to carry your trash with you until you can dispose of it properly.
Consumption Tax and Duty Free Shopping in Japan
Japan imposes a consumption tax of 8% currently on all consumables. This basically means almost everything including food, cosmetics, clothes etc. In some eating places, the tax is included in the price. In others it isn't. So, don't be surprised if your bill ends up being higher than you expect. It is likely due to the 8% tax tagged on. Tipping is not done in Japan, so you just pay what you see on the bill.
If you shop for goods that you intend to bring out of Japan e.g. cosmetics or food or clothes etc. some stores will offer duty-free prices. These will be clearly indicated in the store with a sign that says "Japan Duty-Free". What this means is that if you purchase over ¥5000, the store will either only charge you the price without tax, or they will refund the tax to you in cash immediately. So, plan your shopping wisely, or group your purchases so everyone benefits.
To qualify for duty-free shopping, you must produce your passport (original). Cosmetics will usually be sealed into bags that you aren't supposed to open till you leave the country (You can pack it into your check-in luggage). A receipt will be pasted into your passport. I think you are supposed to declare or surrender these receipts at some point, but I never saw anywhere at the airport that required this 😛
Shopping in Japan
I'm not going to tell you what to buy in Japan, because your interests will differ from mine. I had no plans nor shopping lists and really just bought stuff as I saw them. But here are some places you can visit, if you are intent to shop 😛
Uniqlo at Ginza – This is the mothership and one store on my MUST VISIT list because I'm a HUGE fan of the brand. The first time I was in Japan, Uniqlo wasn't available in Malaysia, so it was my first taste of the brand. This time, I was far more savvy, having built a wardrobe filled with Uniqlo fashion LOL! 😀 At Ginza, there are 11 floors of casual chic fashion, with 6 floors just for women's fashion. You can get plus-sized Uniqlo clothing as well as an exclusive embroidery service. Price-wise, I found that it is comparable to prices in Malaysia. We also get most of what is available in Japan, barring some colours. In fact, I found that the sale bins had better pickings at my usual Uniqlo haunts here in Kuala Lumpur. I did buy some stuff, but only those I found a little more unique, or that I thought I had not seen (yet). Otherwise, save your shopping space.
GU – If you like Uniqlo fashion but want something a little more local, look for a GU store. It is Uniqlo's little sister, with a similar style of fashion, and lower prices. I do find the quality to be also lower than Uniqlo, and their cutting is smaller and a little more awkward so their clothes did not fit me as well as Uniqlo.
Loft – This is an interesting department store with floors filled with cosmetics, stationery, household items etc. There are a few around the city but I think the one at Shibuya is the largest.
Tokyu Hands – A place rather similar to Loft, with a very large building at Shibuya as well. It also sells lots of varied items and is a good place to shop for cosmetics and stationery.
Itoya – This is a stationery and craft store with a large one at Ginza. Although I wasn't a fan, it was an interesting place to browse, and pick up some small souvenirs.
Don Quijote or Donki – This is a discount department store, but I didn't make it past the food floor. A good place to pick up lots of Japanese snacks and food stuff at slightly more affordable prices to bring home, if you can stand the crowds. The one at Shibuya is open 24 hours.
Japanese Drugstores for cosmetics – If you enjoy using Japanese cosmetics or sunscreen, then you must stop by a drugstore. On my first visit to Japan, I only knew about Matsumoto Kiyoshi. On this trip, there are so many others! I found the prices at Daikoku Drug more competitive, with a better selection. But really, you can find one around every corner, and you don't really need to know their names.
Department stores for more upmarket cosmetics, fashion and goods – If department store brands are what you're after, then you'd be in for a treat. Japanese department stores are a delight to shop at. Everyone is so polite and helpful. This is where you'd go for brands like Addiction, Jill Stuart, Laduree, Chicca and other up-market brands.
Little indie stores for Japanese fashion – I visited a little suburb of Tokyo, Kichijoji and I thoroughly enjoyed myself in the quieter area, browsing their little indie stores and fashion. Loved them!
Local foodstuff and confectionery – I spent a lot of money on Japanese rice crackers or senbei, furikake rice topping and its ilk from the markets, and some local confectionery like daifuku, mochi and manju. Absolutely loved them! I simply popped into random shops I saw along the way, and picked up a selection from each store. Some were more expensive, some were more affordable, but my family loves foreign food, so I picked up a good selection for us to enjoy 😀 I found that it was easier to find these outside of the city. Kyoto had a good selection of souvenirs and foodstuff. Tokyo was a lot more chaotic I found.
What to wear and what bags to carry
I dress purely for comfort when I travel, so I only wore sneakers throughout. Wear one with good cushioning, as you will be doing a LOT of walking and a good pair of shoes will be easier on your feet.
Clothes-wise, I packed my Uniqlo bra-tops (Airism types if you are travelling in Spring-Summer-Autumn or HeatTech types if in Winter) because they make good layering pieces, and comfy layers over. The good thing about the Uniqlo bra tops is that you don't have to pack bras or have wires poking into your sides. Super comfy! I also wore jeans/pants and long skirts. I fly in long skirts or loose pants as I find it more comfortable than jeans. But I wore sneakers throughout, no matter my outfit 😛
As for bags, again I packed purely for practicality. I travelled with one piece of check-in suitcase, and a utilitarian backpack. I packed my Fjallraven Kanken for use at my destination, because it is light, and a fun, roomy backpack. I prefer not to use cross-body or tote bags on my travels these days, as it puts too much of a strain on my shoulders, and I really cannot be arsed to look fashionable. I'm resigned to never being a fashionable traveller LOL! 😀 But at least I'll be comfortable!
Leaving Tokyo
If you're leaving from Tokyo, I find that the most convenient way to get to the airport is by the Airport Bus. There are a few, but we used the Airport Limousine Bus (link here) which is rather pricey. However, we could make a reservation online, although you still have to buy the tickets at the counter.
There are various pick-up points in the city, so we simply chose the one closest to where we were staying, and used an Uber car to get there. They are very professional, if you have a reserved seat, as they will ensure your name is on the list of passengers, and they are very punctual. The reason we chose to take the bus instead of the train, was simply due to convenience.
With the bus service, your luggage is loaded onto the bus, and it is a straight ride directly to the airport. No need to fuss with transfers and stairs. However, if you are staying near any of the train stations that take you directly to the airport, it could be convenient as well. Work within your budget and convenience.
This post has been longer than I thought, but I hope it has been useful if you plan to travel to Japan soon. I received many questions from many of you on Instagram, so I figured that a comprehensive post that addresses most of the common questions I received might be the most useful way to address them 🙂
Do you have any Japan travel tips to share? Or maybe you have questions?
I did not hit many tourist spots while I was in Tokyo, as opposed to Kyoto. These days when I travel, I limit my sightseeing, preferring to spend more time soaking up the local atmosphere, food and scenery. I had seen many tourist spots in Tokyo on my last visit, so I chose not to revisit most of them. I often do nothing much at all but sit in a park for hours. I went out of the city a few days, to different cities and suburbs and I loved it so much. I much prefer anywhere outside of Tokyo city as it is less busy and more local. If I ever return, I'll stay outside the city and explore more of Japan, which is so much bigger than just Tokyo. I'm happy to answer questions while my memory is fresh so hit me up 🙂
Paris B