You know style or trends must come naturally to you when, out of a billion brands and bags in the world, you pick one that is not only unique in name, but which is one of the trendiest backpacks available right now. Not blowing my own trumpet. Of course.
What happened was that I decided not very long ago, that I wasn't cut out for stylish travel. It's such a lovely ideal to parade around the cities of the world, or stroll through airports in lovely outfits that you can shoot OOTDs of while toting your favourite designer bag in the crook of your arm. I envy all the fashionable people who do so, but I know my limits.
After a few attempts, I'm back to my "ugly tourist" self in my comfortable but unstylish clothes, and this time, toting a backpack instead of a fashionable tote. Well, I already have one sturdy one that I overnight with sometimes, but I wanted something a little more fun that I could carry around for the day without looking like a backpacker (nothing wrong with looking like one, but those giant backpacks do get in the way!) One day, I stumbled on the Fjallraven Kanken backpack and for some reason, I was drawn to it.
So apparently, is every trendy hipster in the world. So I'm not unique after all, damn! LOL! 😀
It turned out that the Fjallraven Kanken, or affectionately known as the Kanken backpack is a brand that hails from Sweden, and these backpacks have been the staple of Swedish school children since the 1970's when it was first introduced. A school bag as a day pack. No better bag right? 🙂
So on impulse, without ever having heard about this brand or even without seeing it in person, I purchased one online in time for my trip to Tibet, where I intended to put this through its paces. It was pretty brave of me, since I wasn't even sure if it would be suitable or comfortable or practical.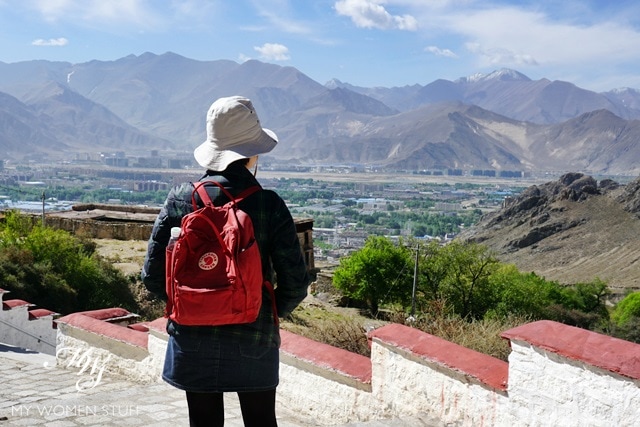 As it turned out, I ended up rather liking it!
I got the Kanken Classic in Deep Red, which isn't as big as it looked in the pictures. So I was initially a little sceptical about whether it would serve its purpose. However, what it has going for it is roominess. The Kanken Classic has a large main compartment, which opens up fully in front (not just from the top like with regular day packs) and you can fit quite a lot in there. There is also a zippered pouch in the front where you can keep stuff you want to get hold of easily – lipbalm is a good choice!
For a short trip, here's what I fit in my bag.
There's my money wallet, travel wallet with my travel documents, a rolled up shawl, water bottle, foldable bag, wet wipes, tissue paper, sunglasses, phone, charger and a cardigan. When I was in Tibet, I fit in a foldable jacket and my toiletries as well.
The bag is made out of a water resistant fabric that is very light, so the bag itself doesn't weigh down your shoulders. I suppose if this was made originally for school children, they would need something light and waterproof. I found it a little stiff when I first got it, but after bashing it around good and properly, it's now much more pliable, just the way I like it. I plan to give it a wash soon and I can easily toss it into the washing machine, which is of course, another plus point! I hope it softens even further to be honest.
On the inside, is a flap with a detachable plastic sheet that they call a seat pad. I think it's to allow you to remove it and use it to sit on surfaces. I just leave it in the bag to act as back support. This means you can also carry a small tablet or laptop in there.
But roominess and weight aside, I actually found myself liking the Kanken because it was fairly practical. When I wanted to keep my hands free, I'd lengthen the straps and strap it on my back, where it sits very comfortably without straining at my shoulders. Apparently, it's designed to distribute weight evenly across your shoulders so you don't feel the strain. I will attest to that. The double zip of the main compartment is also quite handy, to allow me to access to bag from its side. As it opens all the way, you can just slip your hand into the side to get the item you need and want, instead of opening it up from the top and digging around.
But I also cheated, and used the Kanken Classic as my "handbag" as a carry on. To fake this, I shortened the straps and buttoned them up so they lay flat, buttoned up the 2 handles at the top, and carried it as a hand-held tote.
It's not overly large, and looked fairly compact, so I got away with carrying 2 backpacks as carry on plane luggage. This fits nicely under the airplane seat, and looks just like a large tote bag, so really, you'll get away with it, and is so much more practical than a regular tote!
The only thing I'm not big on are the nylon straps. They are fairly thin and narrow and if you wear a sleeveless top, it can cut into your shoulders and feel uncomfortable. But if you wear something with sleeves, then it feels comfortable enough. I packed up my bag quite full and weighed it down but it still didn't make my shoulders feel uncomfortable. But again, that's provided you keep your shoulders covered.
The other thing to note, is that there are 2 pockets on the side, which in an ideal world, I'd use to hold a water bottle. However, if your main compartment of the bag is stuffed, then you can't fit any bottle in those pockets. I get around it by not stuffing the main compartment, but it is inconvenient in that sense. You might be able to fit a small foldable umbrella in there and I know for a fact the pocket holds my phone comfortably.
If you're walking in a crowded area, know also that you can carry the Kanken on your front quite comfortably as well. Some backpacks are comfortable when carried on your back, but are unwieldly in front. This one is compact enough not to get in the way as you walk about (the thin straps are a boon then), and you can keep an eye on the zips as well to ensure no one pickpockets you. Pays to be vigilant when you travel!
I think the Kanken Classic makes a good travel day or city-pack (a friend even uses hers as a handbag now) and because it's enjoying a "cool" status now, it means you're in trend toting it around. While I won't replace my handbags (I've invested too much into my bags to not use them LOL!) I can see the merits of using this as one, were I to commute by public transport daily. But otherwise, I'm enjoying using it as a travel "handbag" and above all, enjoying the hands-free freedom it gives me 😀
I don't know where you can buy this locally, but I got mine from this site (priced in GBP with discounts if outside the EU and has free international shipping but takes a while to arrive) and it's also available on Shopbop (priced in USD and offers free 3-4 day international shipping for purchases over $100). It's also available in a mini size, which is adorable but doesn't suit my purpose.
Have you ever heard of the Fjallraven Kanken backpacks? Do you travel with a backpack?
For some insane reason, I'm tempted to pick up another in a different colour (there are so many pretty colours!), but I'll be good and not do it since I won't use it enough. But switching back to using a backpack when I travel has to be one of the best decisions I've made. Sure, I don't look fashionable nor fashion blog OOTD-worthy, but I carry everything I need comfortably, my hands are kept free and my shoulders don't hurt. Now with my fashionable Kanken, maybe I could even be OOTD-worthy eh? LOL! 😀
Paris B
Fjallraven Kanken Classic Backpack Price: €69.95 | £65 | US$75 Availability: Shopbop and I Love My Kanken ship internationally for free and also available at various other online sites
[show_shopthepost_widget id="833323″]