Righty then! This was supposed to have gone up yesterday but I was facing some back-end server woes. Technology. Living with it is always living on the edge – like a bad lover, you just never know when they're going to sulk on you and leave you hanging.
But, onwards! A much requested post on my thoughts on the brand new Chanel Les Beiges Healthy Glow Foundation SPF25/PA++. Incidentally, I've learned that this new foundation has people very divided in their views. I think, a lot of it has to do with shade selection, texture and coverage. What this means, is that it comes down to your expectations on how you like your foundations to perform. There's no one sure-win formula. We all want different things in our makeup.
Perhaps it'll take the edge off your anticipation to know that I happen to like this one. I wasn't expecting to, because my ears had been filled with whispers of how sheer it was, and how warm toned it was, and how just not very good it was in our hot, humid weather.
But I steeled myself to try it and have an open mind (or as open as I could be, while having all those lingering doubts in my mind) and I liked it!
This new liquid foundation from Chanel is in the Les Beiges makeup range, which has a selection of powders that get a lot of raves from the general populace. Other than one which I bought a couple of years back, lost and then found again, I never took to the Les Beiges powders. The primary reason is because I found them too warm for me.
The Les Beiges range of makeup is tailored to give skin a healthy "no-makeup" glow, and when I see things like "healthy glow" a lot of the time, it means adding colour to the skin. While I understand that this is targeted at those who are emerging, pasty-skinned from a long, dark winter, I don't go for that sort of look, personally.
With this is mind, it is quite easy to understand how and why the Les Beiges Healthy Glow Foundation tends to be a little warm-toned. Because the formula is a little sheer, it gives skin the appearance of having a healthy, warmed glow.
But, I will also tell you that at the lower end of the colour scale, the shades are much more forgiving to those who have fairer or cooler toned skintones. And the lighter, sheerer texture (which isn't all that sheer) is precisely why I like this!
Here is the swatch of the Les Beiges Healthy Glow Foundation alongside some other liquid foundations I wear regularly.
I have here, 3 shades of the Chanel Les Beiges Healthy Glow Foundation:-
10 – the lightest shade, is fairly neutral toned but with a slightly warmed, yellow toned base. I wear this one most often and it is fine for me, without being too warm. You might notice that it is actually lighter than most of the other foundations, and even lighter than the Perfection Lumiere Velvet in the same shade 10. It's a good shade match for me.
12 – is similarly a very light shade, with decidedly pink tones. I can wear this as well, and it gives my skin a little more light so it looks a little brighter. If you have pink tones, then this might suit you better than 10, but because they're both fairly sheer, it's quite easy to get away with either.
20 -This has noticeably warmer tones, and is about half a shade deeper than the Perfection Lumiere Velvet in 10, which surprised me. I find this a little warm for me, so I'd peg this for someone who might wear a slightly darker shade of foundation from me.
I do find however, that due to the shade selection available, the deeper shades tend to look much warmer on skin than the light shades. However, the shades in Les Beiges Healthy Glow seem to be a little lighter than their counterparts in the other foundation ranges, so that will be something to bear in mind when you try them out. I personally find the shades a little more flattering, as they were a better colour-match for me, but naturally, your mileage will vary. On the upside, there is a nice decent range of shades from light to deep, so you should be able to find something.
So, here is me wearing Les Beiges Healthy Glow shade No. 10.
You may notice how it gives a nice, even tone to the skin, but it isn't a full coverage foundation. If you have blemishes or pigmentation, it will show through, but nothing a touch of concealer can't fix. What it does well, is even out skintone and redness, so it looks like your skin, just better! 😀
The texture is a little thick when pumped out of the frosted glass bottle, and when spread on skin, has a slightly satin finish. Some people have said that it's dewy, but I don't see that. I don't find it too matte either, but a nice balance between a glow and matte finish, which holds up well for me in our heat. I have normal-dry skin and don't wear a primer and if I put some powder over, it lasts me for the most part of the day. If you have oily or combination skin, I'm not sure how well it'll hold up. But because I'd received a lot of grouses about it slipping, I expected it to, and was surprised that it didn't.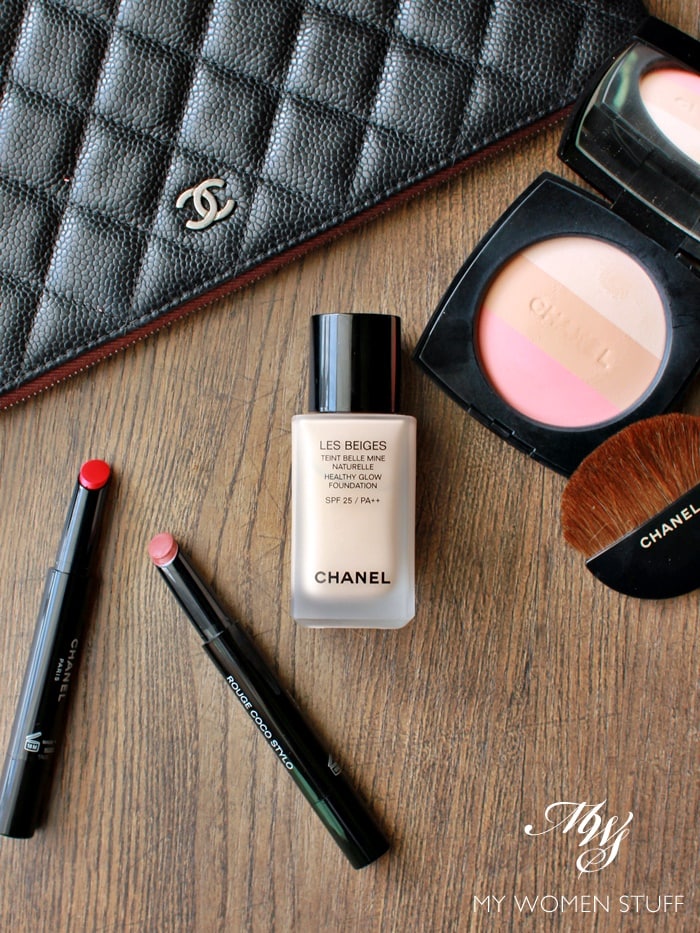 Personally, I like this. It is light, it feels comfortable on my skin without being drying, it has a nice finish that doesn't oil up through the day, and for me, the colour is a good match. I use fingers and brushes to apply, and I prefer brushes because it's quicker as I do find that it can set a little more quickly than most foundations, so you might find it streaky otherwise. If you'd prefer a sponge, go right ahead. I'm not into sponges 🙂
Oh and there's a scent. That's one drawback for me. I'm not a fan of the scent, but I try to forgive it because I like the formula and how it sits on my skin 😀
IN A NUTSHELL

The new Chanel Les Beiges Healthy Glow Foundation is a light-medium coverage foundation that has a satin finish on the skin. It isn't drying, and evens out skintone well, while giving it a healthy boost of colour. The shade selection can be a little tricky if you have a lot of pink in your skintone, but on the lighter end of the scale, I find it easier to get a colour match. There is a good range of shades available for most skintones, and I find the formula comfortable to wear, easy to apply (if you work quickly) and longwearing, for those with drier skin, or if you wear a primer. I like how it's got a satin finish, yet doesn't look too matte, instead giving you a healthy glow to the skin. I personally like it a lot, despite the fragrance, but I suggest that you try it, if possible, before splurging.

PROS: Elegant frosted glass bottle packaging with pump, Spreads easily on skin, Feels lightweight and comfortable, Not drying, Light to medium coverage gives skin a more natural appearance

CONS: Sets a little quickly so it pays to work quickly, Strong fragrance, Pricey

WHO WILL LIKE THIS: Anyone who likes a lighter coverage foundation, Anyone who likes satin textured foundations, Anyone who wants a foundation that gives a glow without looking too oily

PRICE: RM200 | £36 for 30ml Locally, it comes in shades N10 / N12 / N22 / N20 / N30 / N40 / N50 / N60 / N70

AVAILABILITY: Chanel counters and beauty boutiques
For those interested, here is the ingredient list for this foundation.
Where have I seen this before?
When I first saw and smelled this foundation, it reminded me a lot of the Bourjois Healthy Mix Foundation. Not the Healthy Mix Serum (HM Serum is much more runny in texture), but the Healthy Mix in the old formula. They have a similar, thick but easy to spread texture, lightweight and satin comfort on skin, with a light-medium coverage. They even have a similar sort of scent. I wouldn't be too surprised, as Bourjois and Chanel beauty are sister companies, but my caveat is that this is similar to the OLD Healthy Mix foundation (in the plastic bottle). I hear it's been reformulated, and the new texture is different and the shades more yellow. I never tried the new formula, but the old one, I adore. The lightest shade as you can see above, is #51 which is more yellow than what Chanel's 10 is. As I loved the one from Bourjois, it stands to reason I like this similar formula in Chanel 🙂
Have you tested this new Chanel Les Beiges foundation? Do you use and like any of the Les Beiges powders?
I think this new Les Beiges Healthy Glow Foundation will be released in the USA soon. I'm not sure why we're only seeing this in Asia and Europe for now, but there you go. US ladies, you'll have a lot of experiences to draw on, once it's made available to you 🙂 So tell me – Les Beiges powders – yay or nay?
Paris B