Liquid foundation was something I came into late in my makeup life. I came into makeup late in life as it was, but that's a story for another day. When I discovered liquid foundations that were actually comfortable on my skin without looking like I was headed to the Beijing Opera, I couldn't stop. I also discovered that as my skin got drier, liquid foundation actually felt more comfortable and looked better on than powder foundation, which I'd been using before.
After all these years, and after realising that every morning, when I reach for a foundation, I find my hand hovering over just a few in the drawer, it was time to share with you my favourite liquid foundations 🙂
I make no apologies that barring an extra 2 which are not included in the group shot for reasons which I'll explain below, my favourite liquid foundations come from the department store brands, which means they come from the higher end of the price scale. I use so little product and I get such wonderful finishes from these, I have no real desire to find cheaper options. So, apologies if you're looking for a pharmacy/drugstore brand in here, I have none in my Top 8 but I'll tell you of 3 I like, further down 🙂
My personal preference for liquid foundations is for light-medium coverage that is buildable, with a lightweight texture. I don't look for high coverage foundation although most of these can be built up to a degree. For everything else, I use concealer.
One more note before I delve into each product – I apply all my liquid foundation in the manner shown in one of my rare tutorial posts. I sometimes use a brush as I have shown, but I usually use my fingers to "draw" the lines and then a flat top brush to buff it out. This way, I get a far thinner and lighter and more even finish.
Won't be going into detail with each product either. Where I've reviewed them, I'll link to the full review and where I haven't, I'll share my quick thoughts on them. So here we go, in no particular order, my Top 8 Liquid Foundations 🙂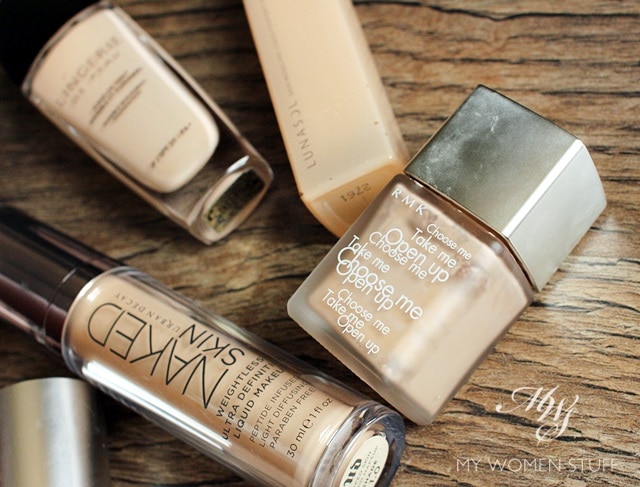 One of my first introductions to liquid foundation from a makeup forum I was on, and still one of my favourites. The water based texture is so light on skin, it doesn't turn oily nor fade and I love the light to medium coverage I get with this. The lack of a pump does not bother me. I use my finger to cover the hole, upend it, draw a line and repeat before buffing it all in with a brush. I tend to pick this one on hot days because it seems to stay on and look a lot better without turning me into an oily mess. #201 is the lightest pink based shade. If you have a yellow tone, go for the numbers that start with 1.
Urban Decay Naked Skin 1.0
For some reason, I never got round to reviewing this in detail but I will at some point. I was actually surprised that I liked this. It is lightweight and the texture is light and liquid and the coverage is actually pretty good. I'd put it at having medium coverage but I sheer it out to a light coverage instead. It feels lovely and comfortable on skin even in our hot and humid weather, and evens out my skintone very nicely and naturally. I've been using this for the better part of a year and still loving it.
Lunasol Skin Modeling Liquid Foundation OC-01 (Read the full review)
Holy grail! That is what this foundation is. I'd easily pick this one as my No. 1 liquid foundation for it's lovely lightweight texture, lovely coverage, ease of use and just all round making me look flawless. It sits very well on skin, doesn't enhance dry or flaky skin, blends like a dream and doesn't oil up at all, even in our weather. On days when I want to put my best face forward, I automatically reach for this foundation.
Guerlain Lingerie de Peau 01 Beige Pale (Read the full review)
This one is probably the one with the heaviest texture and coverage of the 8 I'm featuring here. The shade is a little tricky because even the lightest shade, Beige Pale, isn't as light as the name implies. If I put on too much, it can make me look a wee bit darker as the day goes on, so I am very careful to put on a very thin layer only. I love the coverage because even a very thin layer gives beautiful coverage and glow to the skin and when you layer on a thin layer of Meteorites pearls, you glow! Love this for the evenings especially, under yellow mood lighting 🙂
Diorskin Nude Skin-Glowing Makeup 010 Ivory
Diorskin Nude is wonderful texture for liquid foundation and one of the earliest introductions to high end liquid foundation that had me hooked. When it was first launched (Diorskin Nude Natural Glow Hydrating Makeup), I actually have reviewed it but they later discontinued that version and replaced it with the Skin-Glowing Makeup which has a lighter texture and a slightly more yellow base which is a little more flattering. This one isn't drying, and I could build it up to a fuller coverage if I need to but what I love is the glowy effect I get. It isn't oily, it doesn't slip off but it does give my skin a nice even tone that looks natural. I love wearing this for daily wear and I can skip my Meteorites if I like. I actually have quite quite a few of the Dior foundations from their different ranges so let me know if you want to know how the different ones perform. This one's my favourite.
2 foundations from the same brand in my Top 8? Yeah, when they're both this good, they deserve to be 🙂 The Gel Creamy foundation is thicker than the liquid foundation in the square bottle and is, I feel more suited for someone with drier skin. It is lovely! The coverage is light-medium, it glides on and gives pretty decent coverage and it just makes you look like your skin but better. It's also a heck lot more portable than the square bottle!
Lunasol Water Gel Foundation 0c-01
Another brand that gets top billing twice! I also never got round to reviewing this one but I reach for this a lot especially when I feel like I'm having a good skin day and don't want too much coverage. The coverage is light at best, buildable a little but not by very much. It is very lightweight, very comfortable, hydrating on skin and does a great job at evening out my skintone. If I wanta little more coverage, I usually buff on some powder and I'm good to go. I also like travelling with this one because it's fuss free and the packaging is wonderful, just like using a sunscreen 😀
Make Up For Ever HD High Definition Invisible Cover Foundation N115
I wasn't expecting to like this one, but I did! I find the coverage of this one among the heaviest of the ones I own, yet the texture is lightweight which always surprises me. The coverage is closer to that of the Guerlain Lingerie de Peau but is light in texture like the Diorskin Nude. It feels comfortable and I always make sure I apply very little and sheer it out because I'm not into the full coverage look. But I do like how it makes my skin look photo ready and if I top it up with the Nars Light Reflecting Powder, I'm definitely camera ready! I'll review this on its own some day.
I thought it might be useful to show some swatches of my Top 8 liquid foundations just so you can see how the texture and shade selection looks.
(1) RMK Liquid Foundation #201 (2) Lunasol Water Gel Foundation OC-01 (3) RMK Gel Creamy Foundation #201 (4) Lunasol Skin Modeling Liquid Foundation OC-01 (5) Urban Decay Naked Skin 1.0 (6) Diorskin Nude Skin Glowing Makeup 010 Ivory (7) Make Up For Ever HD Foundation N115 (8) Guerlain Lingerie de Peau 01 Beige Pale
Barring the Urban Decay Naked Skin, the rest are the lightest shades in the ranges. The textures and formula run from light to heavy if you look from left to right but I think you could tell that 🙂 The shades also differ slightly but they all work once sheered out.
I'll include a bonus of 2 foundations I like, with the caveat that I didn't showcase them as my favourite because I keep getting differing views and reports of their availability and whether they are discontinued. I love them, but I can only vouch for the formula in the bottles you see in the picture. I haven't been impressed by the others I have tried from the brand so I cannot speak for the foundations in different packaging. Just these.
Bourjois Healthy Mix (Full Review) and Healthy Mix Serum (Full Review) #51 Light Vanilla
I've been extolling the virtues of the Bourjois Healthy Mix and Healthy Mix Serum foundation since 2010 and 2011 respectively and I still love them. They're lovely going on the skin, lightweight, decent coverage and a fair enough colour match for my skin although they do tend to have a yellow tint. Healthy Mix is thicker with higher coverage than Healthy Mix Serum. I have been told at different times that either one or both have been discontinued, or repackaged, or revamped but I have no comment as I have not seen the later versions. So, I think these are wonderful, but only the ones I have. Nothing more.
Revlon Colorstay Liquid Foundation Combination-Oily Skin 200 Nude (Read the full review)
Another bonus pharmacy/drugstore inclusion is the Revlon Colorstay foundation in the oily-combination skin formula. The coverage is high but the texture is lighter than the previous formula which is why I prefer it. The shade also matches me well and I reach for this when I want a higher coverage foundation. Lovely quality, good coverage and affordable.
And there you have it. My Top 8 Favourite Liquid Foundations with the bonus 3. For light coverage, I'd pick the Lunasol Skin Modeling Foundation, Lunasol Water Gel Foundation, RMK Liquid Foundation and Bourjois Healthy Mix Serum. For medium coverage, all the previous ones which can be layered, and including the Urban Decay Naked Skin, RMK Gel Creamy Foundation, Bourjois Healthy Mix and Diorskin Nude and for higher coverage, Make Up For Ever HD Foundation, Guerlain Lingerie de Peau and Revlon Colorstay. I have a foundation for every occasion! 😀
Do any of my favourite liquid foundations sit well with you as well? What are your faves that I did not mention?
If you have a fave you think I might like, do share! I'm always on the lookout for new favourites. Also, I'll be slowing down even further after this with posts so do expect it to get even more sporadic. I have a lot going on right now and something has to give. In this case, it's the blog. Thanks for sticking by anyway! 🙂
Paris B