I don't always 'set' my makeup or foundations in a true sense on a daily basis. On most days, I finish off with the Guerlain Meteorites illuminating powders that for me act somewhat as a 'setting powder' but on days when I really want my makeup to last for as long as it possibly can, I turn to this white powder that I've absolutely fallen in love with since the day it came home with me from the NARS store.
This NARS Light Reflecting Loose Powder was the very first item I bought from our NARS store here at Pavilion KL and it was after reading a lot of raves for this product. I couldn't quite decide between the loose or pressed versions but as I personally prefer using loose powder to pressed, this is what I opted for.
What this very popular white powder is supposed to do, is set foundation for a smooth finish while softening the appearance of any lines on your face. It looks a scary white in the pot, but applies translucent, without any shimmer or glitter on the skin.
But what I love so much about this is just how impressive my makeup looks after a whole day!
It comes in a tub with a tight sifter. There is a sticker over the holes when you first take it home and if you don't want too much powder coming through the sifter then just poke a few holes, or tear off just half the sticker. The loose powder version is of course not as travel friendly as the pressed version so if you like touching up your makeup and travelling with makeup then you would be better off getting the pressed version. I have also read that the pressed version works better for drier skins while the loose version works better for oilier skins.
That said, I have skin that tends to being dry and I don't experience any problems using this product. It does not dry out my skin like how some powders do, even though it leaves my skin quite impressively shine free for hours.
How I usually apply this is with a fluffy powder brush (I use the Lunasol Powder Brush) and I dip it into the powder above the sifter, tap off excess, swirl it in the cover of the tub to make it even and then apply to my skin.
I have read many reviews where you can see a slight difference when the powder is applied and when it isn't. So, I decided I'd try this.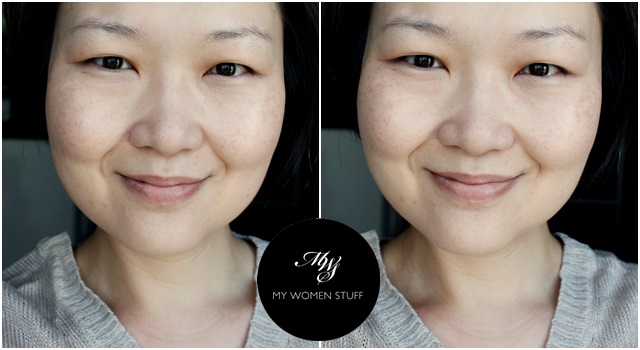 Here's a before and after picture.
On one side I have foundation on and on the other side, I have applied a thin layer of the Nars Light Reflecting Loose Powder all over my face. See if you can identify which side. The answer is below 😛
There is no discernible white cast on skin and I like how silky and velvety my skin feels after I've dusted the powder all over my face. It does keep my skin shine free for longer and keeps my makeup on for hours so when I need my makeup to last, I use this powder. Best of all, if I need to look good for the camera, I use this powder. It has a knack of making the skin look really good and sometimes, we need all the help we can get 😀
However, I don't personally notice any softening of the appearance of lines on my face. It just doesn't seem very obvious to me, but it does help even everything out so your makeup does look better and smoother.
I don't use it everyday, however. I feel it's just too much to. I use it perhaps 3 times a week but then it's mostly because on other days I use other products like the RMK Pressed Powder N or the Guerlain Meteorites pearls.
Is this worth the money and the raves? I say yes, it absolutely is. I love using it and I don't regret it one bit! Larie has a review on the pressed version if you're wondering how that fares. I have no plans to get the pressed version simply because I don't tote my makeup around daily and I'm not fussed about using loose powder. But I'm told in store that they're pretty much the same.
In a nutshell

The NARS Light Reflecting Loose Powder is a very popular setting powder that helps makeup look better and help it stay on longer while keeping shine at bay. I find that it performs very well on all counts in particular in its ability to keep makeup looking good when you have long hours. It is also very good for when you have to face the camera because it does make your skin look smoother. The white powder applies translucent and although if you swatch it thickly, it looks like there's shimmer, there isn't any noticeable shimmer on skin. This powder is also supposed to help lines look less harsh but I don't notice this particularly.

Pros: Translucent powder, Feels silky and velvety smooth on skin, Not shimmery, Helps makeup stay on longer and shine free, Makes skin look better when taking photos

Cons: Pricey

Who will like this: Anyone who uses a setting powder, Anyone who wants their makeup or foundation to stay on longer, Anyone who wants their makeup to stay shine free for longer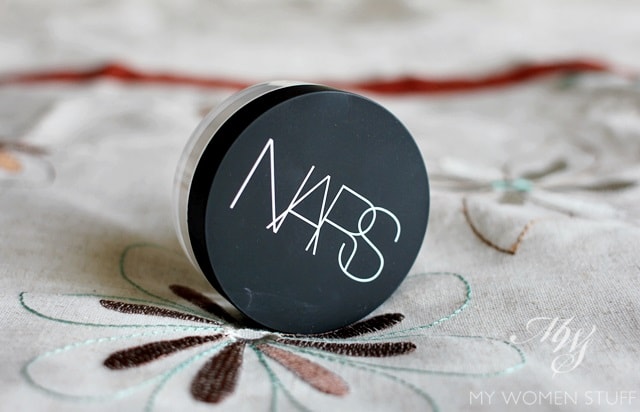 Here are the list of ingredients: Silica, Polymethyl Methacrylate, Dimethicone, Lauroyl Lysine, Trimethylsiloxysilicate, Glycerin, Magnesium Silicate, Ethylhexylglycerin, Tocopheryl Acetate, Chlorphenesin, Polysilicone-2, Maris Aqua (Sea Water), Aqua (Water), Barium Sulfate, Algae, Phenoxyethanol, Alumina, Potassium Sorbate, Citric Acid, Mica, cl 77891 (Titanium Dioxide), cl 77491 (Iron Oxides), cl 77492 (Iron Oxides)
ANSWER: In the before/after photo above, the picture on left is with just foundation and the picture on right has a light dusting of the Nars Light Reflecting Powder all over my face. If you ask me, there is no way I can tell either so I don't know how much people are putting on for the effects to show 😛
Have you tried this Light Reflecting loose powder from NARS or the pressed version? Do you use a setting powder?
I have to say I'm very impressed with this product and I am quite happy to repurchase it if I ever finish this. It will happen but as you do use quite little each time and as I don't use it daily, it will last me a while. I don't generally use a 'setting powder' but it's good practice to, if you want your makeup, especially your base makeup, to last a long work day. If you've tried this version or the pressed version, I'd love to know your thoughts! 😀
Paris B
NARS Light Reflecting Loose Setting Powder Price: RM120 (I think) Availability: NARS store at Pavilion KL