Sometimes I wonder why I even bother going around the block (or blog hur hur!) looking for "the foundation" when I have one staring at me in the face. Its that insatiable curiosity that is never satisfied with what I have and always wanting something better. Bad bad me!
I have a handful (or perhaps, less than a handful) of foundation that I count as my faves and which I am happy to purchase over and over but of that list, I'm going to put this Lunasol Skin Modeling Liquid Foundation right at the top. Sorry Diorskin Nude and RMK you are in 2nd place in this one.
I first spotted this one when I was having my facial at my regular Kanebo salon, and at the first opportunity thereafter, I picked it up because it was new (back then) and I liked the Lunasol Water Gel Foundation (which I still haven't told you about!) but I wanted to try something with a little more coverage. I was actually more interested in the Cream foundation but was dissuaded because apparently, it is a bit heavy for our weather, even if it gives flawless coverage. I'm still tempted by it though, so I might give it a go one day. I mean, flawless coverage! Who doesn't want that! 😀
Does anyone have any input on the cream one (to perhaps tempt me? 😉 )
For today, its the liquid foundation which comes in a slim, square, glass bottle and the signature rose-gold cap of Lunasol. The bottle is so slim, it fits snugly in the palm of your hand and slots nicely into that space on your dresser reserved for "HOLY GRAIL" products – oh yes, if there is the holy grail of liquid foundations, I might just have stumbled on it 🙂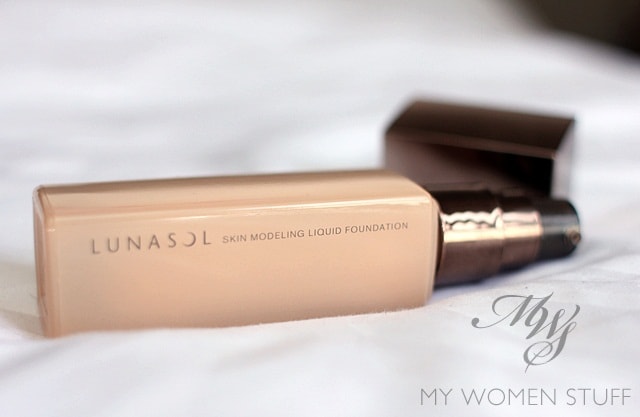 The Skin Modeling Liquid Foundation is predominantly a water based product so it has a very light, comfortable texture. It actually has quite a liquid texture pumped out of the bottle, and here's the thing. Although one pump out of the bottle doesn't look like very much, its actually enough, whether you use fingers or a brush.
It does apply a little sheer but yet, it hides what needs to be hidden without looking like its hiding anything. Serious pigmentation doesn't get covered of course but we have concealer for that. Layering on a little more product actually does the trick too. What it does is blur it out nicely so I only have to dab on a tiny bit of concealer if I want something more flawless. If I just want to look like its my face but better, this is all I need. You won't believe just how convenient that is!
I have slightly dry skin and this one doesn't accentuate lines or pores. In fact, it just makes my skin look good and it stays on for hours. I could be out and about in the sun and still look perfect. It does not oxidise on me and here's the clincher – it makes me look good under fluorescent lighting. If you have ever had to look at yourself in the harsh light of a fluorescent lit bathroom, you will know what I mean. This makes my skin look so good! Honestly, I have no complaints. None whatsoever! 😛
I take the Skin Modeling Liquid Foundation in OC-01 and here are some comparison swatches with other foundations for you to get an idea of shade and texture.
L-R: (1) Lunasol Skin Modeling Liquid Foundation OC-01 (2) Bourjois Health Mix Serum foundation #51 Light Vanilla (3) Estee Lauder Double Wear Stay in Place Liquid Foundation 2W1 Sand 36 (too dark for me) (4) Diorskin Nude 010 Ivory (new formula) (5) Burberry Velvet Foundation Trench 021
In terms of shade, OC-01 is a neutral toned slightly yellow based ochre shade. I find my skin likes the shades provided by Japanese brand foundations. They are a touch yellow yet have a neutral base that fits my skin well. The closest the shade comes to is the Bourjois #51.
Despite it being an OC shade, I find that my skin does look brighter with this foundation on. It is sheer, but it hides redness on skin well, and does a beautiful job at photoshopping my skin in real life.
See what I mean? With just one thin layer of the Lunasol foundation, the skintone immediately looks more even, brighter and it doesn't settle into crevices nor does it accentuate lines. Minor blemishes are blurred and I could live without concealer if I wanted.
A little goes a long way so although the size of the foundation is a bit smaller than normal ones, it will last you long enough. Zero complaints therefore, except that its a tad pricey but then, most good foundations are 🙂 Star product, holy grail status, you don't get higher accolades than this on this blog 😛
In a nutshell

The Lunasol Skin Modeling Liquid Foundation is a water based lightweight liquid foundation that is light and sheer texture yet on skin, it fits very well to even out skin while keeping it looking very natural. It can be layered for more coverage but a little product goes a long way to blur blemishes and cover redness in skin. I have slightly dry skin but it does not sink into lines or pores and does not rub off easily either. I don't have a problem with it staying on all day, and it just makes my skin look way better than it normally does. I have no complaints about this one in terms of texture and performance. It definitely deserves a look in and I always reach for this when I want something quick and fuss free in the mornings. I know this will deliver every single time.

Pros: Lightweight texture, Good shade match for my skin, Very little is needed because only a thin layer is required to even out the skin tone, Packaging is sleek and compact, Makes my skin look good even under fluorescent lighting, Brightens the skintone and adds a photoshop quality to the skin

Cons: Pricey

Who will like this: Anyone who is still looking for THE foundation, Anyone who prefers lightweight textured sheer-medium foundations
I've had this a while so I've lost my box so no ingredient list, sorry. But go, go. Check it out at your nearest Lunasol (Kanebo) counter and tell me if you too find yourself liking the texture and coverage and just every damn thing about it. Because I do, dammit! 😛 Forget all the BB, CC, DD creams in the market. This may not have great sun protection (SPF17 PA++) but come on, seriously, do you depend on your makeup base for sun protection? 😛
Have you been using this foundation too? Have you tried the Water Cream Foundation and do you think it'd work in my weather?
I keep wandering around trying new foundations but when I want something that works quickly without fuss in the mornings, my hands automatically reach for this one. It has not disappointed me yet and seriously, SERIOUSLY I don't know why I bother looking. That's the curse of the wandering eye – but I'm secure in the knowledge that I have a no-fail one I can turn to when all else let me down 😉
Paris B
Lunasol Skin Modeling Liquid Foundation Price: RM168/25ml Availability: Kanebo counters at major department stores and salons