The Burberry Beauty Longwearing Velvet Foundation was released some time last year together with their Autumn/Winter 2012 collection. Burberry, having started out with a relatively small selection of products, doesn't do many limited edition items. The only one I know of so far is their Summer Glow palette from 2012. Every other "new release" has been made permanent to build up their colour selection.
I had sampled the original Sheer Luminous Foundation back when they first launched but I was far from impressed. I found it too oily and too "luminous" for my skin and that's saying a lot you know. I generally have drier skin (thanks, aging skin!) so you would think something like that would work on me. But it didn't, slipping and sliding everywhere and I recall that it oxidised too.
However, the Velvet Foundation is supposed to be longwearing, adhere better to skin and give a radiant matte look. Burberry says that this one is targeted at those with oily-combination skintypes who need something that won't slide off at the first sign of oil. Ah, but does it live up to its claims? This combination-dry skinned gal will tell you 😉
Um… no, it doesn't. That's my answer in a nutshell.
The Burberry Velvet Foundation comes in a matte packaging which I can tell you is a billion times better than their fingerprint magnet that is the shiny Sheer Luminous Foundation. The tall metal cap embossed with the signature Burberry checks gives off an elegant, chic vibe.
It clicks in place, you might be pleased to know, so there's no risk of it falling off. The body is a frosted plastic which feels sturdy but for the asking price, I personally prefer the use of glass for foundation bottles. I like the heft and luxury associated with glass.
The nozzle is also well thought out. Twist it one way and it locks shut so there's no danger of accidentally spilling it, and turn it the other way to dispense the foundation. I can't really fault the packaging. Thought has gone into it to make it aesthetically pleasing and practical and for that I will give them full points.
There are 8 shades available, all rather confusingly named Trench. Trench isn't the name of the shade, if you are wondering. The number that follows is what distinguishes one shade from the other. The Sheer Luminous Foundation starts with 1 and the Velvet Foundation starts with 2 so the shades available are Trench 201 – 208. I take Trench No. 201.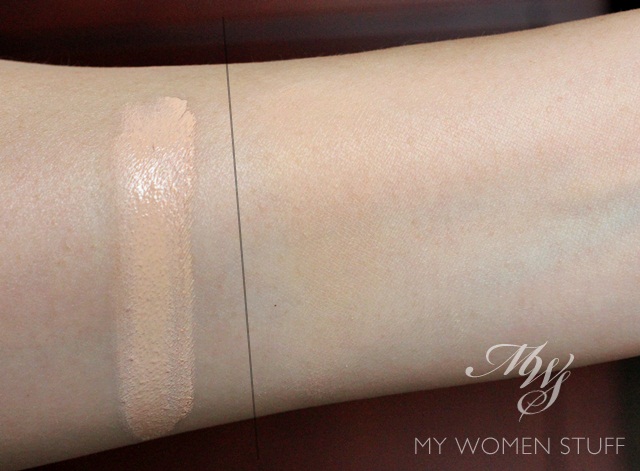 Burberry Velvet Foundation Trench no. 201 Left: Swatched heavily, Right: Blended into skin
Trench No. 201 is a pale shade with more pink than yellow tones in it. As the colours get darker, there is more yellow in there, but if you are fair skinned with significant yellow tones, you will have a problem finding a good colour match. Part of the reason too lies in its texture.
I don't have a problem with colour matching because my skintone pulls more pink/neutral than yellow so No. 201 is fairly accurate. The reason I say that people may have problems finding a colour match is because the Velvet Foundation isn't a sheer foundation. Like many longwearing formula, I find that it has quite high coverage and if you can't find an accurate colour match, the difference in tone will look too stark.
Here's the before/after face shot with the Burberry Velvet Foundation.
You may notice that the coverage is quite high in the Velvet Foundation. It does cover up redness, and marks and evens out the skintone significantly. In fact, I sometimes can just wear this foundation without adding concealer over blemishes. Its pretty good in that regard. However, you may also notice that it does draw a bit of a veil over the skin. If I wear the Burberry Velvet Foundation, I MUST wear blush or my skin loses its definition. That said, it makes a very good canvas for colour. I do experience a tiny bit of oxidisation over the day which isn't very significant.
But the other significant "problem" is something quite unexpected. This one turns oily as the day wears on. As I said above, I have skin that tends to being dry so a problem I usually face with matte or longwearing foundations (like the Diorskin Forever) is that I can find it drying. With the Velvet Foundation, I don't experience any feeling of dryness, but I do oil up after a few hours. Its quite mind boggling, especially when this one's tailored to those with oily-combination skin to start.
I also find that it does not "dry" so even after an hour or so after putting on this foundation, if I touch my face, it still feels "sticky". I suppose I could set it with loose powder but when I do, it looks too fake and cakey so I tend not to. A dusting of Guerlain Meteorites powder does help but it isn't quite ideal. Also, after a while, I find that it settles in to the area around my nose or into lines. Not quite ideal on what is already aging skin 😛
So, if I know I have to be out and about in the heat and sun, I don't wear this or I'd be a mess. It will still stick to my skin without sliding, but I'd look shiny. Blotting or just laying a piece of tissue over skin to blot it will take care of that, and at least the foundation doesn't disappear along with the tissue. But I have to admit that it bugs me. It even oils up when I'm sitting in an air-conditioned room all day. Despite the alluring name of Velvet, I'm not experiencing any velvety feeling on my skin with this foundation.
So, while the Velvet Foundation is a pretty good colour match for me, sticks and hangs onto my skin for pretty much all day and saves me time applying concealer thanks to its high coverage, it oils me up and for that, I'm docking points off this one. I'll use it, but I just don't reach for it as often as I could.
Here are some comparison swatches with other liquid foundations I use.
(1) Estee Lauder Double Wear liquid foundation in Sand 36 (2) Burberry Beauty Velvet Foundation Trench No. 201 (3) Diorskin Nude Ivory 010 (4) Guerlain Lingerie de Peau Beige Pale 01 (5) Bourjois Healthy Mix #51 Light Vanilla
You can probably tell that the Burberry Velvet Foundation is quite close in tone to Diorskin Nude with Diorskin Nude having more pink tones and a touch lighter texture and coverage. I included the Estee Lauder Double Wear foundation in Sand to show just how pink the Velvet Foundation is. (Sand is too dark for me and pulls too yellow on my skin)
In a nutshell

The Burberry Beauty Velvet Foundation is a longwearing liquid foundation with medium to high coverage. It is supposed to have a matte finish and is not drying. I find that the longwearing claims are quite true. The foundation does adhere well to skin and feels comfortable on. A thin layer is quite sufficient and the coverage is quite high so if you have very good skin, I wouldn't recommend this one as it may look "fake". It would have been a good foundation except for the fact that it turns oily as the day wears on. I have relatively dry skin so I do not know how oily skinned ladies will cope. I suggest that you eschew this one especially if you aren't a fan of the "shine bright like a diamond" look.

Pros: High coverage, Longlasting on skin, Comfortable and non drying even on dry skin

Cons: Small colour selection may not suit everyone, Turns oily as the day wears on even on dry skin, Fragranced, Takes a long time to set on skin, Settles into lines

Who will like this: Anyone who wants a longwearing foundation and does not mind blotting oil as the day wears on
I personally find that this one applies best using a brush (or sponge) as I found it a bit hard to work with fingers and because it takes a while to set, it can look uneven if you swipe on with fingers and try to blend. The texture is quite creamy and you don't need very much so if you like the formula, then a very little can go a very long way. But if you have oily skin, I'll tell you to look elsewhere. Maybe try Diorskin Forever which is also longlasting and matte but without the oily problem.
Have you tried the Burberry Velvet Foundation? Do you like any of the Burberry foundations so far?
Of the two available so far, I'd choose this one over the Sheer Luminous only because that one slides off me at the first opportunity and oxidises on my skin. With this one, despite it turning oily, I can deal with it by blotting. Oh and there's quite a strong fragrance too that does not last, but can bug sensitive noses.
Paris B
Burberry Beauty Velvet Foundation comes in 8 shades Price: RM175/30ml Availability: Burberry Beauty at Isetan KLCC