While I haven't been using cleansing balms very long, since I only just discovered them towards the end of 2013, I've tried quite a few already and rather than starting my repository late, the way I did my cleansing oil repository, I thought I'd start it and then leave it open for me to add on as I go on my cleansing balm journey.
I already have a few lined up to try but I'm being very good and trying my best to finish up one (or at least get through a significant amount) before I start another, so this is a post in progress, and will be updated as I go along. So, it's probably a good one to keep an eye on and bookmark and ask questions etc because I'll keep the topic open for discussion 🙂
So here you will find the cleansing balms I've tried so far. I'll link to all the individual reviews as they go up and there'll be a short blurb here on how I liked it or if I didn't. Not everything in the photo above is featured right now, but it will be as I go along 🙂
So if you have been curious about cleansing balms and which I like or dislike or if you have a question, then this is probably the post you're looking for.
By way of preface, I don't use muslin cloths with my cleansing balms. I prefer using just a regular face towel or face flannel which you can read about here.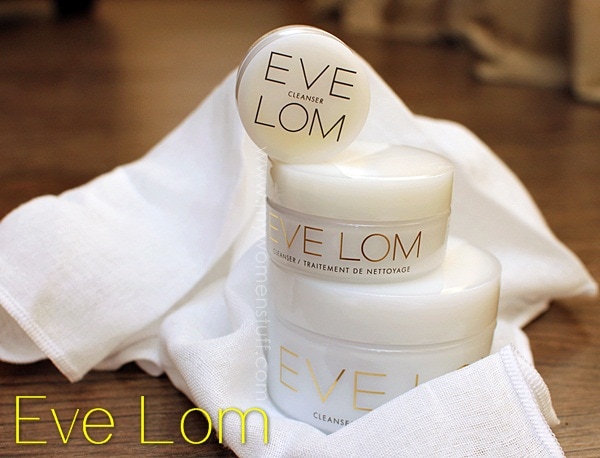 I started my cleansing balm journey with Eve Lom without even realising it. The first time I used it I have to say I wasn't impressed. Didn't like it, found the muslin cloth too bothersome, it took too long, whine whine, rant rant… yet I took the small sized pots with me on my travels because I like how easy it was to use and how portable. Despite the controversial ingredient list, I do like this. It was the start of an interesting cleansing journey for me.
Antipodes Grapeseed Butter Cleanser (Read full review)
This Antipodes cleanser is what really made me love cleansing balms and what they did for my skin and what really ignited my love for cleansing balms. I also changed from using the muslin cloths that came with the Eve Lom Cleanser to just plain face towels and I've never looked back. The details are in my full review (link above) but this remains one of my favourite cleansing balms to date. It leaves my skin soft, smooth, clear and although it needs more work than most others I've used, the massaging of the balm into the skin is therapeutic and relaxing for me. AIf you're into an organic lifestyle, then it's certified organic too. I plan to return to this and that's saying a lot!
The Body Shop Camomile Sumptuous Cleansing Butter (Read full review)
This is one I'm on the fence about. It is ok enough that I'd use it up (I'm almost there and I can't wait to see the end of this!) but not one I'd repurchase at all. If you come from cleansing oils then you might like this one because the "butter" texture melts into an oil on contact with the skin and that's what I did not like, because I have been down the cleansing oil route and I wasn't going back there. It didn't give me a sufficient balmy texture to massage my skin and doesn't seem to do much if anything except remove remnants of my foundation. Also the smell. Bleh.
REN No. 1 Purity Cleansing Balm (Read full review)
I like the texture of this one, which is a wipe-off cleansing balm which does not emulsify, and has a lovely thick texture that allows you to really massage it over your skin. It comes packaged with a piece of muslin cloth which is very useful and it makes my skin clean and soft which is again very nice. I however find the tube packaging a disaster (they may have reverted to a tub by now) and I find the scent of roses a bit too strong for my liking. Pity, as I do like the texture! The full review gives you the deets and the ingredient list.
If you like strong citrus scent then this will sit well with you and your nose. It didn't sit too well with me as I find the scent too strong. The balm is rather sticky and has a warm feeling on contact with skin. It's lovely to massage in and stays balmy the way I like it without turning into an oil. It can be removed using just warm water but I prefer using a face cloth for more effective cleansing. It's nice and there is a lot of product in the tub and you will take forever and a day to finish it. Head to my full review by clicking the link above to read my full thoughts and check out the ingredient list.
Clinique Take The Day Off Cleansing Balm (Read the full review)
A big favourite of many, users and beauty bloggers alike and I can see why! It took me a while to warm up to it but now that I have, I do like it quite a lot. There's no scent and the only drawback is that the product will lighten to a slight oil texture (but not as light as The Body Shop one) which you can modulate by using more product. You can rinse this off, but again I prefer using a wash cloth for best effects. Price-wise, I think it's a good deal because there is a lot of product and it will last you a long while. The full review will have my detailed thoughts and ingredient list 🙂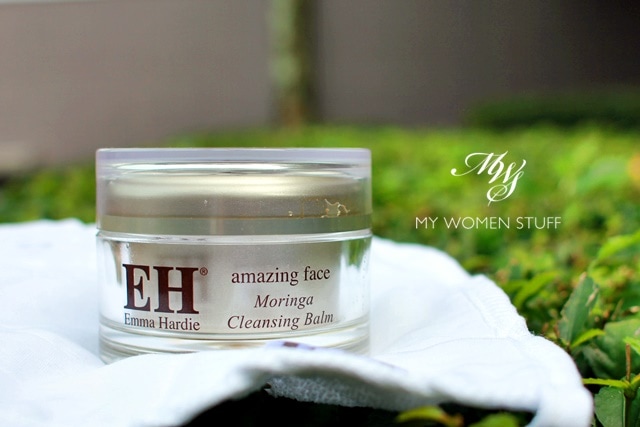 The Emma Hardie Amazing Face Moringa Cleansing Balm is a cult favourite primarily amongst the UK bloggers, so I had to see what it was about! The texture is more oily and I had some problems with it as you can read in the full review. Cleans off best with a wash cloth, and one is provided. I like the effect on my skin – leaves my skin feeling lovely and soft and comfortable – but the strong jasmine scent and the packaging doesn't sit as well with me. The full review has my thoughts and ingredient list and what I liked and disliked about this 🙂
As lush as it is expensive, the Omorovicza Thermal Cleansing Balm hails from Hungary, and is infused with the healing thermal spa waters. I find it less of a balm then a paste with a slight oily feel. It leaves my skin feeling clean without being stripped, and my skin feels soft thereafter. But it is nigh impossible to remove without using a flannel, that isn't provided, and leaves a residue on the skin. For the rest of what I think you'd have to read the full review!
The Estee Lauder Advanced Night Micro Cleansing Balm (Read the full review)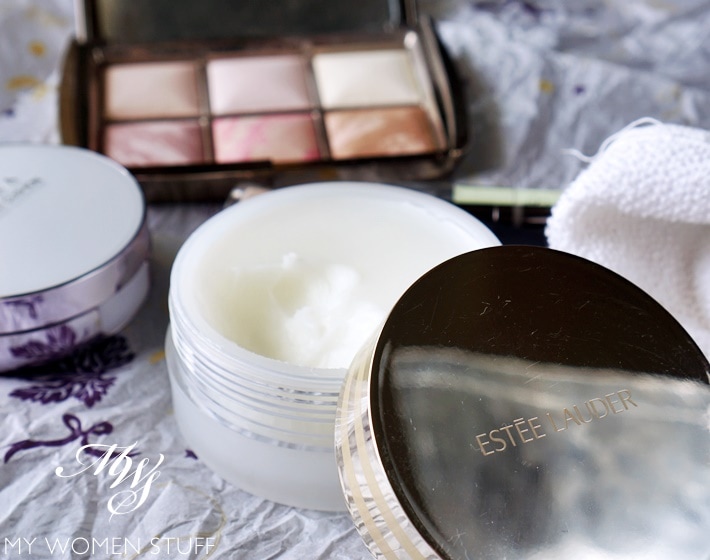 There was a lot I enjoyed about the Estee Lauder Advanced Night Micro Cleansing Balm. It was easy to use, massaged well on skin, and it rinsed off easily. But there was something that bugged me, and that's when I realised that it was very similar to another cleansing balm I'd used before! One that was very good value, and of high quality. Read the post to find out which!
Easily, one of my Top 3 favourite cleansing balms ever! Lush, luxurious, balmy, deep cleansing and above all, wonderfully nourishing on skin. Nothing but LOVE! Read the review to find out more in detail why I love it so much!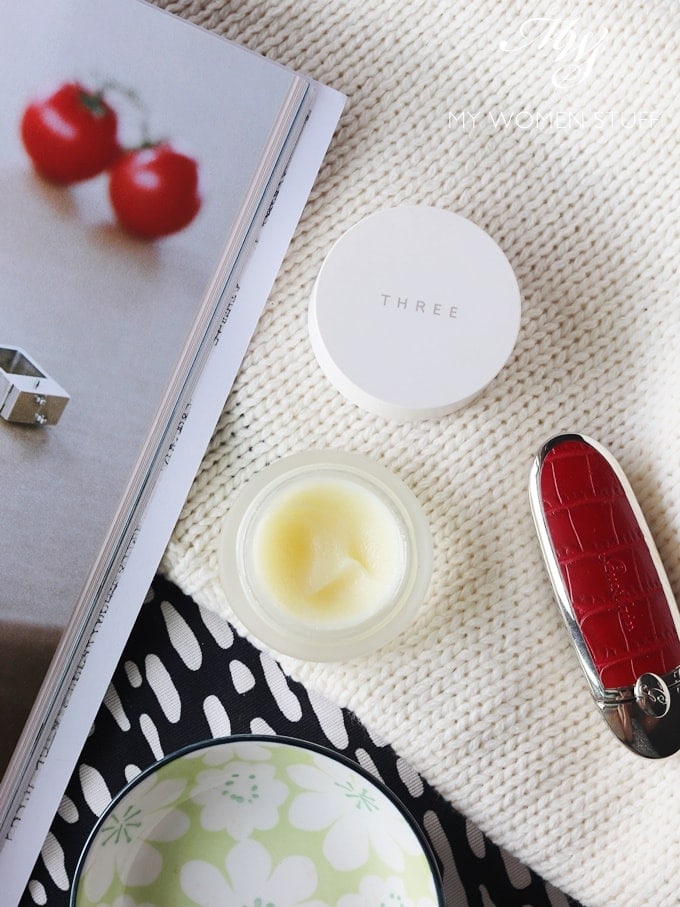 This was a sample that quickly wormed its way into my heart. Japanese brand Three makes one of the most lush cleansing balms I've ever used!
An affordable treat! One absolutely worth considering, but there is a special way to remove it that will stop you from throwing it into the bin. Try it, and you'll appreciate it much better!
One by acclaimed internet skincare guru Caroline Hirons – a 2-in-1 set of cleansing oil and cleansing cream for your daily double cleansing needs.
It didn't sit well with me however, and I don't recommend it, but hey, preferences do differ 🙂
The numbers will grow in time, I'm sure as I already have a few more lined up and even more that I have my eye on to try as the time goes on. So as they say, watch this space! 😀
Do you use cleansing balms? Do you have a favourite that I should try?
I'm open to your recommendations! If you have a question feel free to ask or share your tips etc. This post will remain open and will be updated periodically so treat it as your cleansing balm resource 🙂
Paris B
For prices and availability of each product please check the full review which is linked to each photo as I won't be able to remember all the details after a while