When I first declared love for cleansing balms I had people telling me "Try the Bobbi Brown one! Loads of product, great value! Smells amazing!" and you know what I thought? Wait a minute – Bobbi Brown? They do skincare?!
Apparently they do! And apparently I'm told that some of their skincare isn't too bad which made me curious, because I don't always associate known makeup brands like Bobbi Brown and Nars with skincare. But when you know of the big companies backing them who do do skincare (Estee Lauder Group and Shiseido Group respectively) then it sort of makes sense doesn't it? 🙂
So one day, I was given the opportunity to try the Bobbi Brown Extra Rinse Balm cleansing balm and after I'd finished up a few of the ones I had in rotation, it was time to break this out and see how I felt about it.
I use the word "break" in a rather hesitant way, as this product comes in a large, heavy glass jar and that just spells disaster all over the bathroom! So I am very careful to keep this out of the wet area and as I use dry hands to handle it, accidents can be minimized, but not eradicated. Please be very careful because it is large and unwieldy.
I've given this almost 2 months use to see what I think about it, and apologies to the fans out there, I'm afraid I'm a little on the fence about this one.
I can't fault the quantity. Although it's expensive at about RM245 a jar, there's a hefty 200ml of product in there which is a lot more than many other cleansing balms in the market. So once you break down the price, it isn't that bad. Oh and it will last you a long long time, because you don't really need that much each time you use it.
See? It's large!
The yellow balm is as the name implies, a balm texture. It is sticky and doesn't come with a spatula but that doesn't bug me. I just dig right in with fingers. Dry ones mind you! You don't want to use wet fingers because I'm sure it'll spoil the product.
As with most cleansing balms, this operates on a dry hands, dry face method of cleansing. Scoop out a generous amount of cleansing balm depending on your personal preference. I am quite generous as I like to perform a little massage and you need lubrication.
You will notice that the texture is sticky. It's like the balm sucks at your fingers when you try to scoop some out and when you do, it's sticky.
See? You may notice the texture, which is a translucent yellow and a balmy texture that is unlike that of the Antipodes one which has a more buttery texture.
I've read of people experiencing problems using this because it's so sticky and hard to use on skin but I didn't experience problems. So here's how I use it to give you an idea.
Scoop out a generous amount and place in palm of hand.
Using the other palm, rub at the balm to warm it up and spread it out in your hands. It starts out sticky but gets easier to work with as it warms up.
Apply to face and massage. There is a warm sensation on skin and it'll soften further.
After a few minutes, add some warm water to melt the balm, continuing your massage, to emulsify the product.
After a few more minutes, rinse off.
Warming it up in your palms makes it easier going on your face and minimizes painful tugging at your facial skin. As you massage, the balm will feel softer and it gets easier to handle. There is a strange warming sensation on the skin for a short while that I can't explain. However, unlike balms like The Body Shop one or even Clinique, it does not turn into an oil. It remains a balm and I like that. I am not much of a fan of those that turn into oils.
Another point to note is that this balm is easily washed off without using a face cloth. You can just rinse it off after emulsifying it a little with warm water. I however prefer to use a face cloth and although I enjoy it, I know people find it a hassle so if you don't like those wipe-off balms, you will prefer this one.
Another thing to note – the strong citrus smell. It is very strong and very sweet. I always feel like I'm washing my face with orange cordial or an orange rind whenever I use this because it is so strong! Some people will enjoy this, and although I do enjoy citrus scents, I actually find this a bit too much. A light scent is fine, but something this overwhelming doesn't sit well with me.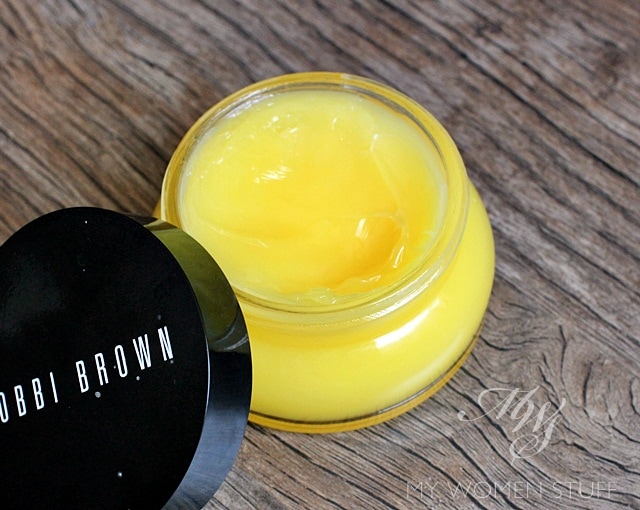 Also, because of this strong citrus smell, I took a look at the ingredients and noticed that it contains citrus fruit extracts which I will warn can be irritating to sensitive skin so I will exercise a little caution if you do have sensitive skin.
It cleans my skin well enough, leaving it soft and feeling smooth and lovely but the strong citrus smell doesn't sit well with me and I have a feeling that it dries my skin a little so I don't use this every evening as I would usually do. I've been alternating this with another simply because I feel that my skin doesn't tolerate this cleanser as well as it should.
It is however, convenient due to it's rinse off formula so what I'd like to see is for this to come in a smaller, handier tub, maybe not in glass so we don't have accidents in the bathroom and a lower pricetag. It's not a bad product, I don't think, but it can be prohibitive for people who may not be sure if the formula or ingredients will suit them.
I'll use this up, as I did the one from The Body Shop that I emptied just recently, but this isn't one I'd repurchase. The hunt is back on!
In a nutshell

The Bobbi Brown Extra Balm Rinse is a balm cleanser that can be easily rinsed off with water instead of having to use a wash cloth or face flannel. The texture is quite sticky but once you warm it up in your hands, it's quite easy to apply to skin and massaging it lightens the texture somewhat. The strong citrus scent appeals to many, but it does not appeal much to me and I will caution anyone with sensitive skin to take note of the citrus oils used as that can be irritating to skin. This cleans my skin well although if I use this too often it feels a wee bit drying so I use it on alternate days, alternating with another balm cleanser. I will suggest following up with another cleanser as this is the first step of a double cleansing routine and it does remove makeup although I didn't test it on my eye area. The citrus makes my eyes water. The glass jar is large, heavy and unwieldy so this is one instance when I think a plastic jar will do better in a bathroom.

Pros: Cleans skin well and leaves it soft and clean, Balmy texture makes it useful for massaging over skin, Those who enjoy the scent will enjoy using this, Rinse off formula makes it very convenient

Cons: Glass jar is heavy and awkward especially in the bathroom, Citrus scent is far too strong

Who will like this: Anyone who enjoys strong citrus scents, Anyone familiar with using a balm cleanser and prefers a rinse off formula
Here is the ingredient list for anyone keen to see if you can use this
Some of you may be wondering if you can use this as a makeup remover and cleanser in one. My answer is yes you can, however I don't recommend it. The reason I say so is because I would never use this around my eyes (too strong and too much tugging) and if you're going to remove your eye makeup first, it would also make sense to remove your face makeup first. That's what I do as I do not believe in all in one products. So I'd remove my makeup first with a cleansing water (I don't bother if it's too clean) and then I follow up with a balm cleanser for my face area (never eyes!) and end with another face cleanser. That's me 🙂
Have you used this Bobbi Brown Balm? Have you tried other Bobbi Brown skincare?
I haven't tried other Bobbi Brown skincare but they actually have a treatment lotion that intrigues me! Also I've read their face moisturiser is quite good. Thoughts? 🙂
Paris B
Bobbi Brown Extra Balm Rinse Price: RM245/200ml Availability: Bobbi Brown counters and stores