The Nars Final Cut collection was a cheek and lip heavy collection in sweet pink shades that came out just before Valentine's Day, ostensibly to capture the market for anyone looking for something sweet and pink. I have to say that as I rarely pay a lot of attention to Nars blushes these days (after poor experiences with their packaging) I overlooked this one.
I was however sent a blush in the titillatingly named "Sex Fantasy" along with a Satin Lip Pencil in "Villa Lante" so I thought I'd quickly tell you what I thought about them because one was a surprise hit and the other, a rather expected, washout. It's also limited edition, so don't pause for too long if you're contemplating something from the collection.
The question of course, is which is which?!
Wouldn't you like to know eh? 😀 A little tidbit of information re: naming of the rather more exotic Nars blushes here in Malaysia and I'm told in a couple more conservative countries, is that numbers maybe used in place of the name we know. So for example, Sex Fantasy will be labelled 4006 at the display. Less shocking, but if you know the name of the blush, the Makeup Artists will be able to help you 🙂
Another thing I learned recently also, is that the infamous Nars rubbery packaging has been reformulated and improved upon to withstand heat and humidity. Guess they were listening to us after all! Someone I know showed me her blush compact that she carries around in her bag and has been for the past 6 months and although a little dusty, it wasn't yet sticky and melty so perhaps there is some truth in it after all! I do find that it feels smoother.
So onto Sex Fantasy and Villa Lante. Are these colours you'd wear?
Let's just say that the Villa Lante Satin Lip Pencil (RM85) isn't one I'd have picked for myself. I don't generally fare well with pale sweet pinks like these for lips as they have a nasty habit of making my skin look sallow and my teeth yellow.
Granted, when I actually tested it, it doesn't look too bad. I suppose I could top it up with a bolder gloss or apply it over a base of a deep toned lip pencil to warm up the colour a little. I'll keep experimenting 🙂 The texture is quite nice, with a nice slip and I didn't find it too drying.
I own a Satin Lip Pencil in Hyde Park that I bought a while ago and I might tell you about that at a later stage. They aren't matte, but they aren't glossy either. Satin is quite an apt description. It is also surprisingly quite small. All these close ups that I see online doesn't help me manage my expectations at all! It's quite small and short much to my surprise and it doesn't come with a sharpener, which is sold separately. I bought the sharpener the last time so I already have one but if you don't want to buy theirs, I suppose you could try a jumbo sharpener from a stationery shop 😀
I've got a swatch of this below, if you'd like to scroll a little further down. As I said, it's not a pink I'd wear usually but I can make it work, as it doesn't wash me out very much. But I have to make sure I wear something a little stronger on cheeks and eyes.
The moment I laid eyes on Sex Fantasy blush (RM120), I wondered aloud, just how this very pale cool pink blush could ever conjure up a Sex Fantasy. Maybe one filled with fluffy cotton-tailed rabbits? 😛 Hmm… maybe scratch that thought 😛
Sex Fantasy in pan is a very pale powder. Very very pale, cool, pink. Quite unexciting if you ask me. However, I found that when worn on skin, it translated into a lovely soft pink flush that was very alluring. The powder is pretty pigmented and quite true to what you see in the pan, except that I found that when I wore it on cheeks, it warmed up a little so it was much more flattering on skin.
However, the caveat is that this will likely work only for the fair skinned since it is so light. So if you have a fairly light skintone, I urge you to give this a try because you, like me, may end up being quite surprised at how sweet a look it gives you. I also caution against applying too much because it can look a bit powdery. But it looks nice even as the day wears on, giving you that "Look! I've got a sweet healthy glow… or is it blush? You can't tell can you?!" sort of look. I did have it last for at least 6 hours without problems and even a little longer so that's practically a whole work day. A surprise hit for me!
Note: As Legeeque has pointed out in her comment below, Sex Fantasy does appear to be the pink counterpart to Sex Appeal (permanent). That too is a very pale powder blush with peachier undertones that I'm assured looks better on skin than in pan.
I thought I'd show you a quick comparison with some other pale pink blushes I own. I didn't have time to trawl through my whole stash but some pale pinks I have can be found here.
I've compared it here to Benefit Dandelion and Shu Uemura M Pink 33E (which I don't know if it still exists because this one's quite old). In terms of colour in pan, Sex Fantasy is closest to the Shu Uemura one. Dandelion has a little more peachy tones as you can see.
Here are the swatches then, swatched heavily as I these light blushes don't show up very well otherwise.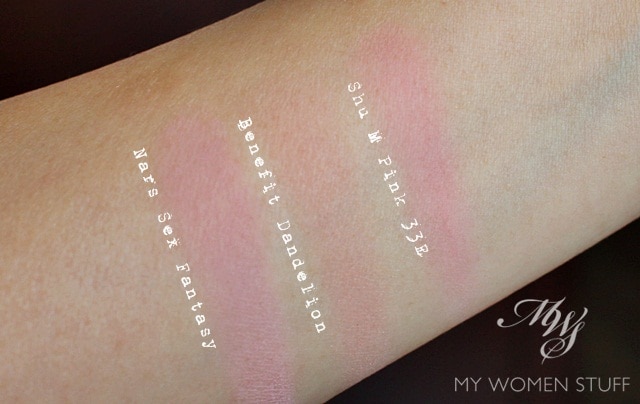 Sex Fantasy isn't similar to Dandelion at all, which as a slightly more peach cast. Shu Uemura M Pink 33E is a little brighter and warmer compared to Sex Fantasy.
You may also notice that Sex Fantasy doesn't look very pale does it? It has a significantly cool toned base with a light pink tone that is sweet but anyone with deeper skintones will not appreciate it, that I will guarantee! You will likely appreciate colours like Love or Final Cut more, or New Attitude if you want something pink.
Oh and one more thing I liked about Sex Fantasy – it's a matte blush! I have been warming up to using matte makeup in recent times (Is this a sign of age catching up, I wonder 😛 ) and I have and liked Angelika blush which is full of shimmer but a lovely pink. So having a matte pink blush that is easy to use and makes me look perky and sweet without having a face full of shimmer is a boon! 😀
Here's how Sex Fantasy blush and Villa Lante Satin Lip Pencil looks on me. In terms of the blush, I applied it as I would to work, so I didn't want to put on a lot. You may just see the hint of pink on the apples of the cheeks? I hope so 😛
The lip colour as I expected, wasn't something I'd fancy. I can make it work but I'd prefer something that isn't pink-pink 😛
In a nutshell

The Nars Final Cut collection has 4 blushes, 4 Satin Lip Pencils and an Illuminator. Of the 4 powder blushes, Sex Fantasy is the lightest colour and I am sure, will be hard to show up on deeper toned skin. On light skinned gals however, I'd say it's worth a look. Or at least, a try on your skin to see if you like how it looks on you. I'm not saying it's a must have. But if you are afraid of wearing blush and want something easy and fool proof, it's worth giving Sex Fantasy a look. Villa Lante is a cool toned pink which is a colour I personally don't wear a lot of as it doesn't quite flatter my skintone as much as something with a bit more colour or warmth does. The texture is nice and easy to use but the pencil doesn't come with a sharpener which I wish wasn't the case.

Pros: Sex Fantasy blush despite the pale pink colour in pan goes on skin a surprisingly complimentary gentle pink that perks up the complexion, The Satin Lip Pencil applies smoothly and comfortably

Cons: Sex Fantasy blush will not show up on deeper skintones, Villa Lante lip pencil may not suit all skintones and will accentuate yellowness on teeth, Lip pencil doesn't come with a sharpener

Who will like this: Anyone who wants a light toned matte pale pink blush, Anyone looking for a cool pink lip colour
Here's an overview of the Final Cut collection for your viewing pleasure 🙂 Sex Fantasy in person is quite underwhelming but I'd say it's worth asking one of the Makeup Artists to give you a test on your cheeks. I wasn't impressed till I wore it and then I was quite happy to wear it for a week straight 🙂
Does anything from the Final Cut collection catch your eye? Would you wear something like Sex Fantasy blush or Villa Lante lip pencil?
I never thought I'd take to Sex Fantasy blush but I did! Did you check out anything from the collection? 🙂
Paris B
Nars Final Cut collection is available at the Nars Cosmetics store at Pavilion KL and is limited edition while stocks last