A while ago, at the recommendation of a friend, I picked up a travel set of Eve Lom skincare. It was the first time I'd ever heard of the brand, and it was pricey. A little travel pack of trial sizes cost me a little over RM200 and it came from London, where the brand originates. Coincidentally, not long after, another friend gifted me with an Eve Lom Starter Kit. I never really thought to blog about them because they weren't available locally here in Malaysia.
Ah, so why are you seeing me blog about it, you may wonder? Its because Eve Lom is appearing on our shores starting in August 2012 😀 I thought it would be a good time for me to talk a little about the products I've tried and to give you an overview of the products that I've tried, as I see it.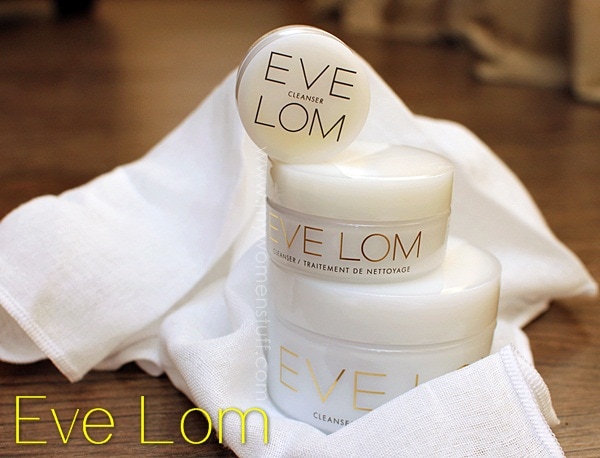 The bestselling item and the award winner in the Eve Lom skincare range is the Cleanser. In fact, Vogue once described it as "The best cleanser in the world" Lofty claims yes? We have here a multi-tasking cleanser that purports to remove makeup, cleanse, tone and exfoliate. It comes with a muslin cloth which is really the key to using this product.
I've actually been quite lucky in that both the Travel Kit and Starter Kit both contained generous samples of the cleanser so I've had ample opportunities to try this one. I will say however, that if you are the lazy wash-and-go sort, you won't like this one at all. I like it but with a bit of a caveat.
What this Eve Lom iconic cleanser is, is essentially a cleansing balm type thing that comes in a jar. Ding! Ding! I can almost see everyone making a face at this point. Yeah, I feel the same way. Jar packaging for a cleanser isn't the most hygienic way to go about it. Also, there's no spatula included, which I personally feel should be. I would be less iffy about it, if a spatula was included instead of me having to dip my fingers into it. I use my own spatula though.
The balm itself is a smooth oil based balm but our weather gives it a slightly grainy texture. Once it touches your skin and is warmed up, it turns into almost an oil with a little bit of beads with a nice slip to allow you to massage on your skin. It pretty much acts as an all-in-one product so you use it on dry hands and face and massage it all over, and it helps melt your makeup pretty much as a cleansing oil will.
This next step is what differentiates this Eve Lom cleanser from a cleansing oil. You must use the muslin cloth included. You MUST. There are no two ways about it. I've tried with and without and trust me, you'll HATE this if you don't use the muslin cloth. I originally hated it so I speak from experience 😛
Wet the muslin cloth with warm water and then press it on your face. Do this 2-3 times before you use the cloth to wipe away the product. The warmth will melt the cleanser and allow you to easily remove your makeup and dirt while cleansing your skin. Then, rinse your face and as a final step, apply the muslin cloth, this time with cool/cold water on your face. They say its to open and close the pores but I don't believe in that because pores aren't doors. So, for me, this final step is mostly to freshen up your skin.
The result is clean, smooth and I almost feel, softer skin. I like the effect very much and it seems to work very well for me 🙂 The cloth doesn't get very dirty if you're wondering. The laying of the warm cloth helps melt away the product so after about 3 times you do feel that your skin is quite clean, and then you just wipe off. I rinse the cloth out after every use and machine wash it once a week.
Can you clean it off without using the muslin cloth? Yes you can. But why would you want to when the cloth comes packaged? I originally was too lazy to follow instructions so I'd clean it off by just rinsing. But it takes far too long and it never feels very clean. If you use the muslin cloth, you will find that it leaves your skin much cleaner and smoother, plus the cloth acts as an exfoliator too. It is surprisingly comfortable when I use the muslin cloth as opposed to without.
So how does the Eve Lom cleanser perform then?
As a makeup remover : For face makeup I think it does a fair job removing things like powder, foundation etc. For the eye, it'll remove eyeshadow, but not waterproof mascara. It takes too much work so I prefer to just remove it separately.
As a cleanser : It keeps my skin clean and isn't drying. In fact, my skin feels almost hydrated after washing which might be attributable to all the oils in it. Its comfortable.
As a toner : I'm never sure what a toner does so I have no thoughts on this.
As an exfoliator: There are little beads in this that do help with exfoliation. The use of the muslin cloth to wipe away the product too acts as an exfoliator. So, my skin does immediately feel smoother after use.
The full size large tub comes in the box packaged with the muslin cloth. The other 2 smaller tubs came from the starter kits
Oh I must mention one thing – the smell. There is a very strong spicy medicinal smell of cloves and spices. Personally, I like the smell. But then, I like herbal medicinal scents in general. However, if you dislike that sort of herbaceous medicinal scent, you will not like this one.
I will admit that due to the rather lengthy cleansing process, I don't use this cleanser as often as I do my cleansing oils. It just takes too much time and is too much hassle to use daily. Sometimes, when I get back from work, all I want to do is remove my makeup, have my shower and fall into bed. I don't have the time nor luxury to spend 10 minutes just cleansing my face with hot and cold water and then having to wash out the muslin cloth etc.
What I sometimes do is apply this on before my shower, massage it into my skin then step into my shower and finish off the routine. This way, its almost as if I'm using cleansing oils plus my shower is the only way I can get warm or hot water. My taps only give me cool water (which is the other reason I get tardy using this). When I have the time and do it this way, it feels like such a treat and my skin loves it!
However, I will admit that this makes a perfect travel partner, because you don't have to carry a whole bunch of products, just one tub to take care of your cleansing needs. Hence my earlier statement that I do like this cleanser for what it is, but with a caveat, and that is it just takes too long. Eve Lom says they bring the spa into your home. Indeed! The only difference is that at a spa or facial, someone else is doing all the cleansing while I snooze 😛
In a nutshell

The iconic Eve Lom cleanser is a cleansing balm that turns to an oil texture on contact with skin. It performs a multi-tasking function of removing makeup, cleanses, tones and exfoliates skin. I find that it removes most makeup quite well, except for waterproof eyeliner and mascara. You still need a separate remover for that. You also do not need to double cleanse as your face is pretty clean once you clean off the product, and it isn't drying at all. There is a strong herbal and medicinal smell that not everyone will like. I experience no breakouts and although I do like it as a multi-purpose cleaner (and I do take it with me when I travel) I don't use it very often as it takes far too long. But if you don't mind the time taken, its a fairly decent product.

Pros: Multipurpose product, Useful when travelling, Not drying, Removes most makeup easily

Cons: Smell may not appeal to everyone, Ingredients may not appeal to everyone, It takes a while to complete the cleansing process, You must use the muslin cloth provided (or any cloth towel etc)

Who will like this: Anyone who wants a multipurpose cleansing product, Anyone who doesn't mind the time taken to properly use this product
Here is the ingredient list (and I can already see some people making a face again). I'm not fussed about the ingredients since I don't break out from them and it does work well to help my skin stay balanced, clean and soft. But if you have skin that is allergic to anything, then its of course, not a good idea to try it.
You don't need very much each time so it can last a while. However, I do notice that the scent changes after a while. I've had my small sized pots for a while so I do notice the difference. It doesn't smell bad, but it does smell different – a little more antiseptic and sharper. It feels the same going on my skin though, and my skin feels super clean and soft, so there's that.
Is it the world's best cleanser as Vogue claims? To me, not by a long shot but it is pretty good for what it does and claims to do.
Have you tried the Eve Lom cleanser before? Or have you tried anything else in the Eve Lom range of products? If anyone's interested, I'll tell you about some of the other products I've tried that came in the kits I have, just to give you an idea of what its like 🙂
Paris B
Eve Lom Cleanser Price: RM295/100ml Availability: From August 2012 at Parkson Pavilion, KLCC and 1 Utama