I haven't talked about cleansing balms for a while, have I? The reason is because I'd been working very hard to finish what I had opened, so I could justify a) buying a new one and b) opening a new tub from my stash. It's a never ending cycle, this!
But I eventually did finish up my open cleansers and gleefully dug right into this tub that I'd had for a while and had been itching to use.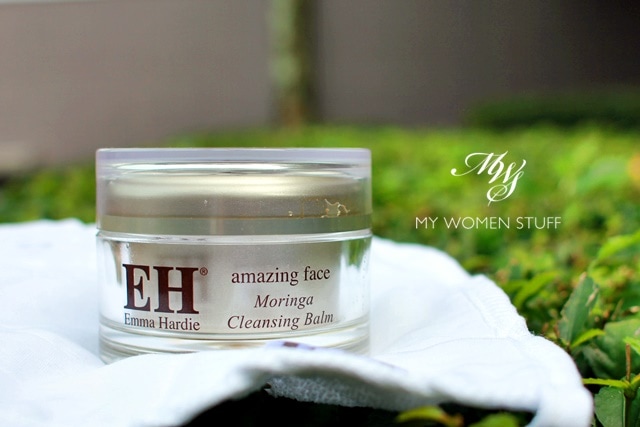 This is the Emma Hardie Amazing Face Moringa Cleansing Balm and comes highly raved online, so naturally, you know how it is. I fell for it, hook, line and sinker! 😀
Emma Hardie is a brand from the UK and is a range of natural skincare products developed by Emma, who is an aesthetician. I haven't tried any of the other products in the Amazing Face range, mostly because it's a brand we don't get locally, and it's a wee bit pricey for me to make a mistake with (or to get addicted to) But never say never! I'm open to trying more, if you have a rec or two 🙂
But about this balm – did I like it and why does it come so highly raved?
Part of the reason it's so highly raved about is because it's wonderfully moisturising due to the oils in the balm. But that comes with a downside because it's also pretty oily and messy to deal with.
When I first received this in the mail, I noticed that there was oil seeping out of the packaging and into the double-walled plastic case of the tub and cover. In most cases, it would irritate the heck out of me. Because I have to buy this online, I have no other choice but to suck it up. Postal services don't actually pay much attention to which side up your package should be, you know.
The reason there was oil seeping out, is because, when I opened the tub, there was a layer of oil floating at the top of the balm. Now, I went off and did a quick search online, but found mostly UK or European blogs talking about this product, and their Moringa Cleansing Balm looked fairly solid. So, I'm going to put this down to the weather. It's hot and humid here, and that layer of oil floating on the top of the balm never goes away or gets absorbed into the balm. It stays there, posing a bit of a peril to users. In a colder environment, it solidifies. Tine can put hers on the side without the contents spilling out. If I try this, I'd have a holy mess to contend with!
I'm about halfway through my tub, as you can see here and I'm not sure if you can see this, but there is a layer of oil floating at the top of the balm. I use my fingers to scoop out the balm, and I'm not sure if it's the texture of the balm which is fairly soft, or if it's because it mixes with the oil that causes it to soften, but it's quite hard to scoop it out without dripping. I've perfected the art of it by now, using my finger to scoop around the sides, where the balm seems a little more solid and then mixing in some of the oil.
The second thing to note (am I really just on the 2nd thing? It feels like I've been yapping on forever! LOL!) is that the scent is pretty strong and floral. A fresh, slightly citrusy sweet floral. It reminds me of the scent of frangipani or jasmine flowers, if you know what I'm talking about. A bit of a heady scent. I'm not really a fan of scents like that, but I tolerate it and by now, I'm used to it. But it's there so be warned.
It comes packaged with a face cloth, which I like, because a) It's an amazing face cloth and b) A product that should be removed with a face cloth should come packaged with one (I'm looking at you, Antipodes Grapeseed Butter Cleanser!) The cloth is double-sided, with one side being a very soft microfibre towel material, and the other, a slightly rougher muslin feel.
To use this cleanser, the instructions call for you to scoop out a bit of balm into the palm of your hand, add a little water, emulsify it between your palms and then massage it onto your skin. When I started using it, I didn't read the instructions (I have a bad habit of not doing that!) and I would scoop it and apply it directly onto dry skin, the way I use all my cleansing balms. I later discovered that I had to emulsify it first, but I found there wasn't a lot of difference. It might be because the texture of the balm is so soft in my weather, that I can use it directly on skin? I'm not sure. But it was fine either way for me. However, I do recommend following their instructions for best results.
Emulsifying the balm with water doesn't make it any less oily, as I discovered. What makes this product amazing (and a cult item) is because the oils in the balm are massaged into your skin and feel luxurious and seems to almost treat your skin to moisturise and soften it. It's almost as if you are giving yourself a facial in the shower!
After massaging it in for a while (It's quite a pleasure!) wet the face cloth, and use the flat side (rougher material) to wipe away the product, and after you are doing, use the textured side (soft side) to give your skin a once over. However, because I only tend to use face cloths just once and then toss into the laundry (bacteria!) and because I don't do laundry everyday, I use a regular face cloth on other times and it's fine.
What I like about this product is how absolutely lovely my skin feels afterwards. I use this as my second cleanser if I wear makeup (cleansing water takes the bulk of the mess off first) or as my first cleanser on days I don't (weekends), and I find that it does a very good job of cleansing my skin. It grabs all the bits of foundation and dirt left on my face, which if you wipe off with a face cloth, you can actually see (the colour of the balm is different from that on a clean face) Don't use it as a makeup remover. It's a waste of a perfectly wonderful balm (and it doesn't do that great a job at first hand makeup removal). Best of all, because of the oils in the balm, it actually leaves my skin feeling beautifully moisturised. It's quite a treat in the shower!
I do often follow up with another cleanser as well, but the lovely moisturising feeling remains, leaving my skin feel supple and soft. I can imagine that in cold or dry weather, this cleansing balm would be quite a treat for the skin. In our hot and humid weather, I'd only really recommend this for those who have drier skin. If you have oily skin you might find it too heavy.
The other thing that you can do with this is a little mask. Spread it on your skin and soak in the bath (if you have one) or just potter about for a few minutes before your shower. I tried this a few times, and I swear, my skin loves it! When you wipe it off, I feel like there is less product to clean off, almost as if my skin as absorbed some of the oil. I haven't tried leaving it on overnight as the box says you can, because I find the scent a bit strong, and I'd feel weird leaving a cleanser on my skin overnight, but it's something you can try.
The million dollar question of course, is whether I think this as amazing a cult product as it is touted to be. Well, I think it to be a good product. I like it and I've enjoyed using it, as you can see. I will finish this tub, but because of how messy it gets when it arrives in my hands, I am putting this on my KIV list. It's something I will purchase again, if I have the chance (or if I see an amazing deal online) but its not something I'm keeping a back up of, just yet.
IN A NUTSHELL

The Emma Hardie Amazing Face Moringa Cleansing Balm is a cleansing balm that comes highly raved. The product comes in a luxuriously packaged tub. However, due to the texture of the product and the high presence of oils, in hot weather, it can be too soft and leak out of the packaging, causing a mess as it did for me. The floral scent is also fairly strong. However as a product, I like it very much. I like how moisturising it is for my skin and how well it cleanses my skin, leaving it feeling soft, supple and clean. The oils nourish the skin and makes it feel calm and soft. If you live where it's dry and cold, I think this is a very nice product for you. But in hot weather, or if you have oily skin, then it's not the best product out there due to the potential mess or heavy texture.

PROS: Oils feel very luxurious on skin, Cleans skin well without drying it out and leaves skin feeling soft and supple, Cleansing cloth is provided

CONS: Due to the texture and the hot weather where I live, the balm is very soft and there is a layer of oil over the balm that is rather messy because it will seep out of the packaging, Poor packaging, Strong sweet floral scent

WHO WILL LIKE THIS: Anyone who has slightly drier skin, Anyone who lives in a cold and dry climate where this balm will likely be more solid and less messy
Here is the ingredient list for the Amazing Face Moringa Cleansing Balm.
I bought this for £36 as you can see in the tag, but I checked and it's now £38 for 100ml. We don't get this brand here and other than UK websites I don't know where else you can buy this either. Yes, I use a lot of cult, hard to find brands, as you have probably noticed! LOL
Have you tried this cult cleansing balm favourite and do you like it? Are there other Emma Hardie products I should try?
I'm quite a sucker for cult products/brands. Happily, a lot of them have worked out positively for me. Unhappily, it means I have to buy them online 😛 If you think I should try any other Emma Hardie products, let me know which! 😀
Paris B
Emma Hardie Amazing Face Moringa Cleansing Balm Price: £38 for 100ml Availability: SpaceNK and Cult Beauty ship internationally for free above a certain amount (I only suggest websites I use that ship to Malaysia)
[show_shopthepost_widget id="1001347″]