I recently shared with you one of my favourite cleansing balms, which naturally prompted rumblings of dissent over how hard it was to get hold of. I've come to be immune to such rumblings LOL! But I was thinking about it and remembered that I had recently sampled the Three Aiming Cleansing Balm, which had also captured my imagination, and which is easier to get hold of locally.
Three is a Japanese brand with an interesting holistic approach. If you are familiar with Japanese brands, you'd know there aren't many that have this approach. The products in Three are made with botanical extracts using essential oils and have organic origins. To me, it comes across as having an aesthetic and story that feels different, from the normal scientific approach taken by most Japanese cosmetics brands.
I haven't tried much from Three, so if you have, I'm naturally curious to know what you love about the brand and what I might try next. In my case, I have to say that my interest was piqued by my experience with a sample of the Three Aiming Cleansing Balm.
I had a little sample of the Three Aiming Cleansing Balm, which I took with me when I went away on holiday recently. I wasn't quite sure what to expect, and I am usually quite wary of bringing new products with me when I travel, as I can never be sure if I might react negatively to it.
The Three Aiming range of skincare targets those with older, more matured skin of 35 years and up. It is supposed to not only plump skin with hydrating ingredients, but also have a holistic approach to your senses, indulging your senses with beautiful botanical scents.
The Aiming Cleansing Balm boasts 92% natural ingredients, but really, I'm not too bothered about that. What I am more interested in is in how it feels on skin, how well it cleanses the skin and how my skin feels after that. And you know what? It is very impressive.
The balm is rather thick, but unlike the Elemis Pro-Collagen Cleansing Balm, it remains solid, with a semi-soft balm texture in our Malaysian heat and humidity. That's one point in its favour already. The texture feels a little like a salt scrub. But when you massage it onto your skin, it does not feel granular. Instead, it feels just like a very lush, oil-based balm that melts as you massage it.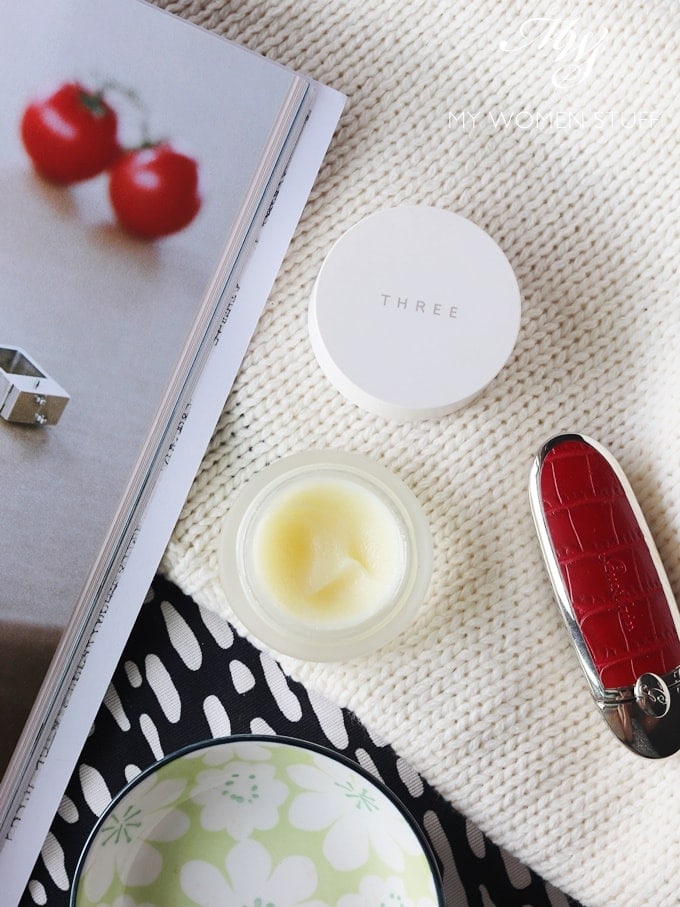 The second thing to note is the scent. It smells beautifully of sweet, fresh, rose geranium. I love the scent of geranium which I find uplifting and relaxing at the same time, so this was a beautiful sensorial experience. I must say that it does smell rather similar to the Elemis Pro-Collage Cleansing Balm.
Because mine is a sample pot, there was no spatula. But in the full sized pot, you would use a spatula to scoop out product (not very much is needed, because you can spread it quite far), warm it up between your palms, and then massage it all over your face.
I tested this both as a first cleanse to remove makeup, and also after using a micellar water first. If you are the lazier sort, then you will be happy to know that the Three Aiming Cleansing Balm removes makeup like a champ! You don't even need to rub very hard.
Best of all, it also emulsifies and melts quite easily with just water. After massaging all over your skin, leave it on for a while as a brief mask, before wetting your hands with warm water, and slowly emulsifying the balm on your skin. It cleans off very easily even without using a flannel, and I don't feel that it leaves a residue at all.
After cleansing, my skin feels incredibly soft and clean, without feeling stripped at all. I don't even want to use a second cleanse because my skin just feels so good! I don't feel like I need to cleanse it again after that.
This cleansing balm was really quite perfect for travel in a drier climate, and for someone with drier skin as I do. It was a beautiful sensorial experience, and best of all, cleanses well. I am most definitely keeping an eye on getting the full sized tub one day. It definitely gives the Elemis Pro-Collagen Cleansing Balm a run for its money, and if you're finding it hard to get hold of that one, try this instead! 😛
IN A NUTSHELL

The Three Aiming Cleansing Balm is a fairly thick, oily balm that you massage all over your skin to nourish and cleanse. It melts in the warmth of your skin, and spreads very easily, without tugging or feeling gritty. It also emulsifies very easily with warm water, and rinses off quite clean, without the need of a flannel, if you're lazy. The scent is a beautiful rose geranium that is quite strong but very pleasant. It is a lovely product and a beautiful sensorial experience, and best of all, does an excellent job.

PROS: Lovely balm texture that melts on contact with skin, Easy to spread without tugging skin, Rinses off easily and cleanly, Removes makeup quite well, Not drying, Leaves skin feeling clean and nourished and soft

CONS: Pricey, Essential oils can potentially irritate very sensitive skin

WHO WILL LIKE THIS: Anyone who enjoys using an oil-balm textured cleansing balm, Anyone who wants a cleansing balm that feels nourising on skin and cleanses off makeup well while being easy to rinse off

PRICE: RM270 | ¥6000 for 85g

WHERE TO BUY: Three Cosmetics stores and at various websites online
I was unable to get a full and proper ingredient list for the Three Aiming Cleansing Balm. The following is extracted from their website and is very vague.
Essential oil
Rose oil, Fennel oil, Geranium oil, Lavender oil, Orange peel oil, Wintergreen oil, Rosemary oil
Plant oil and fat
Tea seed oil, Jojoba oil, Pomegranate seed oil, Olive oil, Tiger nut oil, Shea butter, Mango butter, Passion fruit oil, Rice bran wax, Carnauba wax, Bees wax
Extract
Caper fruit extract
I personally dislike it when brands fail to provide a full and complete ingredient list on their websites. Breaking it down this way tells us nothing but only what they want to tell us. I think consumers have evolved past this nonsense. If I purchase a full sized product in future and am able to obtain the full ingredient list in English (Often, Japanese brands list their ingredients in Japanese) I will update.
UPDATE: Thanks to reader Christine, here is the proper ingredient list
Glyceryl tri (caprylic / capric acid / myristic acid / stearic acid) glyceryl, squalane, jojoba seed oil, rice bran, polyglyceryl-3 methyl glucose distearate, polyglyceryl-10 dioleate, beeswax, carnauba wax, polyglyceryl-2 sesquis caprylate Oil, olive fruit oil, Kudamonoskei seed oil, Cyperus esculentus root oil, mango seed fat, oil seed oil, pomegranate seed oil, capers fruit extract, orange peel oil, lavender oil, odorious age oil, rosemary leaves Oil, fennel fruit oil, damask rose flower oil, Japanese cabbage leaf oil, octyldodecyl myristate, dextrin palmitate, tocopherol
Have you tried this Three Aiming Cleansing Balm or any other products from Three Cosmetics?
I am told their cream is also quite good, as is their foundation. But do hit me with your recommendations. It'll stand me in good stead when I visit their store 🙂
Paris B