When I started my obsession with cleansing balms (yes, it's an obsession I've curbed temporarily but will, I suspect be back in full force in a few months once I'm more settled) the one that kept popping up in recommendations was the Clinique Take The Day Off Cleansing Balm.
Naturally therefore, at the first opportunity, I popped off and got myself a tub and dug in. It wasn't all that smooth a journey though. I had my moments and my doubts about how I felt about this cleansing balm despite all the raves, and I just wasn't sure.
But, fast forward 4 months and half a tub later, I can safely tell you that I've put all doubts aside and although I wasn't enamoured with it from the get go, I like it now.
I even like it a lot more because of the attractive and relatively wallet friendly price, and because it comes in a large volume and will last a while. Oh and it does a great job as it claims, but with one caveat. I think it works best when used with a face flannel, not merely washed off.
The Clinique Take The Day Off Cleansing Balm is sold as a makeup remover but I don't use it as one. As I have often explained, I always remove my makeup first, before cleansing and for that purpose, I use a makeup remover or cleansing water (currently, Caudalie which I *gasp* prefer to Bioderma).
For me therefore, the Take The Day Off Cleansing Balm is my cleanser.
In the tub, what you get is a white, slightly waxy feeling balm. Pardon the heavily used look of mine. I never quite got the hang of photographing things new because I'd lose the photos by the time I came round to writing a review LOL 😀 If you're squeamish, use a spatula to dig in. I just use my fingers. I'm not squeamish 😛
You do have to work with dry hands and dry face so take note. I usually dig out a wodge of balm, warm it up between my palms and then work it all over my face. On contact with skin, it loses the heavier balm feeling and has an almost oil slip to it. This was what I did not quite like initially.
I like my balm to stay a balm because I like the whole facial massage thing that goes along with it. I later found out that to remedy this, I used a little more product each time and then I realised that it would retain some of the balmy texture that I enjoyed. Whether this would appeal to you will depend on your comfort level.If you prefer a lighter texture, then use a bit less. If you prefer retaining the balmy texture, be a little more generous. It makes a difference to your personal enjoyment using the product.
What I like about this cleansing balm is that there is no scent and how gentle it feels on my skin. I don't experience dryness and it does remove any makeup residue very effectively. I usually do a rudimentary cleanse pre-cleansing so my cleansing balms work to clean up the rest.
After massaging for a few minutes, I usually remove it with a warm face cloth. If you don't want to mess about with face cloths, then you can also emulsify this with some warm water and then rinse it off. I tried it but I didn't like that. It didn't feel clean to me, but then I've become accustomed to using a face cloth and the lovely soft, clean feeling it leaves my skin. Again, this comes down to personal preference.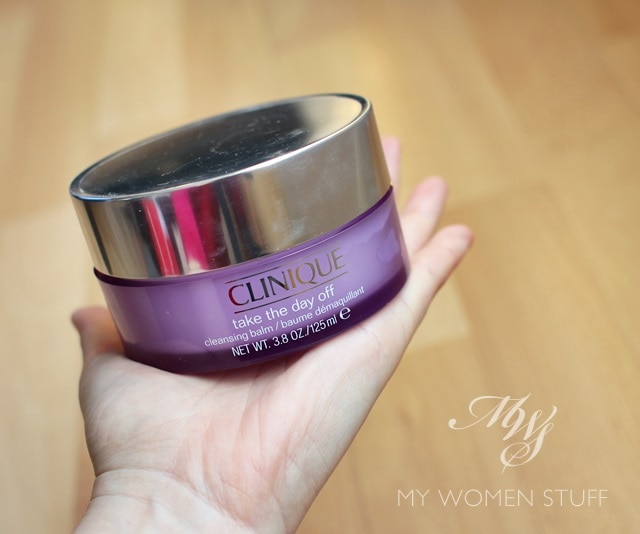 I cleanse again, but then it's my routine. If you are using this as your first step makeup remover, then I recommend cleansing again. If you are using it as a second step cleanser then maybe you don't have to but I'd still recommend cleansing again. It's good practice 😛
So yes, 4 months and half a tub later, my verdict is that I like this Clinique cleansing balm. It is affordable and does a good job and there isn't much more to say about that! 😀
In a nutshell

The Clinique Take The Day Off Cleansing Balm is a makeup remover and cleanser in one. I don't use it as a makeup remover but at a first step of cleansing so I cannot rate it's efficacy as a primary makeup remover. The hard waxy balm texture melts a little on contact with dry skin to become an oil which makes it easy to work with. I like using a little more so I retain the balmy texture which I prefer. You can remove it by adding warm water and emulsifying it, or as I do, use a warm wash cloth for more effective cleansing. I like how my skin feels – it's clean and not stripped and it cleans off all my makeup residue well. Absolutely worth trying.

Pros: Easy to use, Affordable, A little product goes a long way, Cleans off makeup residue effectively, Not drying on skin

Cons: None

Who will like this: Anyone who likes using a cleansing balm, Anyone who prefers a lighter textured cleansing balm or one step makeup remover
Here is the ingredient list for the Take The Day Off Cleansing Balm, which was surprisingly short.
At RM120/125ml I think this makes a great introduction to using a cleansing balm, if you are a novice. At least it gives you the option of not using a face cloth (although I don't see why you wouldn't!) and there's no scent to irritate the nose. Also, the balm to oil texture operates as a transition for those coming over from using cleansing oils. So, this one's a good basic one to start with!
Are you too a fan of the Take The Day Off Cleansing Balm? Do you use your cleansing balm as a makeup remover?
I wasn't expecting to be a fan but I am and that's great because it's affordable haha! I like using my cleansing balm as a cleanser as I don't believe in all in one products anymore. Something always has to give and I'd rather keep my cleansing routine separate for best effects and I think I'm reaping the benefits! 😀
Paris B
Clinique Take The Day Off Cleansing Balm Price: RM120/125ml Availability: Clinique counters, Sephora and Online