Last weekend, I went for a makeover/makeup coaching session with Dior makeup artists. If you remember, I told you about it here and I also found out that those who did use the password got a really good gift set! I'll be reviewing the Capture Totale One Essential mask this week, for those who had the benefit of getting it so you know how I like it and how I use it 😉
Its been a while since I've been for one of these makeover things. Most of the time, its classroom style to listen to a makeup artist talk about the brand and products but its different to be able to have them work on your face, to tell you what techniques work for you and what doesn't and just be able to ask all the questions I wanted. So I bring you the 5 top tips that I learnt after the makeover! 😀
Also, a picture of the absolutely lovely makeover I was given (and a hairy surprise!) that I went grocery shopping in, and that I was so loathe to wash off when I got home, I did my household chores with a fully made up face. True testament to the new Diorskin Nude liquid foundation that there was minimal fading even after I had mopped, cleaned the bathrooms and prepared dinner! LOL! So, onward ho!
1. Recommendations for which foundation brush to use
I asked Zaidi, the makeup artist, which of the 4 new foundation brushes he recommended for a newbie and why. His answer was the flat light coverage foundation brush for liquid foundation and the round light coverage powder foundation brush for powder. I was referring to the new Dior Backstage foundation brushes 🙂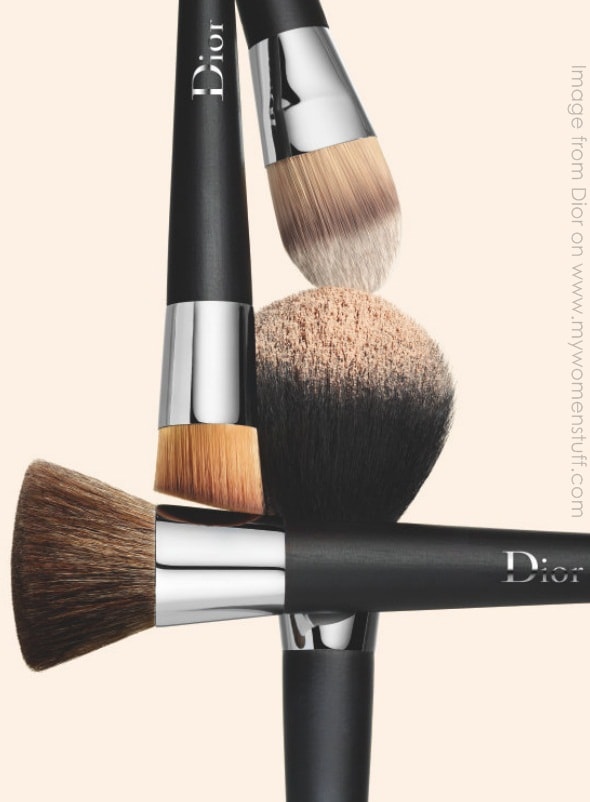 So we know what I'm talking about
His rationale is that the light coverage liquid foundation brush applies a lighter application of product on skin, and there is less room for error. Ditto the powder foundation brush.
In terms of the round liquid foundation brush (I reviewed it here) he told me that instead of using it in a dab-dab motion as I have been doing (and as I have also been doing with the similar shaped Shiseido brush), I should first swirl on product on skin in a circular motion to blend it on skin, then dab for even coverage. If you dab it on right away, you might end up with too much product on one spot. Good tip that one! I'll be putting it into practice.
I also copped a feel of the full coverage powder brush and its gorgeously soft and dense! You use it to buff on loose powder foundation, mineral foundation or powder foundation for higher coverage.
Zaidi started with the light coverage liquid foundation brush to apply the Diorskin Nude Liquid Foundation, then used the full coverage liquid foundation brush to touch up areas that need more coverage. Concealer was only dabbed on the intrusive pimple spots. Then, using the light coverage powder brush, he lightly dusted on some powder foundation to set. The result was a very natural, evenly covered base that did not look heavy, thick, masky or unnatural.
2. Employ the Magic of the Skinflash Illuminating Pen!
I am such a huge fan of the Skinflash Illuminating pen that its embarrassing 😛 I have gone through 2 of these and am now on #3. There will be #4 and #5 etc because this magic pen is quite something. I've done a gushworthy review of the Skinflash here but I use it primarily as an undereye concealer and illuminator (If you have not tried it, do. It helps me look alive when I feel dead)
But Zaidi taught me so many other ways of using this wonderful illuminating or as Dior will have it, Radiance Booster pen:-
To trace the outside of your lip – this not only helps with your lipstick, it helps define the shape of your lips
Down the bridge of your nose to highlight – He ran it down my nose and suddenly voila! I had a nose bridge!
Around your eyebrow – After penciling in my brows, he used this pen and drew under the arch and at the top of my defined brow. The brow looked more defined and prominent
Hide your lines – He drew it along my laughlines and they immediately looked less prominent
All this, apart from using it as an under eye concealer and illuminator and highlighter along cheekbones. I guess you can say my reverence for this product has just increased five-fold 🙂 I'm sure you could employ the same tips with other similar illuminating pens – there are quite a few in the market and the results are really something 😀
3. To add a glow to skin add a drop of One Essential Serum to liquid foundation
Capture Totale One Essential (mentioned here) is a serum I finished up and am now on my 2nd bottle. Its a product I stopped using for a spell, but now that I'm using it again, I can see what a difference it has made to my skin. Knowing that I can add a drop of it to liquid foundation, which he says, will help make skin look more radiant is most intriguing. Needless to say, I will be trying it out this week.
Diorskin Nude liquid foundation in 010 (new formula), Diorskin Nude Concealer in 001, Skinflash Radiance Booster Pen in 02 Moonlight, Diorskin Nude Compact Powder Foundation in 010
4. Use eyeliner as a base for eyeshadow to help colour look more vibrant and stay on longer
This has got to be one of the most brilliant tips I've heard all year. Its not so easy to describe but I will try to replicate this and tell you about it separately too because it really is brilliant 😀 Zaidi explained that Dior makeup artists use this tip backstage, because they need to be quick when doing eye makeup and they want good vibrant colours.
Take a black pencil liner and start close to your lashes and then draw it in thickly about 1/3 of your lid
Smudge the edges of the liner to soften it
Take a lid colour and dab starting from the middle of your lid.
Take a darker colour and dab, on the outer half of your lid.
Open your eyes, then take a clean blending brush, and gently blend the colour with your eyes open
Take a highlight colour and dab just under the arch of your brow, then blend
With this tip, you could even skip applying eyeliner, because the eyeliner you just applied as the base can serve as liner. The black base will deepen eyeshadow colours and make them look more vibrant, or "pop" as people like to say. Truly, the colour you get is very impressive. I asked if I could use a different eyeliner as a base and Zaidi said it was possible. The effect you get will of course be different. So a light shimmery base can add iridescence to your shadow but black is the best, he says. Well, if its going to save me lining time, why not eh?
5. Not everyone needs eyeliner for the top lid
Most of the time, we are conditioned to think that eyeliner goes on the top lid, close to the lashes. Well, Zaidi took one look at my eyes and said that what I should be doing was lining the underside of my eyes, or tightlining, to make my eyes look bigger and more defined. Here's a post I did on tightlining and a more updated post.
Lining the top lid, he told me, would not do very much because my lash line is hidden when I open my eyes, and I would need a thick liner for it to show. On the other hand, tightlining would be faster, and define my eyes better. The thing is, I have actually skipped lining the top lid altogether recently! All I do in the mornings is tightline and go. Its quick and easy and its great to know that I sort of figured this out. So, if you have slightly hooded lids like mine, practise tightlining and reap the benefits 🙂
Here is the finished result from all the above tips. I was so impressed with the eye makeup that was done so quickly yet so effectively, that I swore to have to learn to do it myself. Practice makes perfect, they say!
(1) Gorgeous eye makeup using the eyeliner trick and the Dior Golden Jungle 001 Golden Khakis palette (2) Photobombed by Xin (3) With Zaidi, Dior Makeup Artist who kindly shared these tips (4) Oh and I have new hair 😛
Products used in my look were the base products listed above. For colour, it was Golden Khakis on eyes, New Look Mascara, Eyebrow pencil #653, Cheeks in Rosy Glow Petal and highlighted with Diorskin Nude Shimmer compact and lips in Rouge Dior Nude Lip Blush in Swan #263. Gah! I love how the eyes turned out!
I hope you found one of these tips useful 🙂 For myself, I'm going to be working on the eyeshadow one, and yes, I have new very much shorter hair. With this new hair that I can't hide behind anymore and that shows a lot of face, I've learnt that I need to have really good skin or failing that, really good base makeup. Needless to say, you can expect to read more of my base makeup exploits as we go along 🙂
Paris B