If there is one makeup item I'm loyal to, its concealer. When I find one that works, I stick with it like glue. It explains why I don't talk a lot about concealers and also my loyalty to the Make Up For Ever Full Cover concealer. I've used up about 2 or maybe 3 tubes by now. Not that much, but enough to raise eyebrows because I rarely repurchase makeup.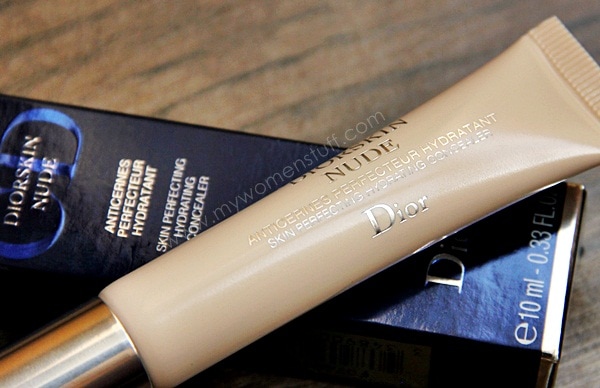 However, I wasn't happy with the recent formulation of Full Cover. It felt thin so it no longer lived up to the Full Cover name, and when I ran out of under eye concealer, Full Cover is just too thick for the under eye area. If you have ever tried it, you'll know what I mean. It accentuates every single line you have and even some that you don't.
So, I went shopping and decided to pick up a concealer I'd been wanting to try for a long long time. Well, since they brought it out anyway – Diorskin Nude Skin Perfecting Hydrating Concealer. Love it when I discover a new fave 😀
This concealer is one of those things that make me go "Damn! Why didn't I just buy this earlier?!" The texture is really quite perfect for a concealer – light with good coverage, yet does not cake nor settle into lines. I think this one is the perfect daily concealer for someone who isn't looking for 100% full coverage.
The packaging is quite normal. It comes in a small 10ml tube with a nozzle dispenser. I quite like the use of a nozzle. It makes it easier to control the amount of product dispensed. What I've learnt with concealer is that you shouldn't be trowelling it on. Instead, layer on a few thin layers and you will achieve a better, more natural result without having it crack or look too cakey.
The concealer itself is not too thick but neither is it too runny or liquid. I'd put it as between a cream and a lotion. When dispensed, a drop will hold its shape without running, but it is very easy to spread out, which is what you should be doing before applying to your skin. I've shared this tip on warming up your concealer before use here and I will recommend you do it, because it will help anyone who finds their concealer going on too thickly.
Diorskin Nude Skin Perfecting Hydrating Concealer 001 Ivory Left: Straight from tube Right: blended
The shade I use is 001 Ivory. The product comes in 3 shades I believe, with 001 being the lightest.
As you can probably see, Ivory is quite close in tone to my skintone. Like most of the Dior foundations, it does have a slight pink tone so I am not quite sure if it will suit everyone. By contrast, the Make Up For Ever Full Cover has a slightly more neutral-yellow tone. What I like however, is that when blended, the Diorskin Nude Hydrating concealer blends right into my skin. You can't even see it right?
In terms of texture, it is lovely on the skin and as the name suggests, hydrating. I like it especially when used around the under eye area because it doesn't look cakey, does not settle into lines and has a brightening effect so my shadows are covered. I must note however, that I do not have a chronic dark eye circle problem. If you do, I do not know if it will help cover the dark circles.
For pigmentation, I find that the coverage is medium, so I can still see some of the pigmentation through the concealer. I have reached the stage where I find this aceptable. I no longer feel the need to look perfectly flawless all the time and I have also found that if I wanted more coverage, I'd do a heavier foundation, concealer and then dab some powder over it. Its about as flawless as I get without putting on what feels like plaster.
Here are the unretouched before/after photos to show you how it fares.
I was unfortunately working with a minimal undereye dark circles day but I think you can just about see that there is a subtle brightening of the under eye area with the concealer. As for the pigment spots, the concealer sort of puts a veil over them so they are a little less noticeable, but I will not peg this one for a full coverage concealer because it just isn't.
In a nutshell

The Diorskin Nude Skin Perfecting Hydrating Concealer is a concealer for blemishes that is also light enough for use at the under eye area. The texture is between that of a cream and lotion and it applies smoothly. I find that for the under eye area, this concealer works very well to cover dark circles (although I'm not sure how effective it is for chronic dark circles) and has a subtle brightening effect as well. It isn't cakey and does not settle into fine lines about the eye and it is not drying as the name implies. For blemishes or pigmentation marks, I find that coverage is more medium so you will still see a shadow of the blemish or pigmentation you are trying to cover. Whether this works for you depends on how comfortable you feel. I use 001 Ivory (I also use 010 Ivory in Dior foundation) which has a slight pink tint that works for me but may not work on those who have more yellow undertones. I am happy with this one and will likely keep it in my stash for a long time to come.

Pros: Not drying, Not too thick, Has a brightening effect especially on the under eye area, Works to conceal both under eye dark circles and blemishes or pigmentation

Cons: Limited shades, Initial cost is pricey but it will last a while depending on how much you use, Not suitable for those who want full coverage

Who will like this: Someone who wants a quick and simple concealer that can be used for both blemishes and under eye, Someone want some concealment but not looking for full coverage
Here is the ingredient list for those interested.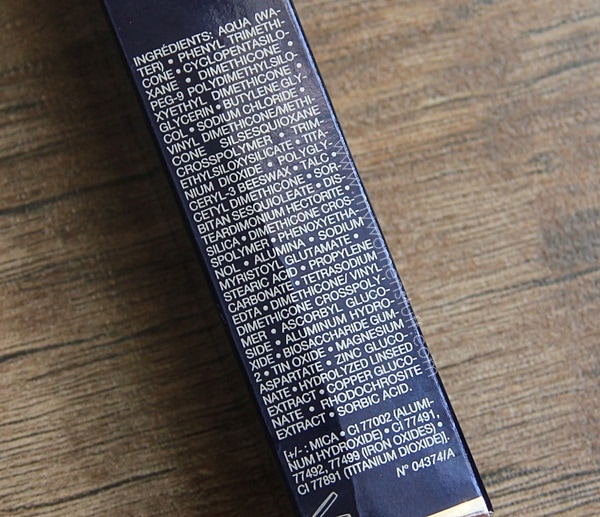 I'm glad I decided to indulge in this concealer. I don't even use the MUFE Full Cover anymore and when I do, I find it too thick. I also like that I can squeeze out a line of concealer, warm it up and use it for blemishes, pigmentation and under eye because I just like to keep things simple this way. I hope Dior never messes with this formula!
Have you tried the Diorskin Nude Skin Perfecting Hydrating concealer? Its been out for at least 2-3 years and its only NOW that I'm trying it. Wish I'd done so 2 years ago! I think its RM90 but I can't remember. Its been months 😛 For everyone who's been waiting for a review on this one since the epic travel kit, here it is. I love it, and I hope it didn't burn a big hole in your wallet 😛
Paris B
Diorskin Nude Skin Perfecting Hydrating Concealer Price: RM90+/10ml (I forgot the actual price) Availability: Dior counters