If the beauty buzz hasn't already made you sit up and take notice, then I'm here to tell you that with the success of the Diorskin Nude foundation from 2 years ago, Dior has upped the ante, and launched a brand new formula for both their Diorskin Nude liquid and powder foundation. I absolutely adore the new liquid foundation, I'll tell you that right now. Its seriously one of the best I've used in a while and that's saying a lot, since its coming out together with a whole bunch of other brands launching new foundations this year. But more about the foundation later 😉
I'm going to tell you about the new brushes that Dior has launched together with their new base makeup. There are 4 new Backstage brushes for liquid and powder makeup. One brush for full coverage, one for light coverage.
For liquid foundation, the brush for light coverage is your typical flat paddle brush and for full coverage, we get a dense round bevelled brush (looks familiar? 😉 ) For powder foundation, the brush for light coverage is the typical round fluffy powder brush while for full coverage, we have a denser flat top brush.
The eagle-eyed amongst you will be thinking at this point "Hmm… doesn't that liquid foundation brush look suspiciously familiar?" If you are thinking about that highly raved Shiseido foundation brush, you got it right. It was my exact thoughts the moment I laid eyes on it. Would be interesting to see how it fares eh? 😉
I've got an overview of the brushes and my thoughts on the 2 that I have, plus some quick comparisons for you to get a better idea. Ready? Settle down, its going to be quite a read 😉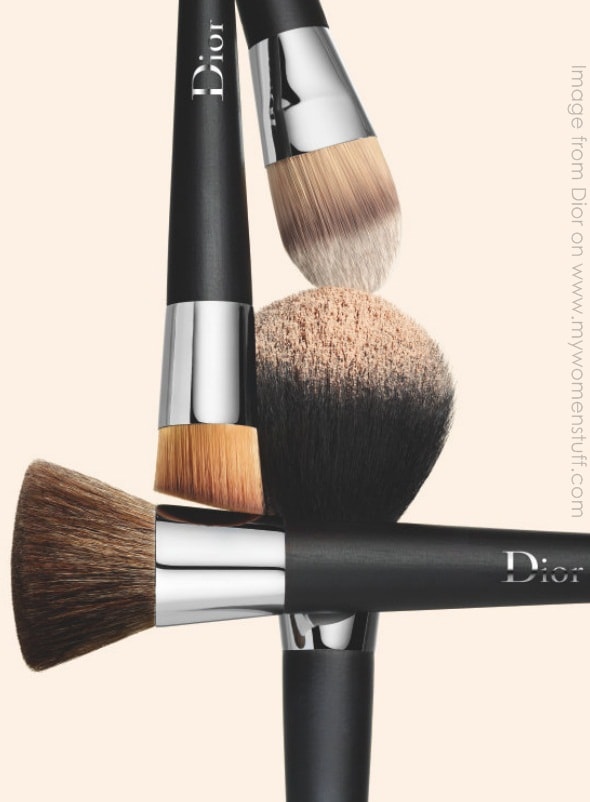 I get fussy about my makeup brushes. I am quite willing to splurge on them because I've realised that often, it could be what makes or breaks your makeup. A brush that applies makeup patchy or unevenly is a disaster. I was quite happy to see that Dior has brought back their flat top foundation brush. 2 years ago, there was a lot of see-sawing about whether or not it was actually available here (I really liked it) If I might say so, I actually prefer this new packaging.
Top: Dior Backstage Full Coverage Liquid Foundation brush Bottom: Dior Backstage Light coverage powder brush
The new Dior Backstage brushes have a long tapered matte black plastic handle that gives it a sleek look. The long handle is easy to manage and I found the brushes quite well balanced with a good weight to them. The brush handles are a good size and fit in my hands well.
Dior Backstage Light Coverage Powder Brush
Size wise, I find that the light coverage powder brush has a rather large brush head and the bristles are not very densely packed. This allows for a light, sheer application of powder. I wouldn't use this one to actually apply powder foundation, unless you want only a very light dusting or you want to go over it a few times. Instead, I'd use this one for loose powder or setting powder. I've got a video below that shows you how the different brushes are used, and the makeup artist uses this powder brush the same way I do – to apply a light dusting of powder set makeup 🙂
The bristles (natural hair – goat I believe) are a little stiff but aren't pokey or scratchy on my skin. Although loose, its actually still quite dense so it picks up powder very easily and you only have to tap it on the surface of the powder for it to pick up the powder, and it applies quite comfortably on my skin. I have washed this one a few times and experienced no shedding or bleeding. It in fact feels a bit softer after washing. In terms of performance, I think this brush performs well for what it claims to do – to apply a light coverage of powder foundation on skin.
I have here a quick comparison with some other powder brushes I own and use.
Top Left – Right: Lunasol powder brush, Tony & Tina Powder brush, Dior Backstage Powder Foundation Brush L, Sonia Kashuk Powder brush
Of the powder brushes I use most often, I'd put the Dior Backstage powder foundation brush as most similar to the Lunasol Powder Brush. The difference is in the softness of the bristles. The Lunasol Powder Brush is much softer to touch and on skin. However, softness comes with its drawbacks in that a very soft brush does not pick up product very well. Its a bit of a fallacy that a soft brush = good brush. Sometimes, you need something soft, and other times you need something a little stiffer, depending on what you are using the brush for.
In the bottom pictures, you can see that sizewise, the Dior and Lunasol brushes are about the same with similar density. I would say that the Lunasol Power Brush is wonderful for the soft feel and for applying loose powder very lightly on skin but if you want something with a little more coverage then you should go for the Dior one as that does perform a dual function of applying setting powder as well as applying powder foundation, if you need it to. Oh, and price-wise, the Dior and Lunasol brushes are the same price too : RM210. So whichever you choose from these two will be a toss up on how you like the performance, as there is no difference in price.
Dior Backstage Full Coverage Liquid Foundation Brush
The full coverage liquid foundation brush has dense bristles and a bevelled flat surface to fit the contours of your face. To use this, you would pick up the liquid foundation, and stipple it on your skin (lightly dabbing it against your skin) and it builds coverage as you go long.
The bristles are synthetic and it does a fairly good job at applying foundation. Foundation goes on easily and it is so easy to build up coverage on areas where you need it, but simply dabbing on more product. It also diffuses the product very quickly on the skin so you get a very smooth and even coverage.
But you know what? You heard me say all this before LOL! Yes this brush functions pretty much the same way as the Shiseido Perfect Foundation brush does. Like the Shiseido brush, it applies liquid foundation quite flawlessly on skin. I find that it has a similar density and even a similar size of the head. If you found the Shiseido Perfect Foundation brush too small for you (I know some people have that issue) then this will similarly be the same. It will be too small for you too.
Top Photo: Left-Right Shiseido Perfect Foundation Brush, Dior Backstage Full Coverage Liquid Foundation brush
What I found when doing a side by side comparison, is that the bristles on the Shiseido brush are a wee bit longer that that of the Dior brush. Size wise, as the two bottom panels show, the size of the brush head is about the same. I don't find that the length of the bristles impact on the performance of the brush. Both brushes perform well for me and when used, both are just as hard to get clean! Thank goodness for Daiso! 😉
The main difference in the two brushes therefore, would be in the length of the handle. The Shiseido one has a short stumpy handle and although it takes some getting used to at first, its fairly easy to get a hang of it. The Dior one has a much longer handle and I found that this allowed me to use the brush in two ways:-
Held close to the metal ferrule to get a more dense and precise application of product
Held further for a lighter product application which enabled me to use it for powder foundation as well
There is a large price divide between the two RM95 for Shiseido and RM180 for the Dior brush. I think the Dior brush is excellent. I like the long handle and I like how it looks. I like how it is so similar to the Shiseido one because that one was near perfection and now, so is the Dior brush! 🙂
In a nutshell

Dior has launched 4 new brushes together with their new formulations of the Diorskin Nude liquid and powder foundations, for light and full coverage respectively. I sampled the Light Coverage Powder Foundation Brush and the Full Coverage Liquid Foundation Brush and I found that they both performed very well. The Powder Brush (L) feels firm yet applies powder lightly and evenly on skin. I feel that it is more suited to applying setting powder unless you only plan to apply a very thin layer of powder foundation on skin. It wasn't scratchy and did not shed or bleed after a few washes. The Liquid Foundation Brush (F) has dense synthetic bristles and makes applying liquid foundation an easy and painless affair, ensuring flawless application each time. It is easy to use and the long handle made it useful for applying product with a lighter hand, and it can be used for powder foundation too. I must admit I was never very impressed with Dior brushes before this (mostly found them a bit scratchy) but these 2 are very good at what they do.

Pros: Both brushes featured here apply product very well, The powder brush is not scratchy or pokey, The powder brush applies a very smooth and even layer of powder on skin lightly, The liquid foundation brush helps with flawless liquid foundation application and can be used for both powder and liquid

Cons: Pricey initially

Who will like this: Anyone who wants a good liquid foundation brush, Anyone who wants a slightly more dense powder brush, Anyone willing to spend on makeup brushes
As befits Dior, each brush comes with a plastic sleeve to hold the bristles in place, and in its own velvet pouch. Its those little touches of luxury that makes buying these brushes different from buying a comparable one 😉
Here's a video by Dior International Makeup Artist, Yadim showing you how the different brushes may be used and how to achieve a nude skin effect.
Is your interest piqued by these Dior Backstage brushes? Which one would you be more keen on?
I have not yet tried the other 2 brushes in the range, and I hesitate to tell you to run right out and buy these because they are pricey (good brushes usually are). So, whether you need these brushes depends on what you are looking for to fit your current brush collection. If you want to pick up just one, I'd suggest the Full Coverage Liquid Foundation Brush because you can easily use it for both liquid and powder and the long handle does allow for better manipulation of the coverage you need. I personally find that its easier to find a powder brush that works, but finding a good liquid foundation brush took me years.
Paris B
Dior Backstage Makeup Brushes : Full and Light Coverage Liquid Foundation Brush Price: RM180 each; Full and Light Coverage Powder Foundation Brush Price: RM210 each Availability: Dior counters