Some official updates I've received from Dior and YSL after some queries from readers.
DiorSkin Nude Foundation Brush WILL be available at counters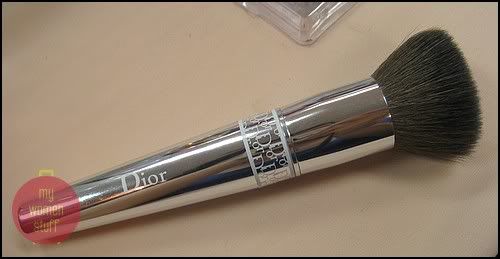 The Diorskin Nude Foundation flat top brush will now be available at Dior counters this month. It will retail at RM115. Eeekssss!!! Tempation!!!
Works beautifully with the DiorSkin Nude loose powder foundation or blush especially since my Anna Sui flat top brush is going kaput. Dammit! I was not going to buy anything more until my birthday 😛
YSL Cosmetics is NOT pulling out of Malaysia
No doubt that YSL counters are running very tempting clearance sales at this time and that, plus the lack of the YSL Fall/Winter 2009 collection made me and some readers worry that YSL may be pulling out of Malaysia.
Well, word from the horse's mouth is that YSL is NOT pulling out. Clearance sales are routine to clear stock and news are that the new collection will be at counters later this month. Whew!
Update: They were bluffing after all. YSL has left Malaysia since 2009 and we have yet to know if they'll come back.
Stay beautiful
Paris B