I have been wanting to rave about the Shiseido Perfect Foundation Brush for the longest time. Its one of those things that I sit down to tell you about and then, I get distracted by one thing or another. But no longer. Today will be the day! Today, you will hear about the brush that made me change my mind about foundation brushes!
I used to be a powder compact foundation girl mainly because I hated the feel of liquid foundation. Thick, cakey, yuck! And then the brands started coming out with lighter textures and suddenly I realised that I could use liquid foundation and that in many ways, it looks much more natural on skin than compact foundation. Liquid sort of moves with your skin, while powder tends to sit on your skin, if you know what I mean.
I however ran into one problem using liquid foundation – application. When I started out, everyone said to use a brush. So, ok. I went and got a foundation brush – your typical flat paddle type. Sorry, hated it and realised it ate up too much product. So, I tried a sponge. Its not called a sponge without reason – it soaks up liquid like water. So I went back to the makeup tools we are all born with – fingers, and I actually shared a great tip for using your hands to apply liquid foundation.
I've been using my fingers all this while, never mind the brief flirtation with skunk brushes and that stipple method everyone raves about for creating an air brushed look. I found it too much trouble. So when I came across the Shiseido Perfect Foundation Brush, my spidey senses were tingling. Perfect? Seriously? That's a tall order. But yes, its perfect and I have no need for another nor do I even intend to look at another. In fact, I have 2! That's how perfect it is.
This little dinky wonder is small. It actually surprises me everytime when I pick it up, because its really small. And that small head can make you wonder just how long you'd need to put your foundation on, and just how practical it is. Well, you know what they say right? Size isn't everything, its what you do with it that matters 😉
The brush head is a round head of very densely packed synthetic hair. It is so dense, it is almost solid in feel. Yet, it is soft. So soft against your skin. The brush is cut at a gradient which allows it to fit to the curve of your skin and face so the whole surface of the brush actually fits on your skin and moves with it. Its crazy, but its one of those things you have to see to know what I'm talking about.
The small head isn't a bad thing either. It allows you to get right into all the nooks and crannies of your face – that bit around the nose, the bit between your nose and lips, the bit between your brows. Its great for that.
It is, I believe the way the brush head is made that makes the application such a dream. When you dab it into your liquid foundation, you will notice that the foundation is spread out on the whole flat surface, on the tips. You then, lightly dab it on your skin in a stippling/bouncing motion. Don't sweep it about your face, but work in sections, dabbing as you go and you'd be surprised at how quickly you're done.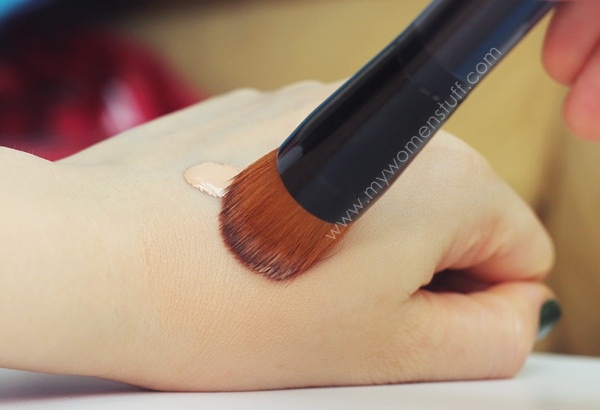 I know what you're thinking. So what makes this brush so great or perfect then? I can do that with my skunk brush or sponge or beautyblender thing as well. Well, its the finish. The denseness of the brush head allows the foundation to be deposited in a very uniform manner on your skin, so there is really, no need to buff at all to even it out. It applies as a thin even layer on your skin and evens itself out as you go along, so by the time you are done dabbing it all over, you are done with your foundation application and it looks perfect.
If you like, you can even go over the areas that need more coverage, or on the under eye, and that's it. No need for concealer unless you intend to conceal every flaw. I hesitate to use the word "air-brushed" but you really look like you just took photoshop to your face. In real life. No streaks, no uneven application, just a perfect canvas.
I thought I'd show you just how effective this little wonder of a brush is in comparison to a couple of skunk brushes or duo fibre or stippling brushes that most people use for that "air-brushed" finish.
(1) Shiseido Perfect Foundation brush (2) Real Techniques Stippling brush (3) Duo Fibre (skunk) brush
You might want to peer in a little closer 😛
For purposes of this experiment, I used them all the same way. I dabbed the brush into the foundation (the splotch you see above (1)) and then dabbed it on my skin in a stippling method. You will notice that:-
Shiseido Perfect Foundation brush – The foundation applied looks even with just 1 pass
Real Techniques Stippling brush – The foundation goes on a little patchy and you will have to buff it to even it out
Duo Fibre (Skunk) brush – The foundation is very patchy just dabbing on the skin and you will have to buff it to smoothen and even it out
This is to show you how the foundation looks when you dab the brush into it. The foundation on the Shiseido (1) and Real Techniques (2) brushes look more evenly distributed. On the duo fibre brush (3) it is only concentrated in the middle bit so when it is applied against the skin, the foundation will be heavier in the middle and lighter on the sides.
I use the Shiseido Perfect Foundation Brush with a myriad of liquid foundations and it does help bring out the best in the foundation. When I started, I found myself using more foundation but over time, I realised that I did not need more than the usual 1 or half pump. The brush picks up the foundation and seems to hold it like a reservoir so I can just dab it once into the foundation, and cover a wide area without having to re-dip. I've actually read reviews that say not to use this brush for your whole face because its too small and you'll take too long.
Well, I use it for my whole face and its great. Yes, it does take a little longer than if I were to use fingers, but not much longer otherwise, because I don't have to spend time buffing the foundation into my skin. It applies perfectly every single time and I'm so impressed, I got another. I have to, because I can't do without it, and washing is a beeyotch 😛
Yes, a major downer is the cleaning. Because it is so dense, the brush is hard to get thoroughly clean. So here's a tip. Use the Daiso detergent. It does a great job getting the brush clean in super quick time and because the bristles are synthetic, no harm comes to your brush. Plus, its cheap!
It can also be used with powder foundation and I find that it works too for a nice smooth, even finish, but it takes longer because the brush can't hold the powder foundation the way it does liquid. So I'd use this to touch up powder foundation but not to apply unless I have a lot of time.
In a nutshell

The Shiseido Perfect Foundation brush is just perfect, especially for applying liquid foundation. It gives a very even and smooth finish with just one pass. Lightly dab it on your skin and it deposits just the right amount of foundation so you get a very even flawless result without it looking streaky or cakey. You don't even need to buff it after that. It just goes on quite perfect. I have 2. I think that says it all

Pros: Gives perfect application of liquid foundation without it looking cakey or streaky, Easy to use, No learning curve

Cons: None (unless you count the cleaning but there's Daiso detergent for that)

Who will like this: Anyone who uses liquid foundation and have problems applying it without it going on too thick or streaky
If you are in Japan, Shiseido has a similar brush to this one called the Shiseido 131 foundation brush. Its sold at the Japanese drugstores and not available outside Japan and is, perhaps a little cheaper than the one sold at counters. I was very lucky to be gifted with one and I can report that it is quite similar… but not.
In all appearances, its almost identical. The difference in packaging is that the Shiseido counter one has a more opaque acrylic handle with the signature purple metal ferrule and the Shiseido brand printed on it. The Shiseido 131 brush has a more translucent dark blue handle with a dark blue ferrule and the Shiseido name is embossed on the handle.
Brush wise, there is very marginal difference. I felt that the 131 brush was a bit less dense and while doing a great job, did not deposit foundation as cleanly as the counter one did. Might that be to do with this specific one? I don't know. Its a great brush though and if you can get it, why not! I don't know how much it costs in Japan since its a gift but its available online at adambeauty.com at US$26.50 + $2 and for the quite marginal price difference and instant gratification I'd just get the Shiseido one (RM95) from the counter which I did.
Yes, the Shiseido Foundation Brush is RM95. Don't complain. Its not expensive when compared with other brands and other brushes and for the perfection it delivers, its worth paying and with proper care, will last you forever. Your products are only as good as your tools after all 😉
Have you used or owned the Shiseido Perfect Foundation Brush? Are you in love with it the way I am? I swear its revolutionized the way I apply liquid foundation and I never cease to be amazed at just how even the foundation goes on my skin. I don't know what the people at Shiseido did but they did in fact create the perfect foundation brush and I salute them for that! I'm not the only one raving – even the Pink Sith is, and she's not easy to please! 😉
Paris B
Shiseido Perfect Foundation Brush Price: RM95 Availability: All Shiseido counters