A few months back, I found myself battling dull looking skin. That was when I went on a regiment on using primarily brightening/whitening skincare coupled with hydrating creams and things were finally looking up. But for some reason, I still felt it was lacking that oomph!
One evening, I was digging through my stash of half-used skincare when I chanced upon the Dior Capture Totale One Essential Skin Boosting Super Serum. This was my second bottle that I purchased, after the excellent results I had with the first. I'd forgotten about it in the process of messing around.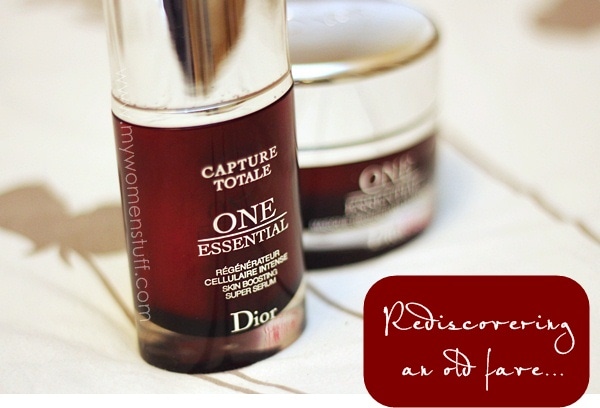 I remembered then, that I had gotten quite good results from using this serum with anti-aging or lifting skincare back in the day. I was curious to see therefore, if it might have the same results with the whitening/brightening skincare I was using.
Well, what d'ya know? It does! 😀 Don't you love rediscovering an old fave that works?

The Dior Capture Totale One Essential Skin Boosting Super Serum is supposed to be a serum that eliminates toxins on the skin and reinforces the youthfulness of the skin. It targets primarily the signs of aging – wrinkles, fine lines and uneven skin tone. I didn't pay much attention to the latter when I was using it before this but this time, I paid a bit more attention.
What this serum also does, is boost the efficacy of your serums and skincare. You can read most of the nitty gritty in my previous review. What I discovered this time around, is that when I used this pre-serum, coupled with a wipe off skin brightener (will talk about this some time) and my regular skincare, I actually saw better results on my skin. It stopped looking as dull, and just looked better and clearer and although it is attributable to the skincare used, I also think the effect was boosted by using this serum.
I think it even helps boost the efficacy of the Clinique Even Better serum which I already am a huge fan of. I had this awful huge spot on my chin (which you might see here) and once I got it down, there was still a dark mark to fade (don't you hate it when that happens?!). I do believe that this serum coupled with the Clinique Even Better serum got it faded enough within a week, to conceal with just a light concealer or even just foundation. Its not scientific, but it made me happy 🙂 I'm a fan all over again and I'm glad I rediscovered this one! Wallet's gonna hurt when this remaining runs out and I have to replenish, though 😛
I also picked up the One Essential Ultra Detox Treatment Mask about 2 weeks back but haven't gotten round to using it yet. Its supposed to be even more concentrated than the serum and produce better results in that skin is supposed to look plumped, smooth and glowing almost immediately. Darn it! I had to see if it works, never mind that my wallet cried out in pain 😛 I'll come back with a report soon once I put it to a few uses. Its just a 50ml tub and I don't expect to get many uses out of it so it better work … or not hmmm… 😛
Have you rediscovered an old favourite in skincare recently? Or are you discovering a new favourite? Do share! 😀
Paris B
Dior Capture Totale One Essential Skin Boosting Super Serum and Ultra Detox Treatment Mask Price: RM360 (mask)/ RM360 30ml (serum in 2010) Availability: Dior counters