A little while ago, I told you about the new Clinique foundation that was launched recently and is available at counters now. Its called Clinique Even Better Makeup with SPF15 PA+++ and combines makeup and skincare in one product, in that it not only acts as a foundation (which it is) but also helps treats your skin tone and spots.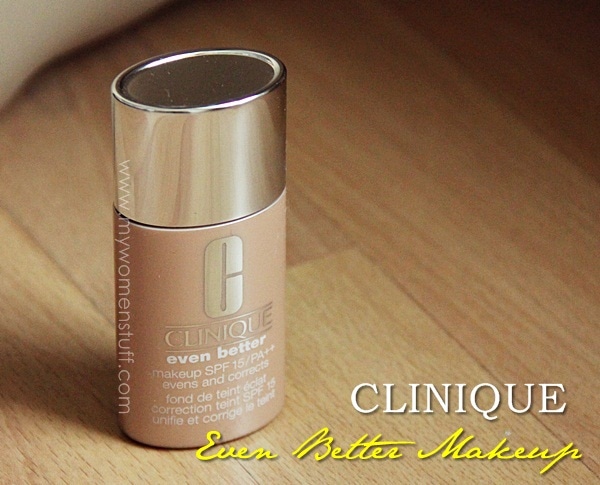 How intriguing, right? I've got the low down on what this is all about in my earlier preview post, so this is just what I think of this foundation. This is actually my first time properly using a Clinique liquid foundation. I previously sampled some of the SuperFit and SuperBalance foundation but hated them. I mentioned that they felt heavy on my skin that is used to the lightweight texture of liquid foundation that I prefer.
Happily, for everyone who likes the same texture I do, the Even Better Makeup is light on the skin, yet has medium coverage and the colour tint is a bit yellow, which is quite good for evening out redness in skin. Proof in the pictures 🙂
First off, I must say that the bottle is quite small. It is 30ml but it is such a compact little thing that I found it hard to believe that it was indeed 30ml, but it is. The dispenser is a nozzle which is quite useful, because the texture is liquid and runny. The nozzle in a plastic bottle makes it easy to control just how much you need without wastage. Also, the lack of a pump means the foundation doesn't get trapped in the pump towards the end. I don't know about you but I don't think I've ever finished up a liquid foundation yet so this isn't quite something that troubles me haha! 😀
Clinique Even Better Makeup (1) 64 Cream Beige (2) Fresh Beige (3) Fresh Beige blended out
My shade is Fresh Beige, which when applied on skin blends almost right in, in terms of colour. Coverage is quite impressive as I have noted, and a little product goes a long way. I must also note that I did a quick search online but the colours we get here are the Asian versions and I cannot find similar names in the versions sold in the US so I'm not sure how they compare or if they are the same in texture etc.
The texture of this one is runny but has "stretch" so one dollop as you see here can cover about half your face when blended. It can also be layered where you need more coverage, so I sometimes skip concealer on lazy days. A touch of powder will usually offer a fuller coverage.
And here's an unretouched before-after picture to show you how it performs.
You can perhaps see that redness is mostly covered with just 1 layer (the huge angry spots on my chin are testament to this) and the skin tone looks a bit more even. Pigmentation is there but I need industrial strength concealer to hide all that so I sometimes don't even bother.
I have combination skin tending to the dry and I find this one very comfortable. It does not oxidise and neither does it look cakey nor turn my skin oily. To be honest, I don't know if the skin correcting benefits infused in this foundation are working because I don't use this one everyday, but if it does, then yay! If it doesn't, at least its still a pretty decent liquid foundation.
All in all, I must say I'm quite impressed with this little thing. Its compactly packaged, it evens out my skintone, tones down redness and if it is to be believed, helps to act on uneven skintone and pigmentation like a skincare would so its like wearing a skincare as makeup. Sounds good to me!
In a nutshell

Clinique Even Better Makeup liquid foundation is a light textured liquid foundation with light to medium coverage of the skin. It evens out skin tone and tones down redness and is also supposed to treat uneven skin tone and correct dark spots, which I think would be beneficial if one were to use this one foundation for the long term, and not just sporadically as I do. I like how the colour Fresh Beige leaves my skin looking brighter and fresh looking and I find the texture comfortable and not heavy. This one gets the thumbs up from me!

Pros: Light texture isn't heavy on the skin yet offers medium coverage if you need it, Covers up redness well and evens out skintone so skin looks brighter, Packaging is compact and easy to dispense

Cons: Some may consider it pricey although I think its average considering its performance, Some have complained that it isn't suitable for oily skin as it feels oily
A previous commentator mentioned that this foundation wasn't suitable for oily skin so that will be something you will have to decide yourself if you want to try it. I'd suggest seeing if you can get some samples at the counter to try before you take the plunge. I personally thought it might be suitable for most skintypes as the texture isn't heavy or oily and it blends very easily. But if you prefer something with high coverage then you will not like this one either because it will take a bit of work to achieve a high coverage. I like my foundations light, sheer and at most, medium coverage so I'm fine with this one.
If you'd like to match your foundation to the ones I use, here's the comparison swatch based on some other liquid foundations I use that are colour matched to my skin. Never mind the slight differences in tone, they all blend into my skin 🙂
(1) Shiseido Perfect Refining Foundation I00 Very Light Ivory (2) Clinique Even Better Fresh Beige (3) Bourjois Healthy Mix Serum #51 Light Vanilla (4) Diorskin Forever 010
Texture wise, I'd say the Clinique one is lighter than both Bourjois Healthy Mix Serum and Diorskin Forever and is close to the Shiseido Perfect Refining Foundation. However both the latter, although looking light in texture offer good "stretch" in their formulation so a very little goes a very long way. In fact, looking at how similar their packaging is and the similarity in the texture I wonder if they aren't twins born in the same factory 😛
Have you sampled the Clinique Even Better Makeup SPF15 yet? I think its been out at the counters for about a month or so now. If you have tried it, do you like its texture? Have you tried other Clinique foundations before this? I have, as I have mentioned and disliked them. I have also noticed that the ones I disliked are now discontinued. Guess I'm not alone 😛 Oh and have you tried that that fascinating looking grinding powder thing from Clinique? Been meaning to and never did so would love to know if anyone likes it 😀
Paris B
Clinique Even Better Makeup SPF15 PA++ Price: RM115/30ml Availability: Clinique counters nationwide