I've been trying to find a worthy replacement for my Guerlain Kohl eyeliner pencil that's getting really short by now, but its not been easy. I'm really picky about eyeliner pencils. They have to apply easily, I have to be able to use them to tightline and they must not smudge all over the minute I blink. Its taken a while, but after a month or so using the Canmake Lasting Creamy Liner pencil, I think I'm willing to consider this one my replacement 🙂
The Canmake Lasting Creamy Liner is your regular pencil eyeliner. It comes in 2 shades – black and brown. You can distinguish the colours from the cap. This one is in brown which is a dark brown. The pencil isn't very long but the texture is, as the name implies, creamy and it applies very easily without tugging the skin at all.
I've also been asked before this to show you how I tightline, and since I use this pencil to tightline a lot, I have a few pictures below to accompany this post. I like using this pencil for tightlining because of the creaminess and how long it lasts and because it does not smudge on me 🙂
Brown is a dark dark brown and the pencil can be sharpened using a regular pencil sharpener. I hate pencils of odd shapes and sizes because I can never find a sharpener for them and even if they are good, whats the point when they get blunt and I need to sharpen and can't find a sharpener to fit?
Featuring : Sally Hansen leopard print nail wraps
The body is light and the cap isn't a regular pencil cap. It sort of "clicks" close very tightly, if you get my meaning. I think it prevents the pencil from drying out and helps it remain creamy longer. Brown swatches quite dark, and on the eyes, its less stark than black.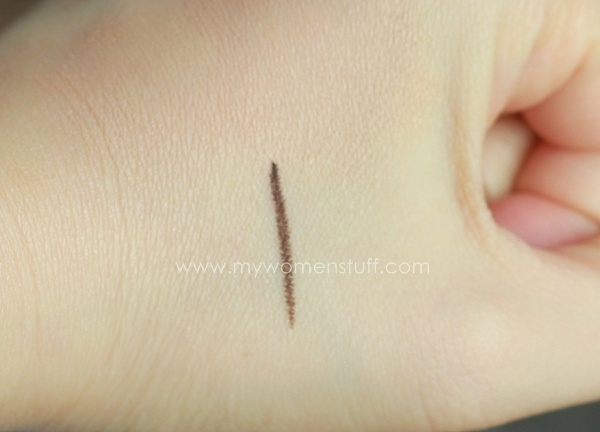 I just swiped it once here which is really quite impressive. It lives up to its creamy name, and it applies perfectly without once tugging on the skin at all. If you prefer it darker, just go over, or use a heavier hand. If you prefer it lighter, use a light hand.
As I've noted, it lasts all day long on my lids with minimal fading. Its almost like a gel liner in pencil form. There were a couple of warmer days when I had faint shadows on my lower lid from slight transference, but it was relatively minor. For the most part, it remains pretty much smudge free all day for me (non oily lids) which is quite important when tightlining. Removal is easy with regular eye makeup remover or cleansing oils.
I think that for a pencil liner this is the bees knees and I'm going to pick up the black, because I prefer using black liner for emphasis 😀
In a nutshell
An affordable pencil liner that does what it says on the box – creamy texture, and long lasting and for me, does not smudge for the most part. It applies very smoothly without tugging the delicate skin around the eyes, which is important. Its portable, easy to use and both black and brown are good colours to have. It also removes easily with regular eye makeup remover or cleansing oil.
Pros: Smooth creamy texture, Does not tug on the skin, Lasts a long time with minimal fading and smudging, Very good for tightlining on the waterline
Cons: None
Now about tightlining 🙂
How to tightline your eyes for a natural wide-eyed look
I have an earlier tutorial on tightlining which is more comprehensive. This one just has better pictures and an updated technique, which is still pretty similar to how I did it back in 2008 when I first learnt how 🙂
The first 2 photos show you how its done. Basically, you just colour in the bit of skin near your lash line where your lashes start from, and get in between your lashes. Its easier to do it from below so angle your head upwards, and draw it in. The sharper your pencil is, the closer to your lashes you can get and the finer the line will be. Once you draw it in, your eyes will immediately look more defined but in a very very subtle manner. It will not look dramatic, nor will it look very prominent. It just looks like your eyes, but better.
The bottom 2 pictures show you what it looks like when seen from the front. Without tightlining, you can see the skin of your eyelid under the lashes. With tightlining, that sliver of skin is covered with liner, and your eyes look more defined even if you don't use eyeliner on the top lid.
As I've said often, this is a very very subtle look. I can't capture any better images to show you how it will look, because really, it doesn't look very different at all. But in person, tightlining defines your upper lid, makes your eyes look larger and your lashes more lush at the root. What this is, is essentially an optical illusion. But if you like the no-makeup look, try this for an instant eye opener 🙂
Because you go on to the waterline, you may encounter smudging. I find that using a liquid eyeliner like my favourite Smashbox liner or the Maybelline Hypersharp liner is great for this, because it doesn't smudge. Pencils do tend to smudge more, but I prefer using pencils because the effect is softer and more natural. This Canmake pencil has performed well for me for tightlining (minimal to no smudging) so if you are planning to give it a go, you could try this pencil and see if you like it too 🙂
Do you tightline your eyes? Has anyone tried this Canmake Lasting Creamy Liner yet? I need to find time to head down to a Sasa store so I can pick up the black one 🙂
Paris B
Canmake Lasting Creamy Liner comes in 2 shades – black and dark brown – and retail at RM38.90 at Sasa stores.