I'd never heard of this phrase "tightlining" until about a year ago. Before this, lining your eyelids or lashes to me, meant lining above your lashes. This was the method I used when using gel eyeliner, as I have shown in a previous post on how to use a gel eyeliner.
However, I'd read a lot of raves about a method of lining your lashes called "tightlining" which was supposed to give the illusion of bigger more natural looking eyes. Anything that can make my eyes look bigger is great! So, I decided to try it out.
The theory is simple. Get your eyeliner as close to your lashes as humanly possible to fill in the gaps (if you don't already have thick lashes). This technique works better I feel, for ladies with lashes that are more sparse or who have light coloured lashes. The most popular way of tightlining is from UNDER the lashes. Be warned of huge scary eye pictures after the jump! 😉
If you are still here, watch out for scary pictures below.
Anyway, when I first tried lining under my top eyelashes, I would end up poking my eye or drawing onto the sensitive water line prompting tears and destroying my eye makeup. However, after a spell and a lot of trial and error, I worked out my best way to tightline my lashes.
How I tightline my lashes:-
I use my trusty Guerlain Kohl Pencil – the best ever! You can either use a soft eyeliner pencil or a liquid eyeliner with a fine tip. Gel eyeliners don't work as well for some reason.
I lift up my top eyelid gently (picture is exaggerated) enough for me to see the underside of my top eye lashes.
Then I draw a line with the pencil right where the lashes start from. It takes practice because a little too low and you hit the sensitive water line which can cause tearing.
The 2nd picture shows the finished line.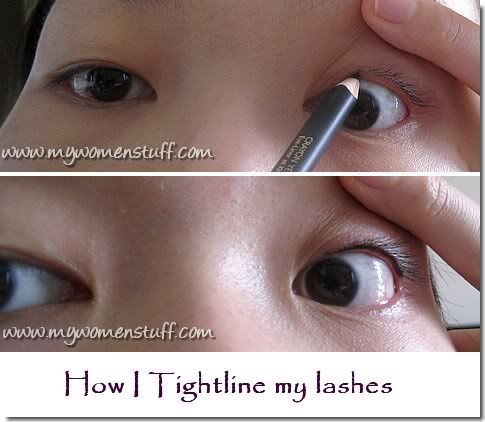 And that is how I tightline my eyes.
I tried capturing a picture that would show how different the eye looks with and without tightlining but I can't get it to show up on camera. The difference is very subtle but it is dramatic. You look like you did not line your eyes at all, yet your eyes look markedly larger. Truly, an optical illusion that works like a charm. My Mom saw me with makeup one day and remarked how strange it was that my eyes were looking bigger now than they did before. So, I'd say its passed the acid test. 🙂
What are the benefits of tightlining?
Well, it makes you look less made up for one. The traditional method of lining your eyes can be stark and it is quite obvious that you have put on makeup. So tightlining is wonderful for those days when all you want to do is slick on a simple champagne colored eyeshadow and mascara, looking natural yet polished.
The other benefit is that it doesn't run as much, not for me anyway. I find that my line stays till the evening but that might also be due to the Guerlain pencil I'm using.
The effects of tightlining are subtle. No one can tell that you have lined your eyes yet your eyes look more defined in a very natural manner. Its quite impressive.
What are the drawbacks of tightlining?
You cannot draw a cat eye or do a nice smokey eye with tightlining. You need the usual sort of lining for that dramatic effect. Tightlining is too subtle.
If you aren't used to it, it can you a long while to get ready. I used to suffer at it but now I have got it down pat so its no trouble anymore for me.
What you should use for tightlining
My recommendations point towards:-
a liquid eyeliner with a fine tip – I'm told that Kate Super Sharp Liner is good though I haven't tried it.
a good soft kohl eye pencil with not too sharp a tip (I use the Guerlain Kohl pencil)
Make Up For Ever Eye Seal with any dark eyeshadow and a fine tipped brush
Have you tried this method of lining your eyes? If so, do you have any other tips for those wanting to try it for the first time?