Everytime I see the name "Juliet" my brain immediately tags on "Romeo and…" in front of it. I can't help it. Its like when someone says "Jerry" and I think "Ben and…" Can't help it! 🙂 Please tell me I'm not alone.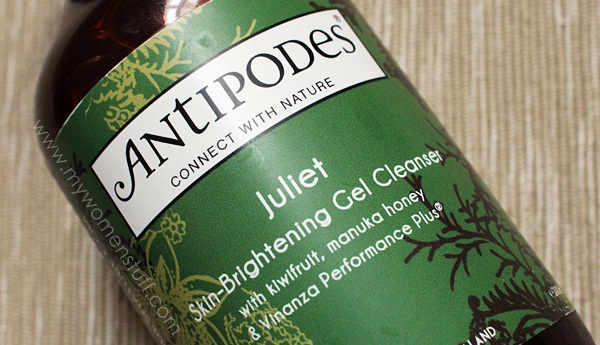 This Juliet however, isn't part of a tragic love story. In fact, I have no idea why it is called Juliet. I tried searching for a back story but there is none. None of the other Antipodes products are named after females or tragic Shakespearean heroines as far as I can tell.
This is the Antipodes Juliet Skin-Brightening Gel Cleanser, which is as the name implies, a face cleanser. Antipodes is a brand of natural and/or organic skincare from New Zealand. I say natural and/or organic, because not every product in their range is organic although they claim to be mostly natural. Its actually my first time trying a product from this brand, and when I saw that this gel cleanser is formulated with kiwi fruit and manuka honey (two of my favourite NZ imports!) I just had to see how it would fare.